It's Not a Wise Idea to Bring Cannabidiol Products or CBD Oils to an Airport as It Can Cost You Dearly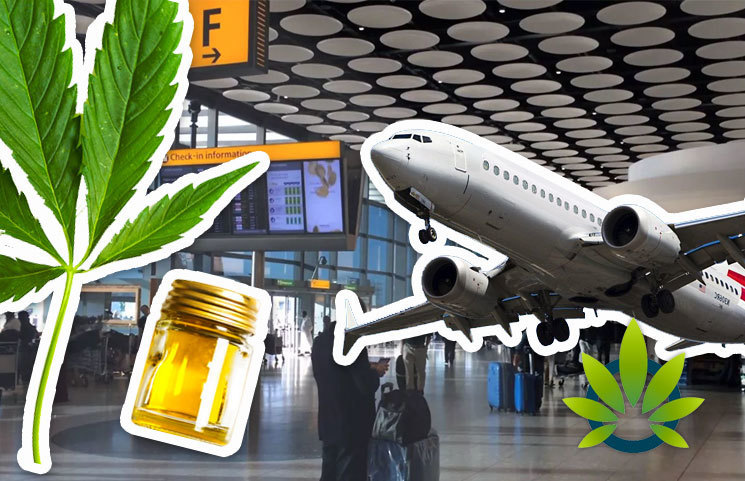 Since the 1930s, Cannabis has been federally illegal, and most Americans probably know it's not a good idea to bring weed to the airport. One of today's air travel features is the layers there are in federal-law enforcement inspection to travelers. Even in states where marijuana is legalized for recreational use, carrying more than the prescribed limits through TSA may get you arrested. The official policy of the agency is that travelers cannot even take medically prescribed marijuana through security.
Cannabidiol may be derived from marijuana and hemp plants. Its popularity has exploded among consumers in America over the last two years in treating chronic pains, anxiety, inflammation, epilepsy, nausea, and acne among others. You can eat, vape, or topically apply CBD to your body.
Following its popularity, Coca-Cola has highlighted some interests in getting to the CBD market, but just like THC (tetrahydrocannabinol), marijuana's psychoactive ingredient, CBD is still in a state of conflicting legality in many jurisdictions.
CBD will not make you high, and you can buy products containing it on storefronts and websites across America. CBD oil may be baked into vegan brownies, squirted into lattes, and can be added to calming treats for pets that are nervous. However, no matter how mundane and legal it may seem in your local bakery or health-food store, the quasi-contraband status of CBD and absent regulatory standards means that you ought to probably avoid carrying it along.
Based on local news reports, people's confusion over CBD has led to severe consequences to many at the Dallas Airport. The federal authorities in this airport recently reported an increase in the inception rate of CBD over the last one year. Some of these incidences have led to felony charges. However, it is not clear how often people have been incepted, and if there are other airports facing similar spikes.
According to Griffen Thorne, a Los Angeles Cannabis lawyer, more and more people will keep on being arrested for things that are not explicitly illegal, until the day that the law will be made clear.
The 2018 farm bill that was hailed as a big win for CBD advocates may make some feel an unwarranted comfort in traveling with marijuana. The farm bill legalized the cultivation of hemp throughout the US, which allows CBD to get produced on an industrial scale, hence fastening the commoditization of cannabis as a pharmaceutical ingredient or a lifestyle product. However, just because cultivating hemp is legal does not imply that restrictions on its derivatives are non-existent.
Thorne indicates that the farm bill does not explicitly protect consumers. This leaves the legality of CBD as a consumer product in need of better interpretation. This is also a challenge in lower jurisdictions. For example, the department of health in New York City recently clarified that the city will start penalizing restaurants which put CBD in foods, but shops are still permitted to sell creams and oils with the chemical. Earlier on, the pharmacy mega chail CVS made an announcement indicating that it would roll out cannabidiol products to 800 of its stores in America.
Hemp-derived CBD is the source of products found outside the marijuana dispensaries but according to Thorne, the distinction is quite complicated under federal law and could not be apparent to individual law-enforcement officers immediately.
Even though CBD is no longer a schedule I drug in the controlled substances act, all CBD products are considered illegal by the Food and Drug Administration, irrespective of their source.
The absence of clear regulatory oversight makes another reason why travelers could have problems with airport authorities. There is no governing body tasked with setting standards on the labeling or purity of CBD and this implies that products advertised as CBD could contain more than enough THC. The law thus characterizes such products as marijuana.
Thorne indicates that very little can be done to guarantee what consumers get in their CBD. He goes on to say that it is quite dangerous taking a risk on the airport by carrying a product you are not sure whether it is federally legal or not. Thorne said that hidden THC is what you should be worried about more than the confusion of CBD legality.
Legality concerns are salient, especially for international travelers. Even fliers that leave from states with legalized marijuana for recreational use ought to be conscious of how the law differs in their country of destination. Non-citizens that possess THC when trying to get into a U.S. port may get deported or face felony charges.
If you are a nervous flier, the legal worries of CBD may be crueler. Even though science is in the initial stages of examining the effects of the substance on the body, people who use CBD to calm anxiety are a major component of the CBD market. Air travel triggers panic attacks and spikes anxiety, but until the cannabis law gets settled, the best thing to do is just white-knuckle your forthcoming flight.