CBD in Maryland: MD State Laws and Where to Buy Legally
CBD Oil Legality in Maryland: Cannabidiol State Law Regulations in MD, USA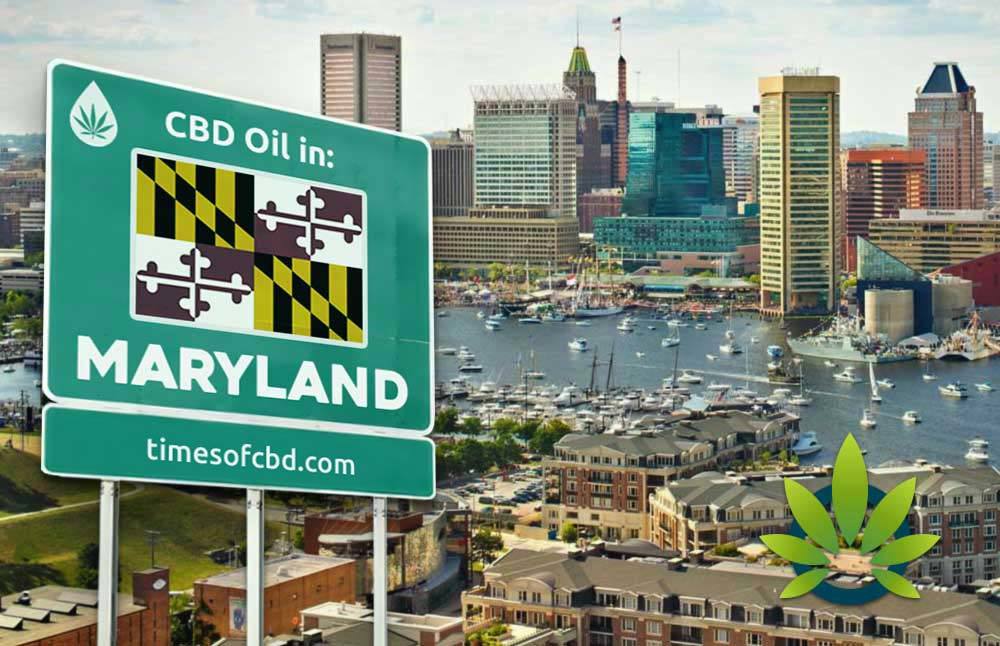 Maryland is yet another state within the continental U.S. working to fit the evolving hemp industry into an existing and extensive framework of regulation for the rest of the expansive marijuana and cannabis industry. Having legalized medicinal cannabis way back in 2014, the state has been no stranger to both the benefits and the pitfalls of legalizing certain aspects of marijuana within its borders. But legislators in 2016 worked to legalize the industrial hemp program, allowing the state to step into an increasingly competitive market that persists today.
Unfortunately, a combination of laws within Maryland, as well as laws all over the United States, often make things more confusing than they need to be for the average user of medicinal cannabis. This problem is even more significant for users of CBD. The legal hemp industry is relatively new in the United States; the U.S. Federal Farm Bill in 2014 legalized hemp and its derivatives, but many states have taken hard stances against many forms of CBD.
Hemp consumers in Maryland need to understand that the products are completely legal in the state so long as they adhere to a few key guidelines. If these basic guidelines are met by producers and distributors of non-THC CBD, then the CBD products are completely legal and users generally have nothing to worry about.
Cannabis Laws In Maryland
Maryland's most important legislative path for the cannabis industry used to be medical marijuana. Through a complicated series of legislation including House Bill 702 in 2003, Senate Bill 208 in 2011, House Bill 180 and Senate Bill 580 in 2013 and House Bill 1101 in 2013. These laws set the groundwork for the full medical legalization of marijuana and cannabis products for select patients, which was ratified by legislators in the Maryland Senate via Senate Bill 923 in 2014.
But following the medical cannabis law's passage many users of CBD still attempted to get a hold of the substance without the recommendation of a doctor. Consumers should first understand that CBD does not usually contain a significant amount of THC. It cannot product a "high" and will not show up on the average drug test. Because it is so distinct from the typical derivatives of the marijuana plant, legislators in the state began to recognize its legally grey nature and embrace the necessity of hemp-specific legislation.
This legislation came in the form of a revision to the existing Maryland statutory agriculture code, numbers 14-101. This edit happened in 2016 and legally began the state's pilot industrial hemp program. This would make it legal for companies to cultivate, produce, and distribute hemp and hemp-derived products in the state.
Age Requirements For CBD In Maryland
In Maryland, CBD usage comes in two main types. First, consumers of CBD who have a medical marijuana card might be able to enter a dispensary and purchase CBD with a significant THC content. With this CBD, the THC means that a high is generated, and the substance will be able to be detected on most modern drug tests as a clear derivative of marijuana.
When this is the case, the age requirements associated with purchasing CBD may vary. Generally, dispensaries only want to sell to consumers who are either at least eighteen or twenty-one years of age. But this can vary, especially if the doctor of a minor recommends CBD be used in their serious treatment plan.
For the rest of the population, CBD without THC does not produce a high and cannot be detected on a drug test. So long as the THC is derived from an industrial hemp plant and contains less than 0.6% THC concentration, the age requirement for purchasing it will usually simply be eighteen.
Where To Find Maryland CBD
CBD without significant THC content can be found in a variety of places all over the country. Gas stations, convenience stores, health and wellness shops, head shops, smoke shops, and vape shops should all be valid sources for both smokable and edible non-THC CBD products.
But for consumers looking to purchase marijuana-derived CBD products, the only bet in Maryland is going to be a dispensary.
Buying CBD Online In Maryland
It is legal to buy CBD online and have it shipped to Maryland. The only significant consideration for consumers looking to use the internet within Maryland for their CBD shipment should be the amount of THC contained within their product. If the THC content is higher than .06%, then it is not legal for general use under either the farm bill or Maryland's pilot industrial hemp program.
Additionally, users of hemp products should conduct their own research into online suppliers and distributors, given the lack of oversight for the online hemp market in 2019.
Future Legality Of Maryland CBD
Maryland is likely to only become more interested and invested in the hemp industry as the public sentiment in the U.S. continues to shift in favor of CBD and hemp-derived products.

TimesofCBD is the most active daily CBD news publication featuring the latest cannabis industry stories and marijuana market trends. As the leader in CBD-centric content curation, we invite all readers to come for the headlines and stay for the insights. Quality is the top priority when presenting user guides, analyzing product reviews and reporting fact-checked news announcements. All information is for educational and informational purposes only. Disclaimer.
Got news? Email contact@timesofcbd.com