CBD in Maine: ME State Laws and Where to Buy Legally
CBD Oil Legality in Maine: Cannabidiol State Law Regulations in ME, USA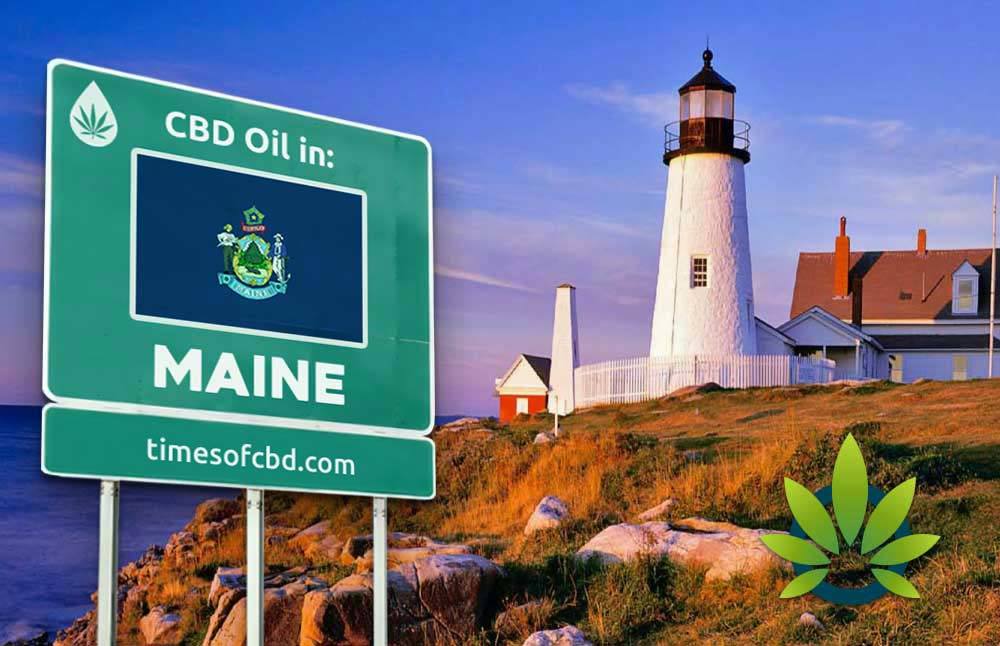 Maine is known for quite a few different things. The state is home to famous horror writer Stephen King, and has a worldwide reputation for the cultivation of incredible lobster and other seafood. But one lesser-known point of interest for many tourists visiting Maine is the state's incredibly progressive views on cannabis, marijuana, and hemp industries. The state's policies make possession of cannabis by adults legal for both recreational and medicinal purposes. Additionally, Maine has laws on the books which completely legalize the growing industrial hemp industry.
But the status of CBD and non-THC hemp law in the United States is complicated, to say the least. All fifty states have different laws pertaining to the substance, some state law books never even specifically mentioning the substance by name. It might further complicate matters that CBD is a distinct substance derived from the marijuana plant. While it might come from the same plant as bud or intoxicating THC products, CBD often comes with minimal amounts of THC, often cannot product a high, and will not show up on drug tests.
For these reasons, states have begun to realize the medicinal and non-intoxicating benefits of CBD for a variety of potential conditions. This realization has inspired legislators to revisit existing legislation and begin to revise their books to reflect the complicated realities behind CBD and other derivatives of the marijuana plant.
Maine Marijuana Laws
Marijuana laws in Maine fall into three main categories. This is not particularly unique to this single state; marijuana laws involve use of the plant for medicinal use, for free adult use, and for industrial hemp use. In Maine, all three of these industries are now completely legal, meaning that few restrictions are placed on constituents looking to gain access to high quality derivatives of the marijuana plant.
First, Question 1 was proposed by the state government and came down to a vote between the citizens of Maine. In a momentous decision, the state voted to legalize marijuana for recreational use. The legislation also set certain restrictions on who can use the recreational marijuana, but left it up to specific municipalities to decide the rules on where marijuana can be used and in what situations it is still prohibited.
Question 2 and Question 5 legalized medicinal cannabis within the state. In addition to allowing several dispensaries to open all over the state, this law set up a framework for patients in Maine to easily purchase medical marijuana with the O.K. of their physician or specialist.
Age Requirements For CBD In Maine
In Maine, the age requirements for use of recreational marijuana is twenty-one. Under the age of twenty-one, it is still illegal for consumers to make use of any kind of marijuana within the state. Additionally, the possession of marijuana by people under this age can often be a crime punishable by law.
For medicinal use, there is a bit of a difference. This matters significantly for consumers looking to gain access to CBD products with a high concentration of CBD. These products are only really available by recreational or medicinal marijuana means, because industrial hemp products must remain below a certain concentration of THC. The good news is that medical marijuana cards can be issued to consumers under the age of twenty-one.
Finally, hemp-only CBD products with less than 0.6 or 0.3% THC concentration are usually only able to be purchased by consumers who are over the age of eighteen. This might depend on a variety of factors, though, so users are encouraged to inquire with their local suppliers to find out what age restrictions might apply for them.
Where To Find Maine CBD
Maine CBD can be found in a variety of different places. First, dispensaries hold high quality medicinal CBD and other products, but can only be accessed by members of the growing market who already have access to a medical marijuana card in the state of Maine. This card can be difficult to get, so users without a serious medical condition might need to research non-medical sources for their CBD.
Most smoke shops, head shops, and vape shops will stock smokable and edible forms of CBD, both with and without THC. They will similarly require that consumers be over the age of twenty-one, but they do not require a medical marijuana card.
Finally, many convenience stores, gas stations, and even health food stores will sell various forms of CBD. These shops will similarly often request that users be eighteen or older to make the purchases from their dispensaries.
Buying CBD Online In Maine
Maine allows its citizens to purchase CBD online with little issue. Though the liberal policies on marijuana derivatives in Maine make it almost unnecessary for the average user to go to the internet to get their supply, the web surely offers a wider variety than most dispensaries.

TimesofCBD is the most active daily CBD news publication featuring the latest cannabis industry stories and marijuana market trends. As the leader in CBD-centric content curation, we invite all readers to come for the headlines and stay for the insights. Quality is the top priority when presenting user guides, analyzing product reviews and reporting fact-checked news announcements. All information is for educational and informational purposes only. Disclaimer.
Got news? Email contact@timesofcbd.com