CBD in Delaware: DE State Laws and Where to Buy Legally
CBD Oil Legality in Delaware: Cannabidiol State Law Regulations in DE, USA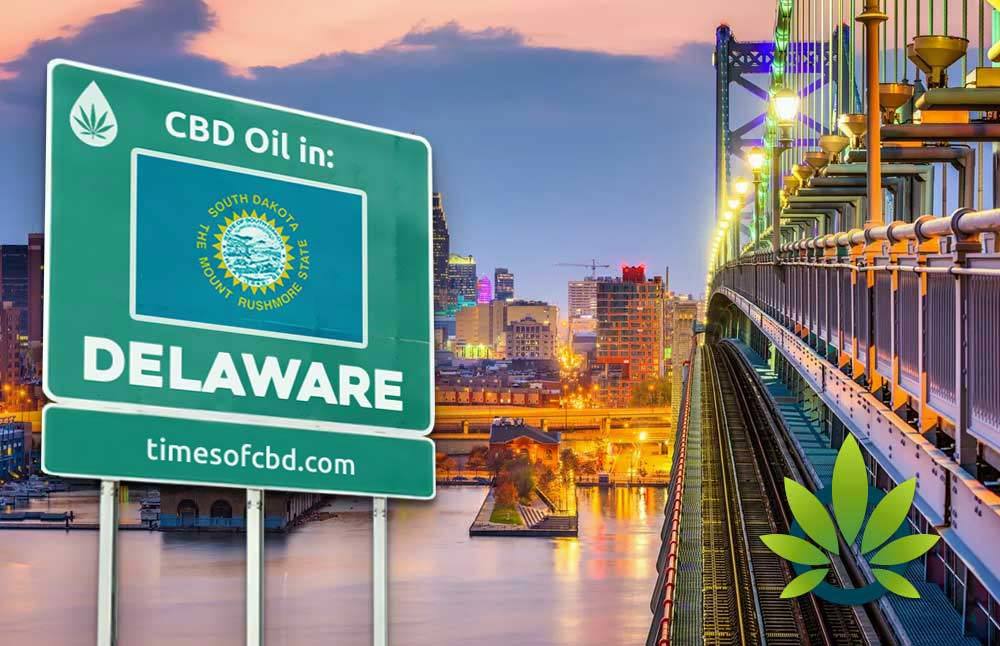 The governments of the United States have not been particularly user-friendly when it comes to the laws surrounding hemp-derived products and cannabis. While the past few years have been essential to a path towards decriminalization and even legalization of these substances, CBD still operates in a confusing middle-ground between allowed and disallowed, between completely regulated and largely unregulated. While businesses are fairly assured by the most recent version of the United States "Farm Bill" that they are allowed to produce the product, consumers of CBD products often remain confused regarding the exact legality of CBD.
The legal quandaries surrounding CBD and hemp-derived products are only further complicated by the various agents involved in United States law. It isn't just a question of federal law; each of the fifty states has its own set of regulations and rules concerning controlled substances. This can make it exceedingly hard for the average user of CBD to ascertain what proper procedures they should go through in order to purchase and use the substance in their own jurisdiction.
Delaware is no exception to this confusing trend. Consumers all over the state continue to question how legal the CBD industry is, as well as what regulations surround the growing market. As always, consumers should do their own research before taking any advice on legal matters, particularly when it comes to the legality of CBD in their own Delaware jurisdiction.
Age Requirements For CBD In Delaware
Delaware is one of the few states which is direct and clear on its age restrictions on CBD, as well as all types of marijuana and cannabis-related products. Coincidentally, Delaware also comes with zero restrictions on the ages required for someone to purchase CBD products. Legal adults are allowed to purchase CBD products, so long as they do not contain a significant amount of THC, the psychoactive ingredient within the marijuana plant.
Even when the compound includes the important THC chemical, consumers can still obtain the substance regardless of their age. The only difference when THC is contained within the substance is that adults will have to obtain a medical marijuana card. This could change soon, as many within Delaware believe that the state is soon to legalize marijuana and cannabis products for recreational use rather than just medical purposes.
For those under the age of eighteen, CBD products can only have a maximum of seven percent THC, and must contain at least 15% CBD composition.
Where To Find Delaware CBD
Delaware has a variety of places where users can purchase their desired CBD and cannabis-related products. The majority of products of the highest strength are available from the small medical dispensary system within the state. Because Delaware has a compulsory vertical integration system in place, consumers who own their own dispensary must cultivate their products locally.
These dispensaries are distributed relatively far throughout the state, with most major cities having their own dispensaries for marijuana products and cannabis-derived products in the state. The number of dispensaries is only expected too increase, too, as the public interest in CBD and marijuana products continues to climb. More liberal legislation—as well as the eventual legalization of recreational pot—will surely allow the number of available dispensaries to climb significantly.
Aside from these common dispensaries, there are a variety of health and wellness stores, head shops, and vape and smoke shops offering CBD and hemp-derived cannabis products. Industrial hemp is entirely legalized within the state, so the industry has been given a lot of room to breathe and grow.
Buying CBD Online In Delaware
Delaware has no prohibition on the purchase of CBD products online. Additionally, CBD stores all over the internet are happy to serve citizens of Delaware. The benefits to making these purchases online are relatively clear. Online retailers offer a wider range of available products, and shipping is often a pain-free process in the modern era of the CBD industry.
But Delaware CBD users should be aware that the online market is largely unregulated, and a lack of oversight means that some companies manufacture less potent products than consumers might find in their local dispensaries. Before any purchase, consumers need to conduct extensive research into the background of the company that they choose to buy from.
Future Legality Of Delaware CBD
Delaware has a stellar track record within the CBD community. Their liberal laws on medical use allow a broad population to access THC-containing CBD, and dispensaries all over the state make it easy for consumers to purchase CBD products. This is not anticipated to change, but Delaware will likely become even more invested in the CBD and cannabis industry as the public continues to grab onto the growing industry.

TimesofCBD is the most active daily CBD news publication featuring the latest cannabis industry stories and marijuana market trends. As the leader in CBD-centric content curation, we invite all readers to come for the headlines and stay for the insights. Quality is the top priority when presenting user guides, analyzing product reviews and reporting fact-checked news announcements. All information is for educational and informational purposes only. Disclaimer.
Got news? Email contact@timesofcbd.com