CBD in Oklahoma: OK State Laws and Where to Buy Legally
CBD Oil Legality in Oklahoma: Cannabidiol State Law Regulations in OK, USA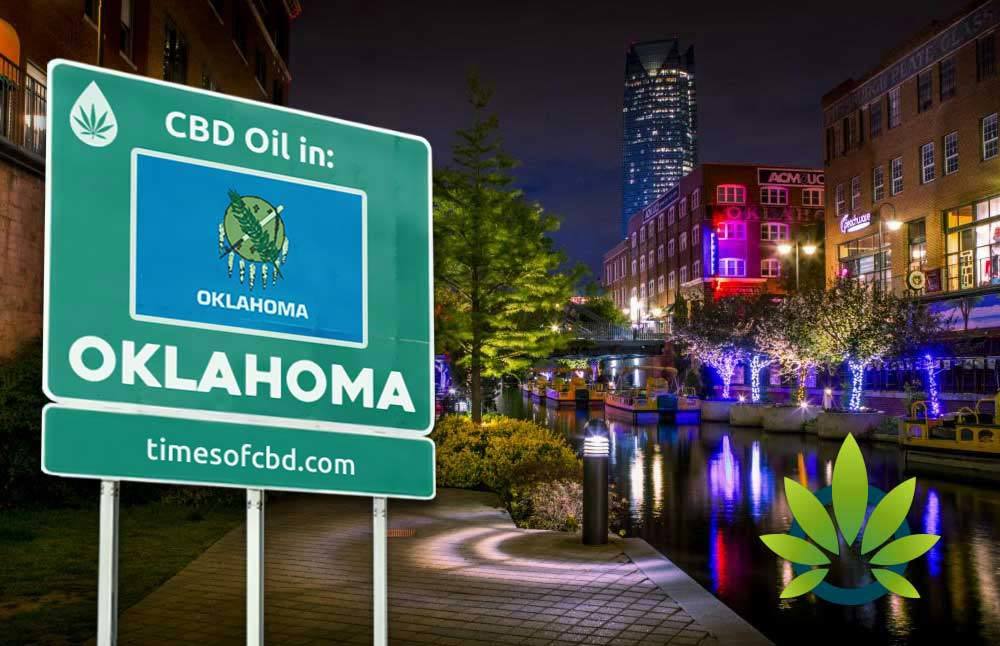 CBD has climbed steadily in popularity since 2014. One major reason for this increase in interest was the 2014 Farm Bill, a piece of federal legislation typically understood to have legalized the entire industrial hemp industry in all fifty states. Though the exact status of this legislation is largely contested across the states in which the law applies, it was nevertheless responsible for creating an unprecedented spike in public participation in an already-booming industry for CBD and other industrial hemp-derived products in the United States.
In Oklahoma, the legal status of CBD is pretty straightforward. The state has opportunities for consumers to obtain both recreational, low-THC CBD and medicinal, high-THC CBD. This makes Oklahoma one of the most progressive states in the entirety of the south, particularly when it comes to the industrial hemp industry, which is expected to grow at an unprecedented rate in the next few years.
However, the laws for the industrial hemp pilot program and the medical cannabis program in Oklahoma have not yet been put into official action. This has done little to deter consumers from accessing low-THC CBD products, which are already being sold in specific stores all over the state of Oklahoma.
Oklahoma CBD Laws
The first law on the books for cannabis and CBD is medical cannabis. This law was passed years ago under SQ 788, and made it possible for patients with certain debilitating conditions to gain access to high-quality medical marijuana and medicinal cannabis within the state. Accessing this medical cannabis requires a few important steps to be taken, though. Users must get a signed document from their physician or specialist outlining the necessity of the medical marijuana for their treatment, and then can only obtain their cannabis through a thoroughly vetted and licensed medical marijuana dispensary in Oklahoma.
This law was updated to include the interest citizens had developed in medicinal, high-THC CBD with House Bill 2154 back in 2015. This legislation made it possible for sufferers under the age of eighteen to gain access to medical CBD in very specific situations; Lennox-Gastaut Syndrome or other forms of very severe epilepsy allow minors to access medical CBD.
Additionally, 2018 saw the passage of House Bill 2913, which instituted an industrial hemp pilot program for Oklahoma. This pilot program allows companies to manufacture and distribute and allows consumers to possess and consume CBD and hemp-derived products so long as they contain only a minimal and insignificant amount of THC.
Age Requirements for CBD in Oklahoma
Age requirements in Oklahoma for obtaining CBD are relatively complicated and depend on a number of different factors. First, consumers who are using CBD under the industrial hemp pilot program or the 2014 Farm Bill must typically be over the age of eighteen. This varies slightly, and some smoke and head shops might ask users to be over the age of twenty-one.
For medical cannabis, the typical age requirement is that patients be over the age of eighteen in order to be prescribed medical marijuana. This can be altered slightly on circumstance but is mostly always applicable in the current medical field.
Another law hit the books in 2015 which made it legally possible for consumers under the age of eighteen to obtain Medicinal, high-THC CBD products. As of now, the law limits access to patients with severe, debilitating epilepsy conditions, although this could theoretically be expanded to include a wider variety of conditions and sufferers in the near future. As of now, minors with these select conditions are able to access high-grade medical CBD from licensed Oklahoma dispensaries.
Where to Find Oklahoma CBD
The location of CBD depends on the law under which it is being sold. For CBD sold under the industrial hemp pilot program or Federal Farm Bill umbrella, CBD is obtainable from smoke and head shops, convenience stores, food and wellness shops, and even in gas stations across the state. This CBD can vary greatly in quality, so users need to research before making a purchase.
For the medical cannabis and medical CBD laws, though, CBD products are almost always high in THC content and can only be purchased with a medical cannabis card from a licensed medical marijuana dispensary in the state.
Buying CBD Online in Oklahoma
It is typically legal to buy CBD online in Oklahoma. Most online retailers will sell to constituents living in Oklahoma, and there are no laws on the books within the state banning the online purchase of CBD and hemp-derived products. However, it is important to remember that the state of Oklahoma places limits on the amount of THC that can be present in industrial hemp CBD. If the purchased CBD crosses this threshold, this could be a major problem.
Additionally, users should conduct research to verify the legitimacy of the products being purchased in the unregulated online market.

TimesofCBD is the most active daily CBD news publication featuring the latest cannabis industry stories and marijuana market trends. As the leader in CBD-centric content curation, we invite all readers to come for the headlines and stay for the insights. Quality is the top priority when presenting user guides, analyzing product reviews and reporting fact-checked news announcements. All information is for educational and informational purposes only. Disclaimer.
Got news? Email contact@timesofcbd.com