CBD in Wisconsin: WI State Laws and Where to Buy Legally
CBD Oil Legality in Wisconsin: Cannabidiol State Law Regulations in WI, USA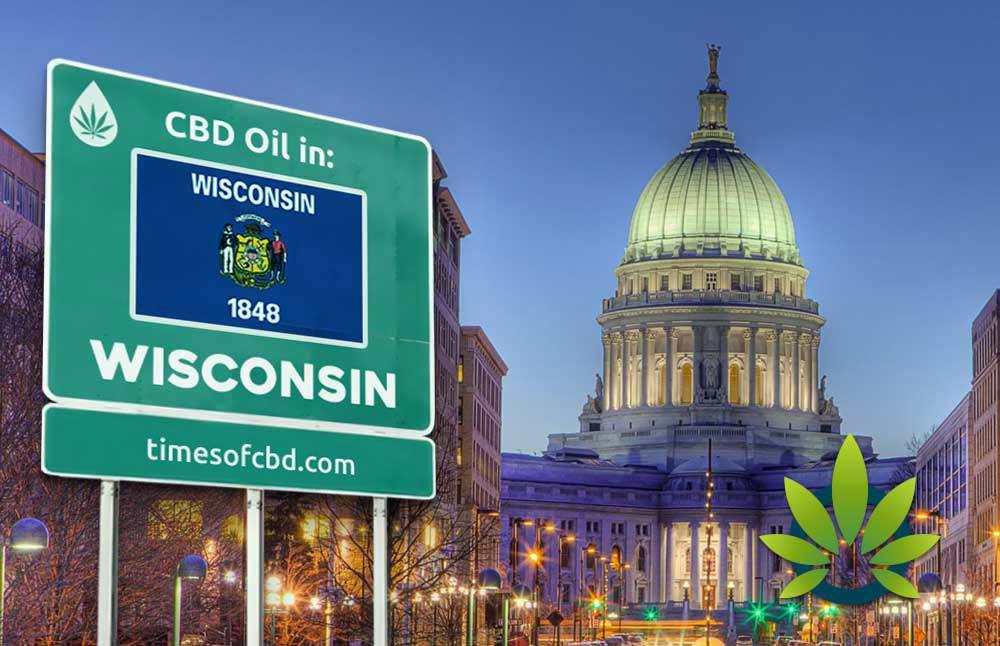 Wisconsin had a particularly interesting and controversial year when it comes to the regulation of CBD and hemp-derived products. After a memo was sent out from the Department of Justice in the state outlined that CBD possession is only legal if an individual has a certification from their physician, massive public outcry commenced. Led primarily by farmers of hemp who believed that their production of CBD oil was legal according to Wisconsin's industrial hemp pilot program, the outcry was successful and led to the reversal of the original memo.
Aside from this controversy, it should be noted that Wisconsin's industrial hemp pilot program is one of the most explicitly defined in the entire country. Several pages of the Wisconsin statutory codebook are filled with specific regulations for how and when companies will be allowed to produce CBD derived from the industrial hemp plant. As always, these laws continue to evolve and are subject to quick change as the industry grows and develops.
Though this guide is meant to be a resource for hemp and CBD users in Wisconsin looking to decipher this web of law and regulation, it should not be construed as legal advice in any sense of the word.
Wisconsin CBD Laws
Wisconsin started by legalizing medical CBD for specific conditions in 2013 under AB 726. Following this decision by lawmakers, consumers all over the country were allowed to access high-quality medicinal CBD with their doctors' permission. This law came with a few notable stipulations, though none are particularly surprising to those well-versed in medical marijuana laws in the United States. As always, the Wisconsin law specifies that only individuals with specific debilitating conditions can access the medical marijuana, that these individuals must gain their physician's written approval for the marijuana, and that the cannabis can only be purchased from licensed medical dispensaries in the state.
Following public interest and federal laws passed in favor of the growing hemp industry, Wisconsin set out to institute its own industrial hemp pilot program in 2017. Taking up enormous sections of the Wisconsin lawbook, it sets out a specific legal path by which the hemp industry will be able to manufacture and trade CBD oils and other extracts of the industrial hemp plant. This legislation has had its intended effect, and the hemp and CBD industries in Wisconsin remain particularly rife with activity even today.
Age Requirements for CBD in Wisconsin
Wisconsin age requirements fall into two main categories. First, medical CBD is mostly issued only to adults over the age of eighteen. But according to most state laws, medicinal CBD may be issued to a minor if the patient has a debilitating condition warranting the substance and their parent/legal guardian provides written consent for the prescription. If these conditions are met, then minors can theoretically be issued prescriptions to use medical CBD.
For non-medical forms of CBD, the age requirement is almost always eighteen.
Where to Find Wisconsin CBD
Medicinal CBD can only be obtained from licensed vendors within the state. These establishments are particularly serious about verifying who they sell to, especially given the close-call with the State Department of Wisconsin in the first half of 2018. Consumers making purchases from these institutions should be sure to bring identification cards and medical CBD slips from their physicians before attempting to buy their CBD.
Truthfully, most community members in Wisconsin will argue that there is little difference between "medical" CBD and regular CBD. One law came out just before the other one. But for those looking to pick up some non-medical CBD, availability is wide and expansive. Smoke and head shops, convenience stores, gas stations, and even food shops often sell CBD, although the scare in early 2018 might have discouraged some institutions from openly displaying the products.
Buying CBD Online in Wisconsin
It is a bit of a legal grey area to purchase CBD online in Wisconsin. The only reason this is the case is that the state has toyed with the ideas of disallowing the possession of CBD in the past, and consequently might take issue with the shipment of these products into the state. Nevertheless, it is generally considered to be safe to ship CBD products to Wisconsin.

TimesofCBD is the most active daily CBD news publication featuring the latest cannabis industry stories and marijuana market trends. As the leader in CBD-centric content curation, we invite all readers to come for the headlines and stay for the insights. Quality is the top priority when presenting user guides, analyzing product reviews and reporting fact-checked news announcements. All information is for educational and informational purposes only. Disclaimer.
Got news? Email contact@timesofcbd.com