CBD in Kansas: KS State Laws and Where to Buy Legally
CBD Oil Legality in Kansas: Cannabidiol State Law Regulations in KS, USA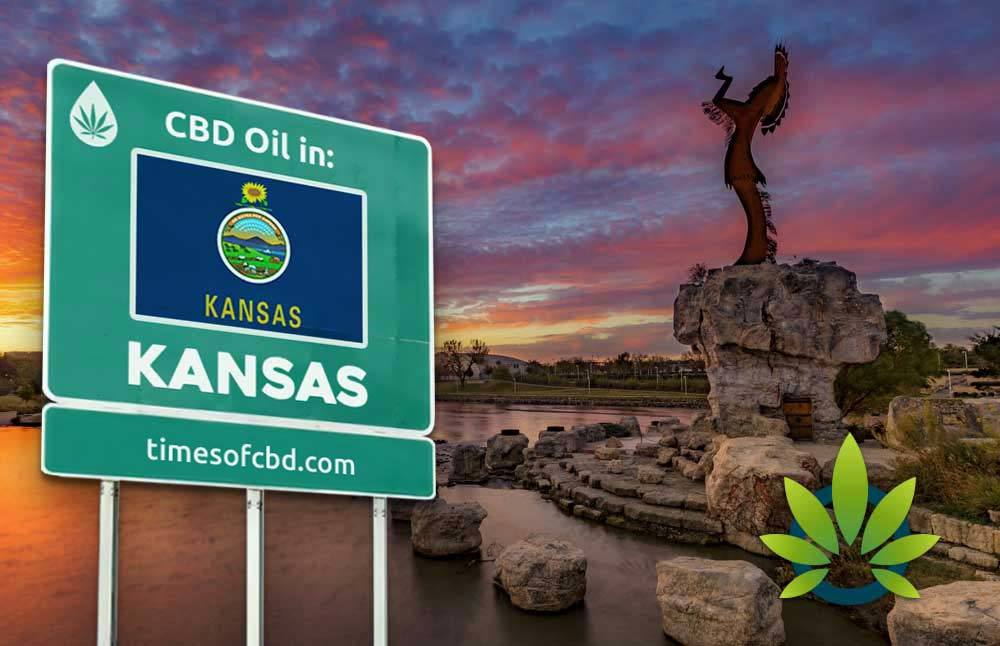 Kansas is no stranger to the massive public hype concerning CBD and industrial hemp products in the United States in the past couple of years. The hemp industry has exploded, with hundreds of companies offering thousands of different products poised to help alleviate a variety of conditions and potentially improve the lives of users all over the country. Kansas has had a boom within its own state market for CBD, and a variety of decisions from both the state and federal government have created near-ideal conditions for a favorable expansion of the growing industry.
Though Kansas is still tough on marijuana itself, the state managed to pass two important pieces of legislation through its senate in 2018. First, the Senate Bill 263 made the state's industrial hemp pilot program a reality. This created the legal framework for an expansion of a legal industrial hemp program. This hemp can be used for far more than simply CBD oils, and can be applied for usage in a variety of additional industries to the great benefit of citizens and the Kansas economy alike.
Next, the state also passed Senate Bill 282, which removed hemp products which have insignificant amounts of THC from the controlled substances act's scheduled substance lists. This means that products containing hemp but no THC are now completely legal in the state and can be sold, bought, and used without legal threat.
Still, a few resounding questions concerning the complex legal framework in the state of Kansas continue to perplex CBD users in the jurisdiction.
Age Requirements for CBD in Kansas
Age requirements are almost always the biggest and first questions that potential CBD users have when it comes to using and purchasing CBD products within the state of Kansas. Unfortunately, it is hard to give specific advice because the age requirements can vary so much across the state. Kansas is actually one of the few states that has this similar problem with cigarette and tobacco usage. Though in some parts of Kansas it is legal to purchase cigarettes at the age of eighteen, other jurisdictions require that buyers be over twenty-one.
Unfortunately for CBD users, this problem is even further complicated in the industrial hemp industry because of the wide variety of different types of establishment that stock different CBD products. For one, smoke and head shops will sometimes sell CBD and hemp-derived products. These companies will almost always be the toughest on CBD age requirements, especially because of the nature of the other products they typically sell. They either require that buyers be eighteen or twenty-one to enter the shop to make a purchase.
Gas station and food health stores are a little bit different, but present their own obstacles for younger CBD consumers. These establishments are often more lenient on who can buy CBD products, but many of them still require that their customers be eighteen or older before buying smokable or edible CBD. This is par the norm across the country, especially given the potential and unknown health risks to CBD usage over extended periods.
Where to Find Kansas CBD
Kansas CBD can typically be found in food health and wellness stores, smoke and head shops, and even some gas stations. The legalization of the industrial hemp industry means that companies do not need to hide their CBD products and can pretty much sell them in the openly all across the state. But some retailers might be a little more careful about openly displaying these products, especially since much of the country still holds a pretty negative view on the hemp plant and these companies might be family-friendly.
Consumers looking to get their hands on some quality CBD products can hop on over to any reputable smoke or head shop, or to a food or wellness store, and inquire about the types of CBD products that they might have in stock.
Types of CBD in Kansas
Kansas has a wide selection of CBD products. A fully legalized industrialized hemp industry means that the market will continue to expand and, as time rolls on, Kansas' CBD market will continue to develop more products for the growing consumer-base being generated. Smokable CBD oil, balms, creams, and edibles are in no short supply from the hundreds of retailers all over the country.
CBD quality in Kansas is relatively respectable, but Kansas CBD users should inquire with their local supplier to verify the CBD content, potency, and availability of their CBD products.
Buying CBD Online in Kansas
In Kansas it is perfectly legal to purchase CBD and have it shipped within the state. Most companies online will happily ship to the state, and ordering online offers an even further expanded selection of different CBD products. Consumers should be wary of the lack of oversight and regulatory authority on the internet and conduct their own research before making a purchase.
Future Legality of Kansas CBD
Kansas is heading down the right path for the establishment of a booming CBD and hemp-derived product industry within their state. As the federal and social view of hemp-based products continues to improve, it is more than likely that legislators in Kansas will become even more friendly towards hemp and CBD products.

TimesofCBD is the most active daily CBD news publication featuring the latest cannabis industry stories and marijuana market trends. As the leader in CBD-centric content curation, we invite all readers to come for the headlines and stay for the insights. Quality is the top priority when presenting user guides, analyzing product reviews and reporting fact-checked news announcements. All information is for educational and informational purposes only. Disclaimer.
Got news? Email contact@timesofcbd.com