Flying with CBD: Airport Flight Security and Plane Traveling Rules
Can You Fly With CBD Oil? Let's Cover Basic Airport Security and Flight Plane Traveling Rules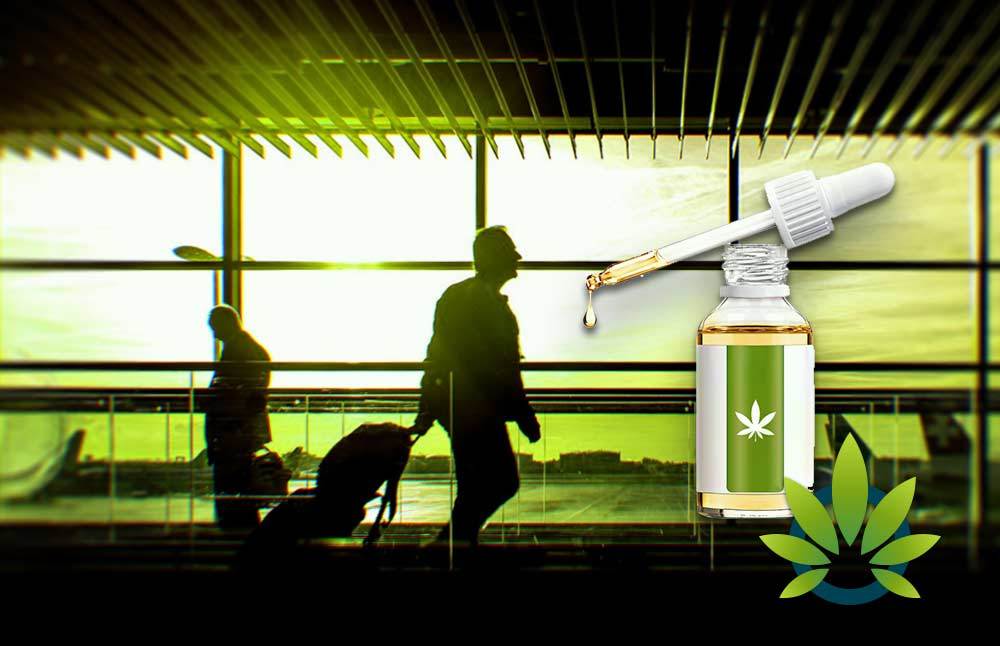 While a number of states have legalized marijuana for both medical and recreational use, every state takes a different approach. In some states, possessing even trace amounts of cannabis in any form can still get you in some very deep trouble. Not only that, but marijuana is still listed as a Schedule I drug by the federal government – and that means traveling across state borders with any amount of cannabis on you, even if you have a prescription for medical marijuana, is a federal crime.
That's why CBD oil has become such a popular alternative to cannabis. CBD oil, also known as cannabidol or hemp oil, is a safe and legal alternative to marijuana. There are a number of reasons for this, chief among them being that CBD oil is most often derived from industrial hemp, a close cousin to cannabis that doesn't have the same psychoactive properties. Industrial hemp's lack of tetrahydrocannabinol, or THC, means that CBD oil made from it isn't subject to the same rules.
This also means that traveling with CBD oil is not, quite literally, a federal offense. In fact, there are many instances in which you can even fly with CBD oil, depending on how it was extracted and how much you're bringing with you. Here's a quick and dirty guide to what types of CBD oil you can fly with, what types you can't, and how you can keep yourself from getting on the bad side of the TSA while doing so.
Anything With THC Can Get You Grounded
For the most part, CBD oil is devoid of any THC, the psychoactive ingredient in cannabis. This is especially true for CBD oil made from industrial hemp, which has been bred specifically to have as little THC in it as possible; in many cases this means there's practically zero THC in CBD oil from these sources.
However, the same processes used to extract CBD from industrial hemp can also be used to extract it from cannabis. These versions of CBD oil, usually manufactured and available for sale in states where medical or recreational marijuana is legal, sometimes contain trace to moderate amounts of THC.
This obviously poses a problem for anyone who's traveling by plane. You simply can't fly with CBD oil that's high in THC. This is true even if you're traveling from one state to another where cannabis use is both legal. You'll need to take careful note of the labels on your CBD oil, which will inform you clearly whether there is any discernible amount of THC in the product.
The TSA Still Has Other Requirements You'll Need To Satisfy
As long as your CBD oil is THC-free, you're in the clear, right? Well, not exactly. Don't forget that the TSA has a number of different requirements that travelers need to abide by that may affect your ability to fly with CBD oil. One of these is the limitation on how much liquid you're allowed to bring with you and how this liquid is stored.
The TSA currently has what it calls a "3-1-1" rule for liquids brought with you in your carry-on bag. All liquids must be in containers that hold no more than 3.4 ounces and must be placed in just one quart-sized clear plastic zip-top storage bag. You are only permitted to have one of these bags with you in your carry-on.
There are few exceptions to this rule, so if you have any CBD oil bottles larger than 3.4 ounces you will be unable to take them with you. You can place bottles of liquids of any size in checked baggage, though, which means that you still have options if you want to fly with a larger bottle of CBD oil.
The Bottom Line
CBD oil is an excellent and popular health supplement product that is available across the country, thanks to its much less precarious legal status. As a result, traveling with CBD oil is much easier than traveling with cannabis or marijuana products, especially if you're flying with CBD oil.
At the same time, make sure any CBD oil you take with you on a flight does not contain any THC, even if you're flying to and from states where cannabis or marijuana is legal. Additionally, CBD oil in carry-on luggage needs to comply with the TSA's 3-1-1 rule or you won't be allowed to board your plane otherwise. Keep these guidelines in mind and you should have no trouble flying with CBD oil in the future.

TimesofCBD is the most active daily CBD news publication featuring the latest cannabis industry stories and marijuana market trends. As the leader in CBD-centric content curation, we invite all readers to come for the headlines and stay for the insights. Quality is the top priority when presenting user guides, analyzing product reviews and reporting fact-checked news announcements. All information is for educational and informational purposes only. Disclaimer.
Got news? Email contact@timesofcbd.com