CBD in Vermont: VT State Laws and Where to Buy Legally
CBD Oil Legality in Vermont: Cannabidiol State Law Regulations in VT, USA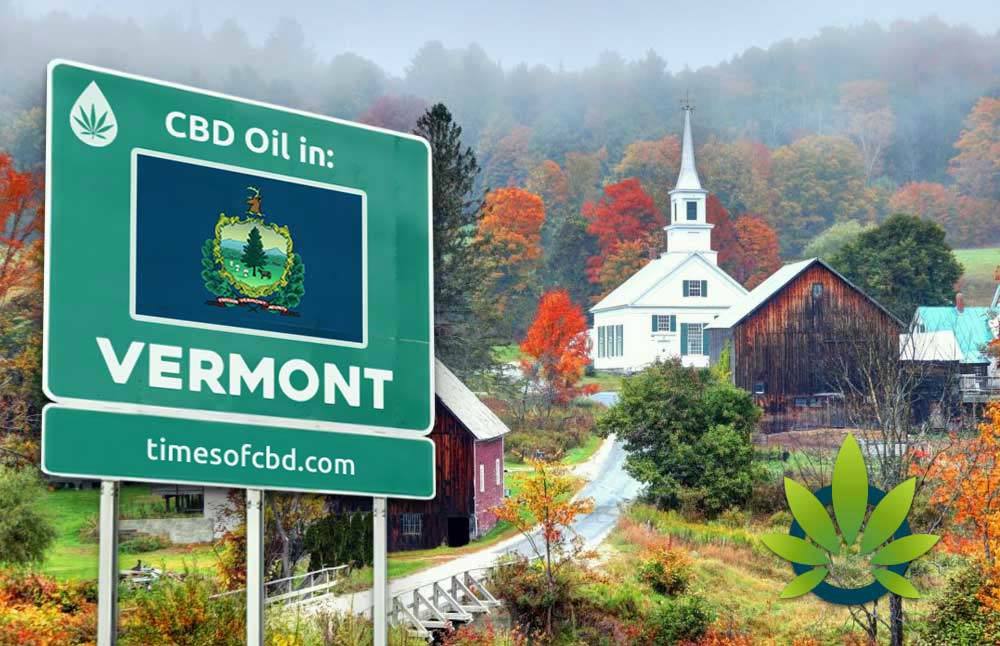 Vermont CBD users have very little to worry about when it comes to the legality of their substances within the state. A variety of laws on the books have worked to decriminalize marijuana for medicinal and recreational adult use, while additional laws in the past two years have created a substantive legal industrial hemp and CBD industry within Vermont. However, a few important distinctions and clarifications are necessary before consumers can fully understand the legal framework being shaped in the state surrounding CBD and cannabis.
It should come as no surprise why many constituents have so many questions about the legal status of CBD. Though the federal government seems to have legalized the industrial hemp industry and its products through the federal Farm Bill of 2014, many states continue to disallow the substance in a variety of ways, and local police forces across the country have been known to attempt to "crack down" on CBD and hemp products in many instances.
This guide will provide a basic introduction to the key concerns surrounding the laws about CBD and hemp products in the state of Vermont. However, this guide does not constitute proper legal advice, and consumers are solely responsible for refraining from violating the laws of their various governments.
Vermont CBD Laws
The history of medical cannabis is one section of the lawbooks in Vermont which has undergone consistent change. In 2004, an introductory version of the laws was introduced via Senate Bill 76. The law was expanded twice to include more patients in the state, once in 2007 with Senate Bill 7 and again using Senate Bill 17 four years later in 2011. Now, the state has one of the most comprehensive and inclusive medical cannabis laws in the entire country.
In 2018, the state legalized restricted adult use. This makes it legal for consumers over the age of twenty-one to purchase and possess a small amount of marijuana. Possessing a quantity of the drug above the legally specified amount is still illegal, so readers should be careful to research and avoid exceeding this amount.
Most importantly for CBD users, 2016 saw the passage of an industrial hemp pilot program law into the statutory codebook of the state, altering sections 561 to 566. This program makes it legal for companies to manufacture CBD products from the industrial hemp plant, selling them legally as long as they contain a minimal amount of THC.
Age Requirements for CBD in Vermont
Age requirements for CBD are a bit confusing in Vermont, due in large part to the variable nature of the laws in place within the state. For users looking to gain access to medical CBD under the medical cannabis framework put forward by the legislature, minors under the age of eighteen can be prescribed a medical marijuana treatment plan only if their physician gains written permission from the minor's parents or legal guardian.
For adult use, Vermont law requires that users be over the age of twenty-one, regardless of location or other factors.
Finally, CBD sold over-the-counter under the existing industrial hemp pilot program can be sold to anyone over the age of eighteen in the state. Sometimes, shops might increase this age requirement to twenty-one to conform with existing store policies or local norms/laws. But for the most part, this age requirement is almost invariably eighteen.
Where to Find Vermont CBD
Medical CBD can be found in one of Vermont's many medical cannabis dispensaries, which are licensed and vetted comprehensively by the state of Vermont. Adult-use cannabis can be found in a few dispensaries, but is becoming pretty difficult to find in the state. Finally, over-the-counter low-THC cannabis can be found at smoke and head shops, as well as some convenience stores, gas stations, and food and wellness shops.
Buying CBD Online in Vermont
It is currently legal to buy CBD on the internet within the state of Vermont. Most online retailers have no issue shipping to this state, and a lack of laws on the books against online purchases makes it a popular option for users seeking a wider variety of CBD offerings.

TimesofCBD is the most active daily CBD news publication featuring the latest cannabis industry stories and marijuana market trends. As the leader in CBD-centric content curation, we invite all readers to come for the headlines and stay for the insights. Quality is the top priority when presenting user guides, analyzing product reviews and reporting fact-checked news announcements. All information is for educational and informational purposes only. Disclaimer.
Got news? Email contact@timesofcbd.com