2018 Farm Bill Will Instantly Reshape Hemp, CBD Industry Starting January 1, 2019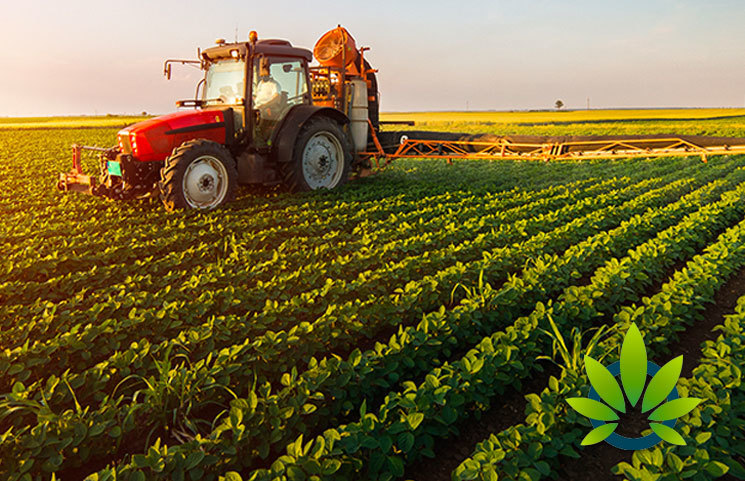 The new 2018 Farm Bill could revolutionize the way American agricultural producers produce hemp and CBD products. The Farm Bill, expected to go live on January 1, 2019, will allow licensed farmers and producers in all 50 states to lawfully grow hemp for commercial use.
It's a huge milestone for the hemp and CBD industry. Although there are still questions to be answered – particularly in regards to CBD products – this is an important step forward on the path to full nationwide legalization of CBD products.
This is a continued loosening of regulations that initially began with the 2014 Farm Bill. That Farm Bill allowed hemp to be grown on a limited basis via state-run research pilot programs. In 2017, those programs had 3,500 participants, and those programs are expected to continue with the passage of the 2018 Farm Bill.
As reported by BevNet.com, market research firm Brightfield Group predicts a booming future for hemp-derived cannabidiol (CBD) infused products. By 2022, the market is expected to generate $22 billion in sales. Many see the passage of the 2018 Farm Bill this week as the point where the legal hemp industry could truly kick into high gear.
Hemp is defined as any part of the marijuana planet – including seeds and extracts – that contains less than 0.3% THC. Despite the fact that hemp contains limited amounts of the psychoactive component of marijuana, its legal status across the United States has been up for debate in recent years. The passage of the 2018 Farm Bill, however, is expected to be the final hurdle on the way to full nationwide legalization.
The 2018 Farm Bill is expected to receive President Trump's signature before the end of the current legislative session.
Although many see this as a victory for hemp and CBD supporters, it's not the end of the journey. It's a big step forward, but there's still more work to be done. Let's take a closer look at what the 2018 Farm Bill means for the legal hemp and CBD communities.
How the 2018 Farm Bill Changes the CBD and Hemp Industry
Here are some of the most important things to know about what's changing – and what's staying the same – with the 2018 Farm Bill:
As of January 1, 2019, licensed farmers and producers in all 50 states will be able to lawfully grow hemp for commercial use
The bill also established a specific definition for hemp that distinguishes it from marijuana – something that has always been a thorn in the side of hemp producers; under the new bill, hemp will be removed from the Controlled Substances Act
The bill does not change the status of marijuana in the Controlled Substances Act; marijuana is still classified as a Schedule I controlled substance
Hemp and CBD will be legal for import and export beginning on January 1, 2019, and individual states will not be permitted to interfere with the transportation or shipment of industrial hemp, regardless of where the hemp is grown or authorized for sale
Effectively, the bill allows hemp to be legally grown in one state, processed in another state, and then sold in any of the 50 states
Under the 2018 Farm Bill, hemp producers can also access financial services, including the same financial services and banking that would be available to any ordinary producers of agricultural commodities
The bill also allows hemp producers to access agricultural subsidies from the federal government, including crop insurance, agricultural research grants, and organic certification production practices under the National Organic Program
By changing the classification of hemp under the 2018 Farm Bill, the government will shift oversight of hemp from the U.S. Justice Department to the Department of Agriculture, similar to most other crops and agricultural commodities in the United States
Another important change with this bill is that it bans individuals with felony drug convictions from participating in the hemp industry for a 10 year period
Overall, the 2018 Farm Bill isn't designed to answer all legal questions surrounding CBD as an ingredient. However, it does take a giant leap forward in terms of resolving discrepancies between state and federal regulations regarding the production and sale of hemp in all forms – whether it's a CBD oil, a flower, or an extract. That's huge for CBD and hemp producers nationwide.
This is a Pro-Farm and Pro-Agriculture Bill, Not a Pro-Public Health Bill
It's important to note that the 2018 Farm Bill is not designed to be a statement on the health effects of CBD, nor is the bill being passed for public health reasons.
Instead, this is a pro-farm and pro-agriculture bill designed to stimulate the economy.
The hemp legalization part of the bill was introduced by Senator Mitch McConnell of Kentucky. Kentucky is expected to be one of the biggest states for hemp cultivation.
However, legislators are careful to note that this bill is not a stamp of approval from the federal government on hemp or CBD. There are still hurdles to cross before CBD products have full green light.
CBD Products Still Have a Long Way to Go
The 2018 Farm Bill is also not a complete green light for CBD products and producers. Yes, it's an important step, but it doesn't totally open the door for a nationwide market for hemp-derived CBD products.
The most important restriction with the 2018 Farm Bill is that it does not mean every state has to sell CBD products. So far, 47 states have legalized CBD sales. South Dakota, Nebraska, and Idaho are the three states that have not legalized CBD sales within their borders.
Meanwhile, CBD producers focused on the food and beverage market will still need to deal with the Food and Drug Administration (FDA). The FDA has already explicitly prohibited the use of CBD in foods and dietary supplements because it's classified as an investigational new drug (IND).
Nevertheless, food and beverage makers continue to add CBD to their products, largely due to a lack of willingness to target manufacturers. The FDA doesn't appear to care, and the FDA's statement does not affect foods or supplements in which CBD is naturally occurring.
In a November 2017 letter, FDA Commissioner Scott Gottlieb clarified the FDA's stance towards CBD foods and supplements:
"The FDA will continue to support rigorous scientific research on potential medical treatments using marijuana and its components that seek to be developed through the appropriate scientific channels. However, we remain concerned about the proliferation and illegal marketing of unapproved CBD-containing products with unproven medical claims."
In response to the fact that the FDA issued several warning letters in November 2017, Gottlieb also wrote,
"[The FDA] will continue to take action when we see the illegal marketing of CBD-containing products with unproven medical claims."
Ultimately, the 2018 Farm Bill does not answer all questions about cannabidiol, especially in regards to CBD products, foods, and supplements. However, it's an important milestone for the hemp and CBD industry.
Conclusion
The passage of the 2018 Farm Bill is a landmark moment for hemp producers across the United States. For the first time in nearly a century, the United States government will not federally prohibit commercial hemp production in the United States.
Assuming President Trump signs the bill, the passage of the 2018 Farm Bill will make commercial hemp production legal in all 50 states while also allowing hemp products to be legally imported and exported.
TimesofCBD always fact checks sources and aims for the best accuracy in the reporting curated cannabis content consisting of the latest CBD news, user guides and product health research. Quality is the priority, but we are not eligible to be liable as everything here is for educational, informational purposes only. Always seek real additional medical advice and consultation with a professional healthcare practitioner before considering any CBD. No statements found on this website have underwent Food and Drug Administration evaluation. The efficacy of any products or claims made have never been approved by the FDA either. No products shall ever be intended to diagnose, treat or cure any disease or prevent any ailment.