CBD for Athletes: Does Cannabidiol Benefit Athletes?
CBD for Athletes: Top Sports Players Using Cannabidiol for Injury Recovery Plus Best Products to Use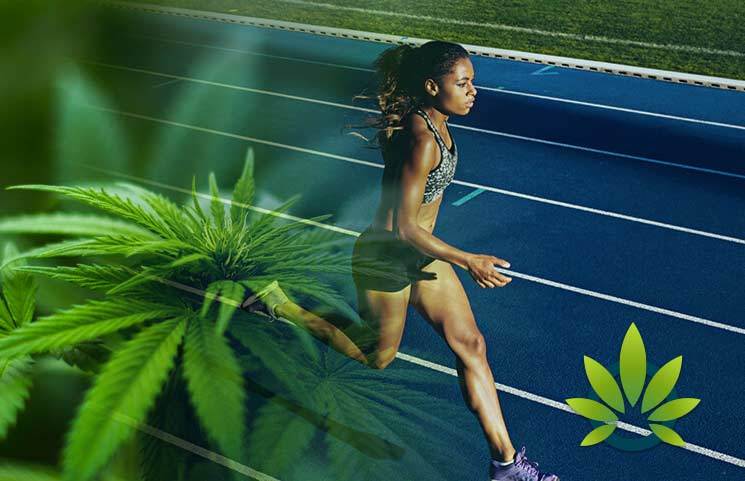 Cannabidiol (CBD) is a substance that has been getting a lot of attention lately for its ability to reduce anxiety, soothe pain, and provide many different benefits. Right now, athletes are able to use CBD, according to the World Anti-Doping Agency (WADA), though every other cannabinoid has been banned for in-competition activities. These products still have traces of certain cannabinoid components, like THC.
The cannabis plant is credited with producing this substance, though it is just one of the 120 cannabinoids that have been identified. Though it offers many of the same therapeutic benefits of THC, it does not offer the same psychoactive compound, because the chemical structure is slightly different. Even though the most careful companies will work to extract just CBD, there is always a risk of gathering more than the intended compound. As such, it is possible to contain some level of THC, though there are regulations in place that restrict the maximum allowed level of THC for the product to be considered legal.
Athletes on Cannabidiol
Presently, athletes are responsible for following the anti-doping rules, and any substance that could cause them to fall out of line with those policies puts their career at risk. For that reason, it is important to know as much as possible about the products that they take. CBD itself is not prohibited, based on the current laws. Using the products outside of competition is often the safest route, but keep in mind that consumable CBD remedies can remain inside the body for several weeks.
Testing for the use of CBD or THC in athletic events involves either a blood or urine test, but they often require no more than 150ng/ml. Unless the level reaches this, the test is not considered positive, which means that the user still qualifies. The use of a CBD product that does not exceed that dosage will allow the user to pass the test, citing no rule violation.
While taking CBD there does not appear to be any kind of health risk associated with CBD, though that could be due to the lack of thorough research at this point. The information available at the moment suggests that it is easy to tolerate, and there are no signs that it causes any kind of dependence. The only real side effects with these kinds of products appear to be in the interactions with prescription medications.
As for marijuana, there have been many health risks documented that are thoroughly understood. Some studies have suggested that the long-term use of marijuana can lead to head issues in both the physical body and the mental health of the user. Specifically, the reports suggest that marijuana can cause uncontrolled cell growth and difficulty in both DNA replication and repair, leading to cancer.
At this point, the safest bet for use from the cannabis plant is with CBD, considering its legal standing and the lessened risk of long-term damage.
Benefits of CBD for Athletes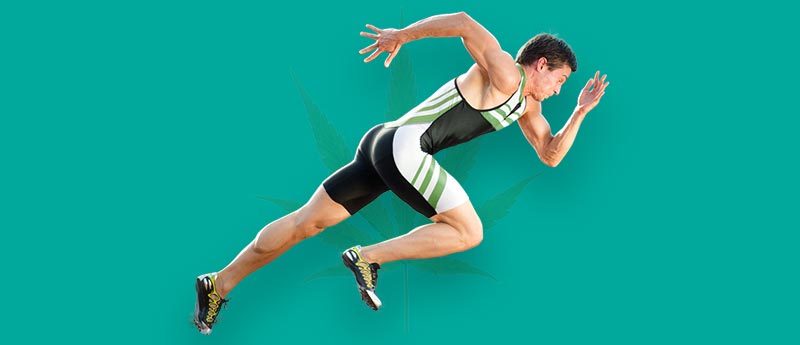 Though the above information describes all the cautions that consumers must take when using CBD products, there are substantially more rewards to reap. One of the biggest benefits is the use of CBD instead of NSAIDs, or non-steroidal anti-inflammatory drugs, like ibuprofen or naproxen sodium. Though these remedies used to be considered the safest choice for consumers to relieve pain without a doctor or pharmacist, most athletes are warned to stay away from them while training. By using this type of product, there is an elevated risk of renal damage, and it can cause a heart attack or stroke with frequent use. With CBD, athletes can reduce pain associated with their physical activity.
The fourth additional of The Essentials of Pain Medicine says,
"There are no documented deaths from cannabis or cannabinoid-based products. In a systemic review of studies of oral and oral-mucosal cannabis for various medical conditions, most adverse events reports were considered non-serious (96.6%)."
Considering these same benefits for pain, CBD can also be used as an alternative to opioid use, which the CBC found to be responsible for over 42,000 deaths in the US for 2016 alone. Though they greatly manage the pain, addiction and overdose are the top risks that come with it. While CBD may not give the equivalent intensity with its pain relief, it helps with the long-term management of pain.
As the CBD remedies reduce pain, they also can reduce the inflammation that comes with the recovery period after intense workouts or competition. Inflammation can restrict the muscles and cause a worsened performance. Cannabinoids that bind with certain receptors in the body help to reduce the body's production of cytokine, which create es the inflammation in the first place.
Along with the benefits to the muscles, CBD manages to relief inflammation in the small and large intestines as well. GI distress is a level of discomfort that can deter any athlete from a race or a game. Even though CBD does not help with the dehydration or overheating that athletes often experience, the reduction in inflammation could cause participation in those events to exacerbate the problem. The colon features two types of endocannabinoid system receptors, which means that the CBD will naturally gravitate to those areas to soothe them.
Finally, athletes can still sustain the pain and stomach issues during an event, but a lack of sleep leaves the whole body in shambles. As a natural inhibitor of adenosine, consumers can comfortably drift off to sleep, providing a calm sensation that consumers will find comforting.
CBD Products for Athletes
The beauty of CBD is that there are many different types of remedies that allow consumers to get the desired benefits. There are users that prefer a capsule, pill, or oil, while others enjoy vaping. Topical creams and lotions allow consumers to nourish their muscles from the outside in.
Leafly has compiled a list of "Must-Have CBD Products for Athletes," which could help new users to determine the best option for their needs. Read on below to learn about their recommendations.
Populum Cold Therapy Hemp Rub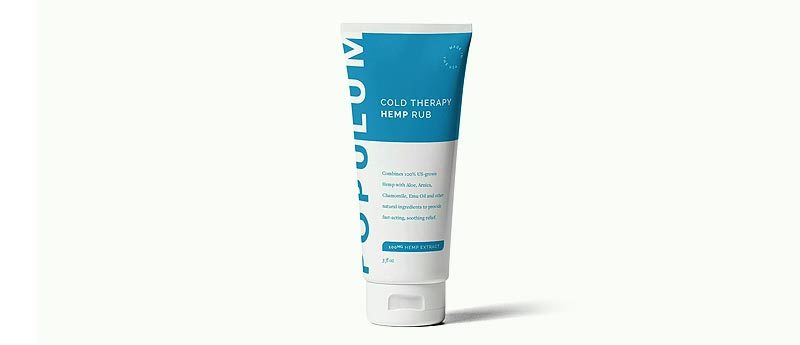 The Populum Cold Therapy Hemp Rub feels just like a lotion, comparable to Icy Hot or generic versions. It soothes sore and pained muscles, with the added support of Aloe Vera, Arnica, and Chamomile. The user needs to massage a thin layer of the rub over the muscles that are in pain, and they will soon feel a cold sensation over the muscles. Without being painful, the user will be able to relax their muscles and heal after a workout.
Cordial Organics "Balance" CBD Tincture
The Cordial Organics "Balance" CBD Tincture offers full spectrum, USA-grown hemp, which is the preferred source for consumers looking to purchase any CBD remedy. Preserving the nutrients in the extract, the company uses a CO2 process, while introducing additional phytocannabinoids and terpenes for greater health benefits. To appeal to consumers, it also has a lemon-mint flavor, and can be take with the included dropper.
CBD+ CAPSULES from Wildflower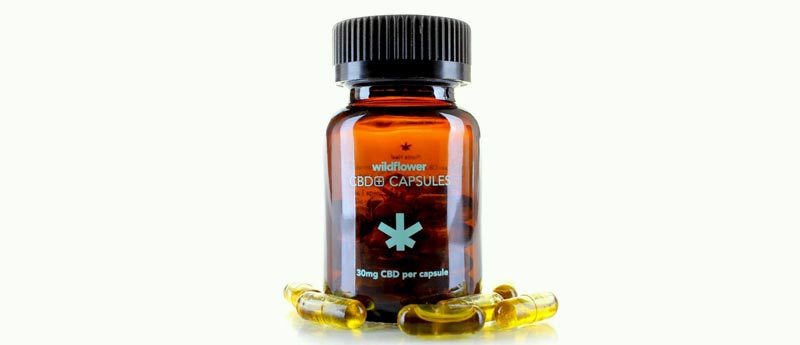 The CBD+ CAPSULES from Wildflower provides the benefits that CBD can allow but housed within a capsule that consumers can take without tasting. Each capsule in this remedy also includes full spectrum CBD, though the user adds organic hemp seed oil rich in other nutrients. The formula is safe for vegans, and users only need to take one capsule a day for the desired wellness.
Livity Foods EverBars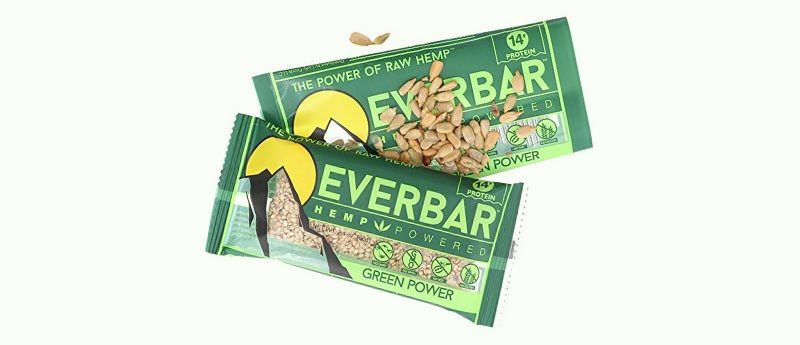 With all the nutrients that hemp provides, there are the EverBars from Livity Foods. They combine full spectrum CBD oil with 12 grams of protein within a single bar for a nutritious and beneficial snack. The flavors presently include Almond Cranberry, Blueberry Cashew, Cinnamon Ginger, and Green Power. For users to get the best results, they should time the consumption with this bar about 30 minutes before they need the energy.
ReGen PCR Protein Powder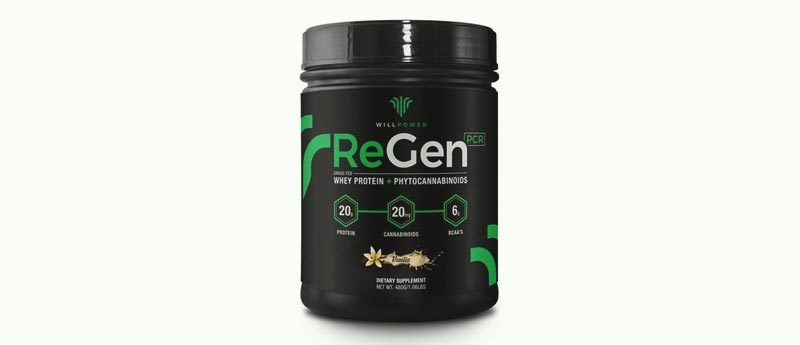 ReGen PCR Protein Powder offers similar benefits to the EverBars, except consumers can mix it into a drink. After choosing between the Cinnamon Chocolate and Vanilla, the user also gets whey protein and hemp oil within their drink.
CBD Select Vape Pens (Relax Lavender Blend)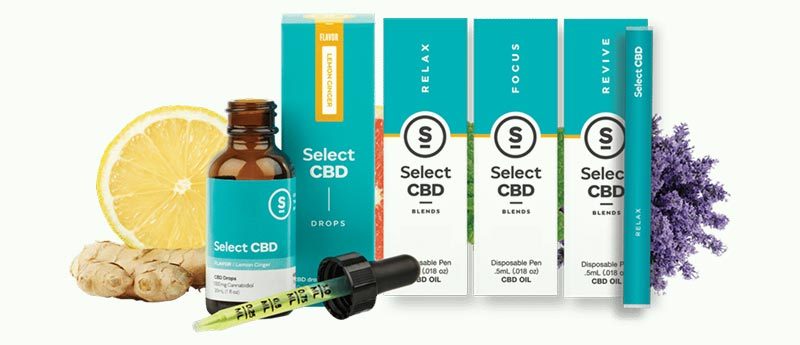 Using the CBD Select Vape Pen is a helpful way to get the benefits of CBD, but without applying a balm or consuming a capsule. Combined with lavender essential oils, consumers will be able to soothe their muscles and ease their stomachs at a rapid pace.
Shea Brand CBD Pain Reliever Salve
The Shea Brand CBD Pain Reliever Salve is created with the intention of reducing pain. Using a CBD isolate with shea butter, vitamin E, arnica oil, and other essential oils, consumers can have a muscle-relieving treatment that also smells amazing. It can be used to nourish dry skin, though it is more helpful in joint and muscle pain. The user can massage in as much as they want for the desired effects.
Red Barn CBD Bath Salts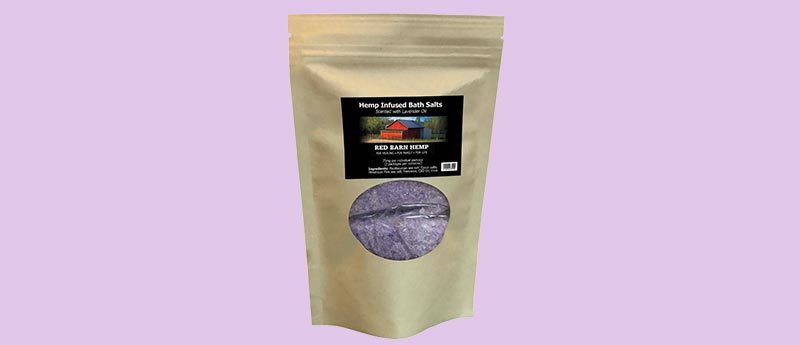 For athletes that are lucky enough to relax in a bath, the Red Barn CBD Bath Salts do the trick. All the hemp seems to come from Oregon at a family farm that has been run by the last three generations of the family. They use full spectrum CBD as well, and the salts are perfect for eliminating pain and inflammation.
Knowing THC from CBD Cannabinoid Differences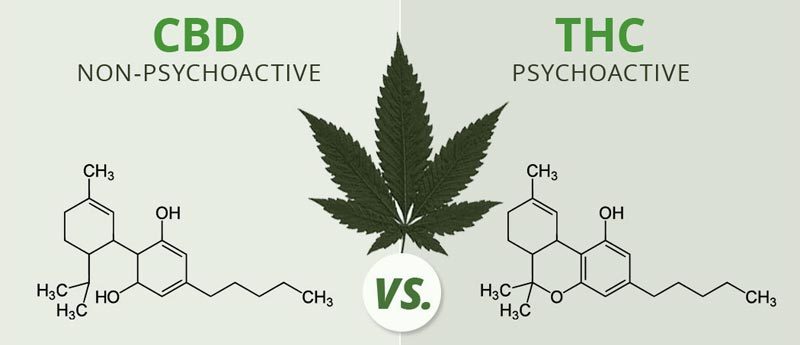 The cannabis plant offers a plenty of cannabinoids out of which tetrahydrocannabinol (THC) and cannabidiol (CBD) are the most popular. Among these THC is most famous for inducing an euphoric high and its psychoactive effects on the body. On the other hand, CBD is having numerous health benefits, apart from being non-psychoactive. The clinical and research studies on CBD oil products have shown that CBD can be an effective tool for treating medical conditions like chronic pain, anxiety, depression, seizures, sleeplessness, and other degenerative mental and physical conditions.
Sports persons who engage in high levels of physical activities and sports and games like football, basketball, wrestling, etc are very vulnerable to injuries and traumas. The statistics provided by US National Electronic Injury Surveillance System from 2002 to 2015 show that on an average, there are more than twelve thousand footballers who have visited emergency rooms for concussion treatments. These numbers were more than what were reported from basketball games, while soccer was placed in third position, with baseball at the bottom of the list with around two thousand emergency room visits. The NFL had announced a 58% rise in concussions in the 2015 season over the previous year. There were around 182 cases of concussions which were also the highest since the league started keeping records 4 years ago.
There was a study conducted by the Department of Veterans Affairs and Boston University which showed that 96% of former NFL players suffer from the neurodegenerative disease known as chronic traumatic encephalopathy (CTE). CTE is widely believed to result from repetitive trauma to the head and can lead to conditions such as memory loss, depression and dementia.
CBD can help treat and prevent the onset of the symptoms associated with CTE and traumatic brain injury. CBD for athletes is completely legal according to the World Doping Agency and has wonderful health benefits. CBD for athletes is essential for workouts, performance, and recovery. Instead of using pharmaceutical drugs like painkillers, which have adverse health effects, CBD can help in protecting the bodies and improve recovery time and performance, as they work in synergy with the endocannabinoid system in our body. Due to the excessive amounts of stress underwent by an athlete, they are at higher risks of wear and tear of the body and as a result they are more susceptible to the use of these pharma drugs and its overuse than an average individual. We shall look into the stories of some athletes who have reported health benefits from the use of CBD oil products.
Athletes Who Use Cannabidiol Oil and Why
Marijuana has always been a controversial issue when it comes to regulations and use for the governing bodies of various sports. The common outlook that it is an illegal drug to be used for performance enhancements in sports or for post game activities puts most of the athletes in the fear of using it and in this process they are deprived of the many health benefits this plant and its products have to offer.
However, there has been a radical shift of this perception as more number of professional athletes are coming forward with their own stories of personal usage of cannabis products and the helpful rewards they are getting from its use. The social stigma that surrounds the cannabis plant and the products derived from it for the medical and health conditions is being unraveled gradually over the years, as greater lot of professional athletes are putting forward best examples in bringing cannabis products to the mainstream social evolution.
New York Giants' Leonard Marshall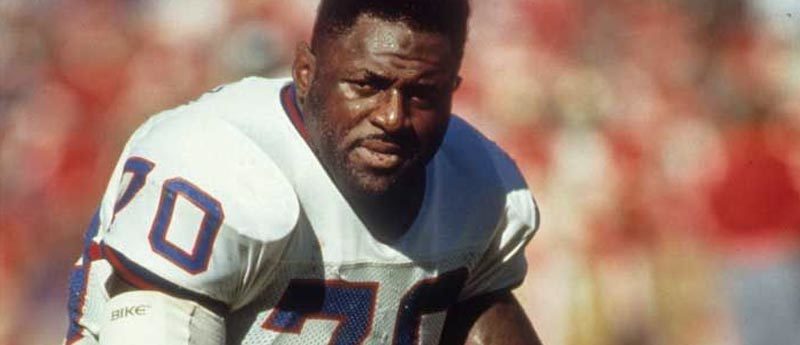 Leonard Marshall is a former football player who had played as a defensive end for the New York Giants. During his tenure he had won 2 Super Bowls, and played for altogether 12 years in the NFL. Marshall was reported with CTE which came as a result of repeated concussions. Many former athletes have reported losing locomotor function or experienced blackouts. The most common and most dangerous symptom that comes with this injury, is the involuntary mood swings. After he retorted to use of CBD oil, he experienced a better health and most of his symptoms were drastically reduced or disappeared completely.
NFL linebacker Derrick Morgan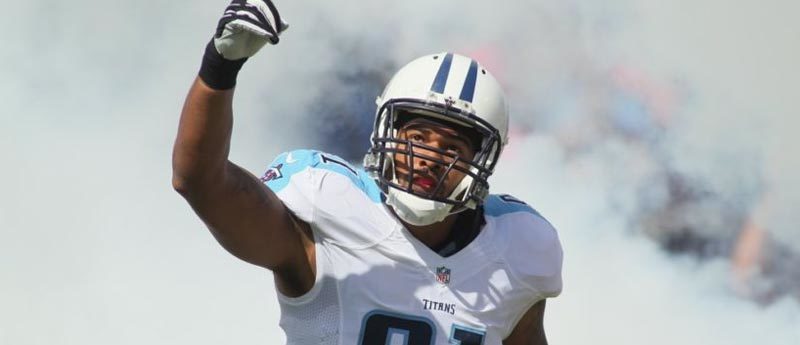 Football being an extensive physical contact sport involves a great deal of physical stress and traumas. Most of the medications that are being prescribed to the athletes are opioids, which have anti-inflammatory effects and pain relieving properties. However, these opioids are very addictive and most of the time athletes fall into the vicious cycle of its abuse. Considering the adverse side effects of these painkillers, CBD oil is a much safer alternative to treat chronic pain and inflammation.
Derrick Morgan is a ninth-year linebacker for the Tennessee Titans. He had also developed CTE due to repeated concussions. After using the prescribed pharmaceuticals for treating his health condition, he resorted to use of CBD oil. This action helped him protect his brain and soon he got rid of the CTE conditions. Morgan has ever since been using CBD oil on regular basis and has claimed that he has improved 100% since he started using it.
American football offensive tackle Eugene Monroe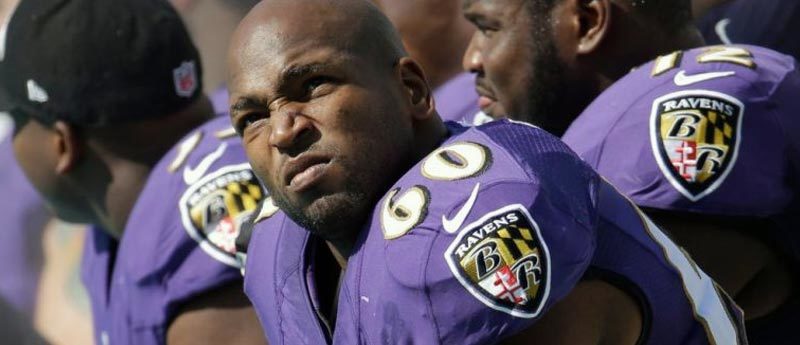 Eugene Monroe is a former offensive lineman who had played in more than 90 NFL games. Monroe has been an active cannabis activist since he started using CBD for improving his health conditions. He has been pioneering in attempts to bring cannabis products to mainstream sports as he became aware of the health benefits after his personal use and improvements. He has been a sheer supporter of the When the Bright Lights Fade campaign which strives for more scientific studies on the effects of CBD and the potential application of it in an athlete's daily routine. Recently they have teamed up with researchers at Johns Hopkins and University of Pennsylvania to investigate CBD's benefits. Together Monroe has been a driving force in realizing a united goal for broader clinical trials of CBD on athletes where they won't be penalized for its use.
MMA fighter Nate Diaz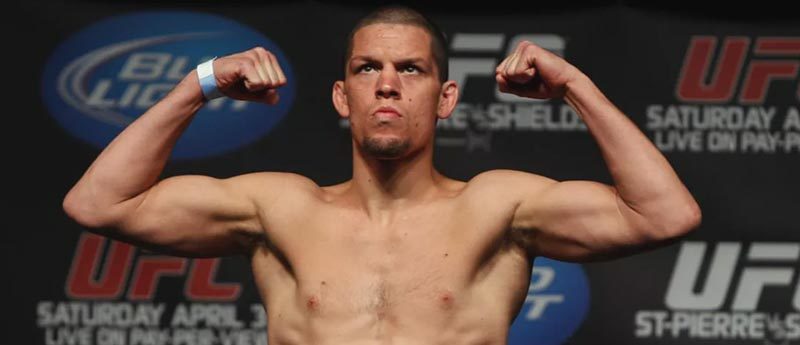 The vulnerabilities of injuries and traumas are not only limited to a particular sport or game. Mixed martial arts is also an arena where the physical endurance and strength of a player is tested to limits. After one such fight against Conor Mcgregor in 2016, MMA fighter Nate Diaz showed up to the post-match press conference smoking CBD oil from a vape pen.
When the reporters asked him what was in his vape pen, he replied that it had CBD oil. He reports repeated use of CBD and how he has benefited from this cannabis product. He said CBD helped him in recovery after the workouts and fights and also giving him a faster relief and recovery.
MMA fighter Gina Mazany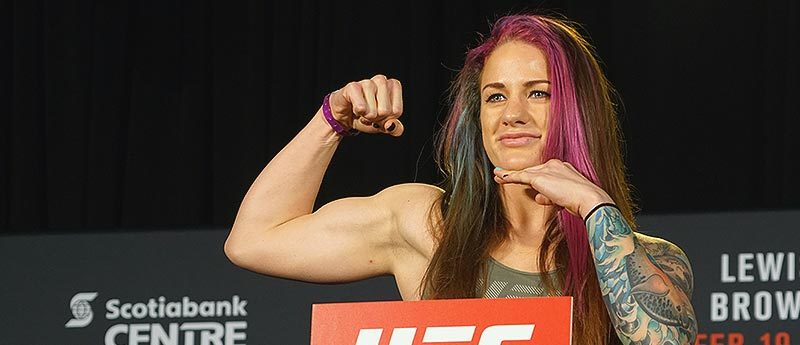 Gina Mazany is a MMA fighter hailing from Alaska. Currently ranked as the 24th best bantamweight women fighter in the world, Gina says that she uses the chemical compound CBD before fights to reduce her anxiety and that it has also helped her after matches to soothe pain and inflammations. She quoted saying, "There are so many ways that CBD can benefit everyone in one way or another."
MMA fighter Chris Camozzi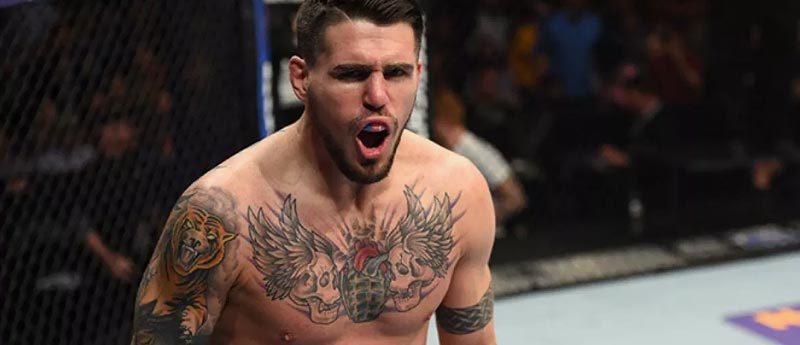 Chris Camozzi is an American professional kickboxer and mixed martial artist formerly competing in the Middleweight division of the Ultimate Fighting Championship. He has claimed that using CBD oil products have helped him recover faster during a knee injury and ever since CBD has been a supplement in his daily training activities. Chris suggests that CBD can be of great help to other athletes too and are way better than pharma drugs which over time reduce the performance and abilities of the athletes.
He has been advocating that CBD has been a wonderful supplement and that he is enjoying his choice of sport with the added benefits from the natural hemp product.
Former Broncos' players, quarterback Jake Plummer and Nate Jackson, also believe that cannabidiols have been in their favour to cope with pain during the football matches. They also suggest that cannabis products like CBD can be great alternative to pharma drugs like painkillers, anti-anxiety, antidepressants, anti-inflammatory and for severe injuries.
Final Thoughts on CBD Oil for Athletes
A large amount of research and clinical trials are being conducted to bring out the health benefits of cannabis products. Cannabidiols have been seen as a potential treatment to CTE, brain regenerative functions, muscle repair and treating different medical conditions like seizures, epilepsy, traumas and serious mental disorders like Alzheimer's and schizophrenia.
The success stories of various athletes of lately has unveiled the taboo of the use of marijuana for medical recovery and enhanced performance. Thus, there is a novel area of application of these cannabis products like CBD oil to promote the health and wellbeing of the common people too.
CBD is clearly an asset to the sports industry and to athletes, but the necessity to check the products used is crucial. Always vet the company that you buy from first, and make sure that third-party testing and full-spectrum CBD extract are priorities. With the right attention to detail, any athlete can safely use this type of remedy.

TimesofCBD is the most active daily CBD news publication featuring the latest cannabis industry stories and marijuana market trends. As the leader in CBD-centric content curation, we invite all readers to come for the headlines and stay for the insights. Quality is the top priority when presenting user guides, analyzing product reviews and reporting fact-checked news announcements. All information is for educational and informational purposes only. Disclaimer.
Got news? Email contact@timesofcbd.com