CBD in South Carolina: SC State Laws and Where to Buy Legally
CBD Oil Legality in South Carolina: Cannabidiol State Law Regulations in SC, USA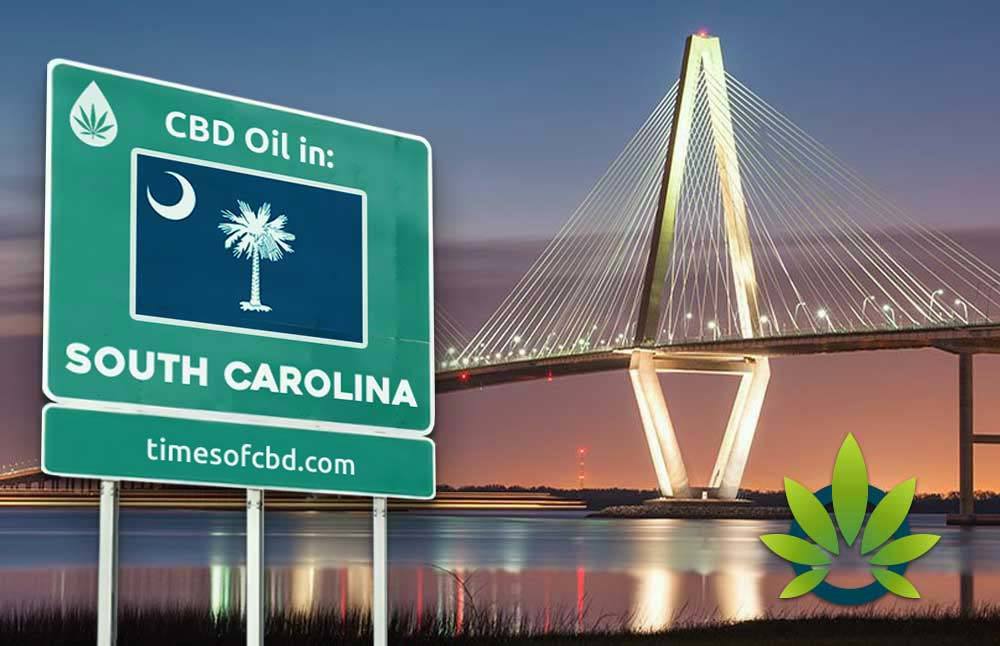 CBD laws in South Carolina are relatively simple, but the violation of the state's cannabis and hemp laws can leave consumers in serious criminal or civil trouble. As a result, it is more important than ever that CBD users conduct substantial research before making any purchase within the state. In particular, concerns regarding exact laws, age requirements, and online regulations are all important considerations for any user to keep in mind before buying their favorite CBD or marijuana products in South Carolina.
The state is still attempting to reconcile their laws and enforcement mechanisms with federally-understood norms. This is not particularly surprising to those who have observed the legal progress of all fifty states following the passage of the federal Farm Bill in 2014. This law purportedly made it legal for consumers to possess and for companies to distribute hemp-derived CBD products in all fifty states. Like many states, South Carolina's police forces have worked hard to ensure that THC contents of CBD products do not exceed legal limits set by their own laws or the federal Farm Bill.
For the most part, though, consumers have multiple options when it comes to accessing medical or adult use CBD within the state. This guide has been created as an introductory resource to outline some of the most important aspect of the legal situation in South Carolina's CBD industry. However, it should not be construed as legal advice in any sense of the word. Readers should conduct their own research, as the author of this guide cannot guarantee that laws have not changed since the time of its writing.
South Carolina CBD Laws
In South Carolina, two pieces of legislation make up the current legal framework for the regulation of all CBD products. First, 2014's Senate Bill 1035, titled 'Julian's Law,' made it legal for consumers to gain access to medical cannabis, including medical-grade high THC CBD products. This law comes with a few notable restrictions. For one thing, the law stipulates that only those citizens with debilitating conditions whose physicians have outlined the necessity of marijuana to their long-term treatment plan can access medical CBD. Additionally, the medical-grade CBD can only be obtained from licensed dispensaries in South Carolina.
The industrial hemp pilot program for South Carolina became state law in 2016 through revisions to statutory code from 46-55-10 to 46-55-40. This law made it possible for consumers in the state to purchase CBD from companies so long as it is derived from the industrial hemp plant and contains a negligible amount of THC. If the THC content by dry weight exceeds this limit set by legislators, then it is not legal under this law.
Age Requirements For CBD In South Carolina
The age requirement for CBD in South Carolina depends on the law used to protect the purchase and consumption. Under the state's medical cannabis law, minors can be prescribed medical CBD if their doctor gains written consent from the child's parent or guardian. Otherwise, CBD is reserved in the medical sense only for those patients above the age of eighteen.
The requirement for CBD used under the industrial hemp pilot program is a little more straight-forward. In most jurisdictions and stores, users must be over the age of eighteen to purchase CBD products. In select stores and some smoke shops, this age might be bumped up to twenty-one to make it consistent with other established rules in the shop, or to follow local norms or expectations.
Types Of South Carolina CBD
All different types of CBD are generally available within South Carolina. The state clearly has a wide range of smokable CBD products, but the average convenience store or gas station is also likely to stock edibles, as well as balms and ointments derived from the hemp plant or containing the CBD substance in high concentrations.
Where To Find South Carolina CBD
CBD with a THC content below the legal limit set by the industrial hemp pilot program can be found in a wide variety of stores all over the state. In particular, smoke and head shops, gas stations, convenience stores, and even a few health and wellness shops will stock hemp-derived CBD oils, foods, balms, and ointments with relatively high quality.
For CBD above this limit, it can typically only be legally obtained from licensed medical dispensaries, of which there are many within the state. South Carolina CBD users looking for the relief provided by medical CBD should be sure to secure relevant documents before traveling to a medical dispensary to gain access to their medicine.
Buying CBD Online In South Carolina
It seems to be completely legal to order CBD on the internet in South Carolina. Consumers should be sure to check the THC content of their products, as the purchase of CBD with a THC content exceeding legal limits could constitute a serious violation. Additionally, a lack of regulatory oversight makes it necessary that consumers conduct research into their supplier before buying anything.

TimesofCBD is the most active daily CBD news publication featuring the latest cannabis industry stories and marijuana market trends. As the leader in CBD-centric content curation, we invite all readers to come for the headlines and stay for the insights. Quality is the top priority when presenting user guides, analyzing product reviews and reporting fact-checked news announcements. All information is for educational and informational purposes only. Disclaimer.
Got news? Email contact@timesofcbd.com