CBD in Minnesota: MN State Laws and Where to Buy Legally
CBD Oil Legality in Minnesota: Cannabidiol State Law Regulations in MN, USA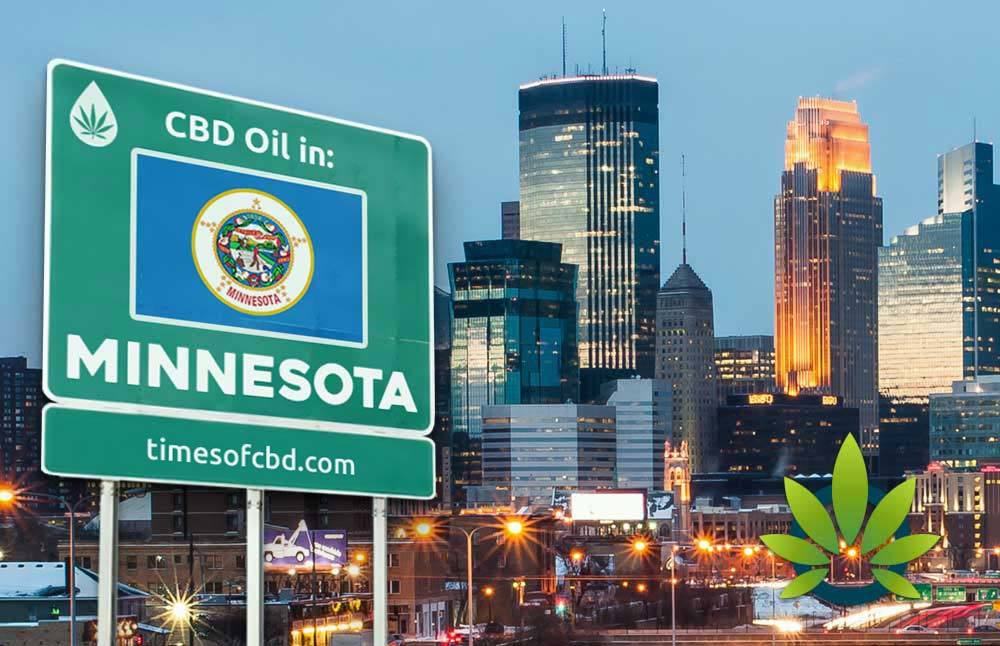 The Midwest has never been particularly friendly towards cannabis and its derivatives. With the notable exception of Michigan, most states in this part of the country can be characterized as being pretty tough on marijuana and cannabis, some even keeping laws on the books that criminalize the possession of small amounts of THC-ridden CBD compounds. Minnesota is a refreshing break from this trend, offering a relative non-controversial and middle-of-the-road approach to marijuana and cannabis laws.
The state of Minnesota passed legislation years ago to allow medicinal use of cannabis and marijuana products, and they passed another law revision in 2016 that mandated the creation of a legal industrial hemp industry. For CBD users this means that both high-THC and low-THC CBD compounds are available, though the means of obtaining these products varies based on the amount and type of CBD product being sold.
Despite the relative clarity of Minnesota CBD laws, there still seem to be quite a few persistent questions that hopeful CBD users in the state frequently have. This guide has hence been created as a resource for consumers in the state of Minnesota. Readers are responsible for their own adherence to laws, though, and should conduct further research before making any decision.
CBD Laws In Minnesota
CBD law falls into two main categories in Minnesota. First, the state managed to legalize medical cannabis with the addition of SF 241 Chapter 311 in 2014. This piece of legislation made it possible for consumers with a doctor's prescription to obtain quality marijuana products from licensed dispensaries. The laws also set the groundwork for the establishment of these dispensaries.
Next, 2018 saw a massive spike in CBD and hemp product interest all over the United States. To respond to the demands and the trends of legalization from other similar states, Minnesota revised sections 18K.01 to 18K.09 of their statutory code to institute an industrial hemp pilot program. This pilot program persists today and makes it legal for manufacturers to cultivate, extract, market, and sell hemp-derived products. The only stipulation to this pilot program is that hemp products must contain less than 0.6% CBD to be legal under its framework.
Age Requirements For CBD In Minnesota
For medical marijuana products and high-THC medicinal CBD, age requirements vary. Typically, physicians and specialists try to avoid over-medicating minors with substances like cannabis. As a result, it might not be apt to prescribe THC-heavy CBD to anyone under the age of eighteen. Still, it is possible, so minors who might medically require  THC in their treatment regimen need to inquire with their doctor or specialist.
For all other CBD products not containing significant amounts of THC, the age requirement is almost invariably eighteen. Some shops might require that all patrons be eighteen, such as some dispensaries or head shops. But as a general rule, food health shops and gas stations will ask that buyers be eighteen to purchase CBD products not containing large amounts of THC.
Where To Find Minnesota CBD
CBD with a high concentration of THC is only legal under the state's medical marijuana framework. This means that it can only be obtained from one of the state's few medical marijuana dispensaries. For these shops, consumers are only allowed to make purchases if they have a medical marijuana card, which can be issued only with the backing of a licensed physician. Though these shops are tough to gain access to for some sufferers, they often offer the most potent CBD in the industry.
CBD with only trace amounts of THC is much easier to find in the state of Minnesota. Typically, CBD products can be found in health shops, gas stations, smoke and vape shops, and even some convenience stores. These retailers might have their own age restrictions, but eighteen is the most common.
Buying CBD Online In Minnesota
Buying CBD online in Minnesota is as easy as it is in any other state. The only thing that consumers need to watch out for is the content of THC in the CBD that they want to purchase. If users buy CBD with a higher THC content than is allowed in Minnesota's industrial hemp pilot program, they might be in danger of violating one of the state's laws.
Additionally, it is important that users understand that the online market for CBD is largely unregulated, and a lack of oversight means that the quality of products is never guaranteed. Individual research prior to purchases is an absolute necessity.
Future Legality Of Minnesota CBD
Minnesota is on-track to legalize all forms of marijuana. Along with the rest of the United States, this government is beginning to realize the important medical, economic, and social benefits of a legal framework for this growing industry. For CBD users, the outlook is understandably good.

TimesofCBD is the most active daily CBD news publication featuring the latest cannabis industry stories and marijuana market trends. As the leader in CBD-centric content curation, we invite all readers to come for the headlines and stay for the insights. Quality is the top priority when presenting user guides, analyzing product reviews and reporting fact-checked news announcements. All information is for educational and informational purposes only. Disclaimer.
Got news? Email contact@timesofcbd.com