CBD in Louisiana: LA State Laws and Where to Buy Legally
CBD Oil Legality in Louisiana: Cannabidiol State Law Regulations in LA, USA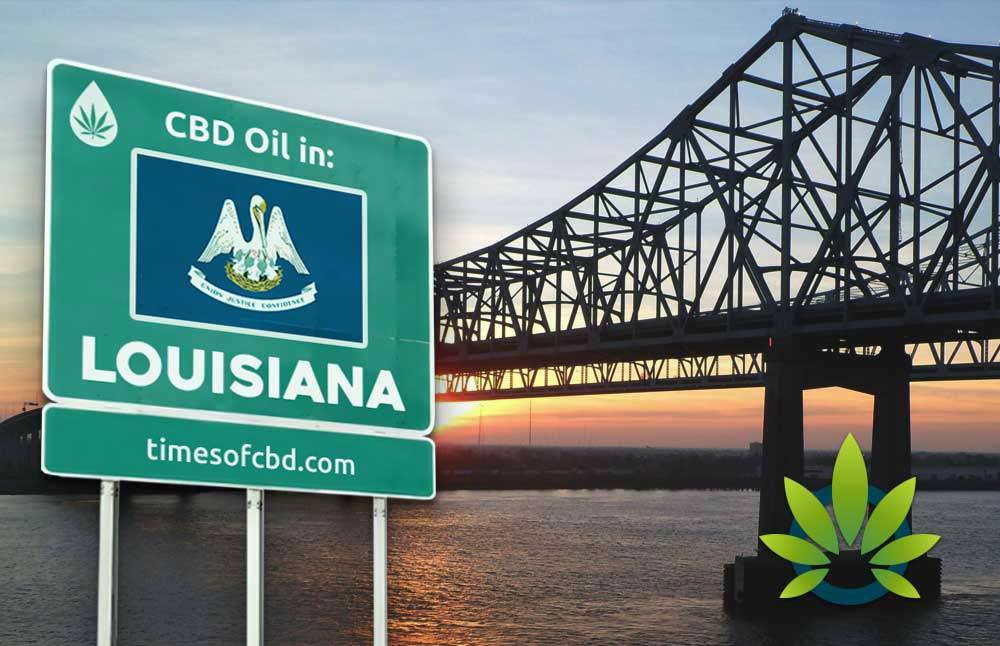 Louisiana has won a reputation as a state that knows how to party. The annual Mardi Gras celebration is known all over the world as a celebration of debauchery and excitement, and the state's party district in New Orleans shares its excitement and booze with millions of visitors each year. But despite the country's partying nature, legislators also have a reputation of being particularly hard on many marijuana-derived products.
This seems to be steadily changing, due in part to a set of laws and regulations that are modifying the status of CBD and hemp-derived products within the state of Louisiana. To start, 2017 saw the momentous passage of medicinal cannabis law. This legislation, denoted by Senate Bill 271, made it possible for patients with a physician's recommendation to gain access to quality marijuana products to help alleviate their conditions and limit the pain they experience.
Oddly enough, the state has not yet passed a legitimate law to legalize the industrial hemp industry within Louisiana. This does not mean that CBD and hemp products are not available in the Mardi Gras state, though. Loose interpretations of the Farm Bill of 2014 mean that companies continue to sell CBD and hemp-derived items all over Louisiana. This conundrum, that the hemp industry has not been legalized by the state and yet continues to thrive, creates a set of important legal questions that any responsible consumer should be willing to ask.
Age Requirements for CBD in Louisiana
Despite the eager approach that companies in Louisiana are taking to the budding and quickly-expanding industrial hemp and CBD industry, age requirements still persist in many establishments. Because CBD is relatively unresearched by many elites in the medical field, its full effects over extended periods of time are often not known.
Generally, CBD will be available to anyone over the age of eighteen in the state of Louisiana. This can change and vary based on a number of factors, though. For one, smoke and head shops that typically will stock smokable CBD products sometimes require that visitors and patrons be over the age of twenty-one in Louisiana. When this is the case, buyers under the age of twenty-one might not even be able to enter the shop—much less make a purchase.
When CBD has a content of THC higher than 0.3%, consumers need to have a medical marijuana prescription in order to access it in Louisiana. Doctors can theoretically distribute these cards to individuals in most states, but users should inquire with their own physician or a specialist to be sure.
Where to Find Louisiana CBD
There is no particular place in Louisiana that seems to be completely devoid of CBD; the products of the industrial hemp plant can be found in gas stations, convenience stores, food shops, and smoke shops all over the state. For users looking for edible products, food and wellness stores are often the best bet for nutritional goodness in the hemp industry. But those who want to access more powerful smokable CBD oil, smoke shops are clearly the best move.
Dispensaries set up in different parts of the state provide patients with access to higher-potency CBD with high THC content. This THC content can product a significant high if smoked or ingested, so readers are encouraged to speak with their physician in order to obtain a medical marijuana card if this interests them and their treatment progress.
Types of CBD in Louisiana
CBD in Louisiana comes in many forms, and the state's hundreds of CBD and hemp product retailers offer a variety of products for consumers to enjoy. In particular, Louisiana has a strong market with good competition for low-THC smokable CBD, CBD edibles, and CBD creams and balms. These products come with little THC content and product no high, and should never show up on a regulation drug test.
But other kinds of smokable and edible CBD products contain significant amounts of THC. When this is the case, users must either obtain a medical marijuana prescription from a licensed physician or simply go without. These cards are relatively difficult to get, especially when one considers the public perception tainting the image of marijuana and cannabis as a form of treatment. Nevertheless, these cards give users access to medical dispensaries, an entirely different source for high-potency and high-inducing CBD products in Louisiana.
Buying CBD Online in Louisiana
The legality of shipping CBD to Louisiana is likely dubious at best. While the state has not legalized the hemp industry itself, the general legal understanding is that the Federal Farm Bill of 2018 legalized the hemp industry for all products without a significant THC content. As a result, users can easily obtain CBD by shipping it online, and most companies are very willing to ship to the state of Louisiana.
Future Legality of Louisiana CBD
Louisiana is likely to continue to reap the benefits of a legal hemp industry. It is more than possible that Louisiana legislators will soon pilot their own industrial hemp industry, especially considering that they have already seen the industry succeed and begin to expand in their state.

TimesofCBD is the most active daily CBD news publication featuring the latest cannabis industry stories and marijuana market trends. As the leader in CBD-centric content curation, we invite all readers to come for the headlines and stay for the insights. Quality is the top priority when presenting user guides, analyzing product reviews and reporting fact-checked news announcements. All information is for educational and informational purposes only. Disclaimer.
Got news? Email contact@timesofcbd.com