Hello Launches New CBD Oral Care Product Line with Toothpastes and Mouthwashes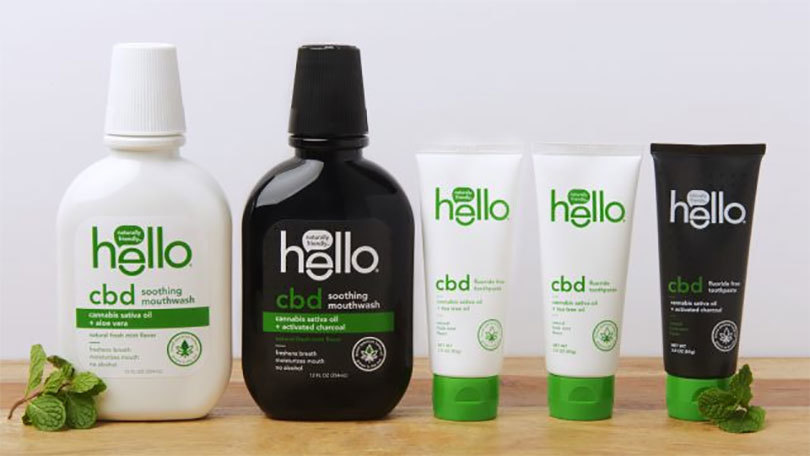 More options for natural oral care products are now available for you, Hello Products has finally included a new line of CBD oral care items on their range, from toothbrushes and mouthwashes plus a range of lip care products as well.
"At Hello we are proud to thoughtfully source innovative ingredients that our brushers seek, and deliver them in ways that continue to surprise and delight," said Craig Dubitsky, founder of Hello Products.
"It's an incredibly exciting time for Hello, and this new collection is a really fun and engaging way to expand our product portfolio. What started as an oral care line is now evolving into a naturally friendly personal care company. We're confident we can provide a wide range of delicious tasting, highly effective, naturally-friendly products that our retail partners and their shoppers can fall in love with, and that elevate the everyday."
Hello's CBD toothpastes, according to him, are completely enamel-friendly, whitens teeth naturally, gives fresh breath and takes away plaque. The toothpastes are also available in fluoride and fluoride-free variants.
"Staying true to the company's belief in a brusher's right to choose, the CBD line of pastes is available in both fluoride and fluoride free options. A fluoride free CBD + activated charcoal variant is also on offer, bringing epic whitening to the party. Helping complete the regimen, Hello's CBD line includes mouthwashes that are formulated with aloe vera and coconut oil to soothe and moisturize, and tea tree oil or activated charcoal helps tame bad breath. Last but not least, hello rounds out its CBD line with a lip balm that is completely vegan, like all Hello products, and is formulated with coconut oil and olive oil to soothe and moisturize."
Hello prides itself in obtaining soundly-sourced ingredients and materials that are used for all of the brand's products. They are genuinely dedicated to further heightening their products' sustainability. To stay true to the brand's eco-friendly theme and advocacy, the new CBD oral care line's packaging are made from highly sustainable materials; the toothbrush tubes are crafted from plant-based items while the mouthwash bottles are created with 25% post-consumer recycled plastic.
It's not only sustainability that the brand advocates; they also gun for high-quality formulas and transparency. The hemp extracts and hemp oil utilized to produce Hello's CBD range are cultivated by the brand's US-based partner farms. All products in the company's portfolio have also underwent rigorous evaluations and tests by a 3rd party lab to guarantee that all products do not contain any THC or impurities. QR codes are included too so users can check out a microbiological screen plus lab reports on cannabinoid analysis and heavy metal/pesticide results.
The brand is enjoying a fruitful rise in sales over the past years. Their products are now available in more than 44,000 retail locations all over the U.S. Hello also plans on increasing retail distribution through ULTA, one of the country's top skin care and cosmetics stores, in February.
"We see huge growth potential for Hello," said Lauri Kien Kotcher, chief executive officer of Hello Products. "Our new, groundbreaking launches, along with the continued success with our retail partners has encouraged us to think big and accelerate the rapid growth of our personal care assortment, with several more exciting innovations to follow later this year."
Hello items are for the eco-conscious consumer. All products from the brand are blessed with the Leaping Bunny certification which means the products were never tested on animals. These are completely vegan and proudly U.S-made products packed to the brim with effective, potent ingredients sourced from the world over. And being natural, environment-friendly items, they are absolutely free from artificial colors, flavors, sweeteners, alcohol, sulfates/SLS, peroxide, parabens, gluten, dairy, microbeads and triclosan.