Plus Products: CBD Company News and Product Review Updates

- Ad -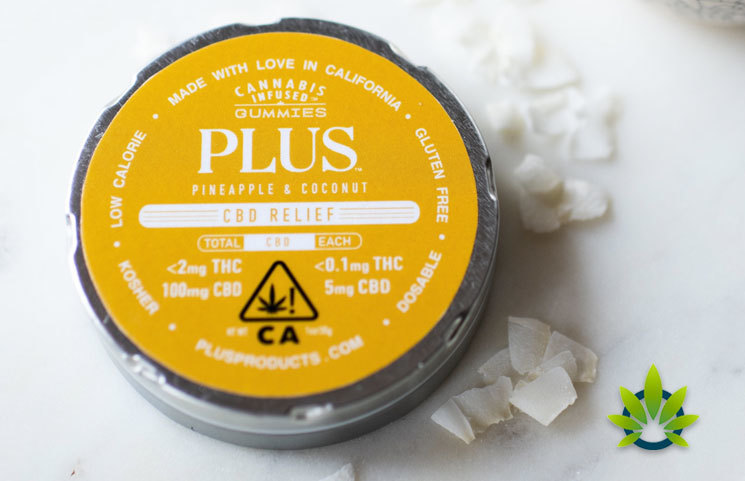 Plus CBD is a company that creates CBD edibles for consumers to have a delicious relationship with this substance. The company makes these products available from their official website, though consumers in certain states are not presently eligible for shipments.
What is Plus CBD?
The legalization of hemp and its derivatives with the 2018 Farm Bill created some exciting results for the CBD industry. Though the Food and Drug Administration still needs to offer more guidance, this bill made it possible for companies to sell CBD as a legal product. From this opportunity, Plus CBD rose up.
Plus CBD focuses entirely on edible CBD products, as this is often the easiest and most delicious way for consumers to get a dose of CBD for their therapeutic needs. The company prides itself on offering "perfectly balanced doses," and none of their remedies contain any amount of THC, which means consumers can relax without the threat of getting "stoned." The low-calorie treats are easy to inconspicuously take along in a purpose or a pocket, so consumers can soothe their particular reason for using CBD wherever they are.
The creators, Jake Heimark and Justin Gwin, stated that their original path was only meant to "make [their] grandmas proud." However, since then, the company has grown much bigger and the formulas can be used by anyone.
About CBD
Cannabidiol (CBD) comes from the hemp plant as one of over 100 different phyto-cannabinoids. CBD is one of the best-known compounds to come from this plant as a non-intoxicating phytocannabinoid. While there are many plants that offer cannabinoids, most people associate them with the cannabis plant. However, unlike THC, which is sourced from cannabis as well, CBD will not create the same "high" feeling, leaving consumers with the therapeutic effects exclusively.
Due to the restrictions on the use of CBD, Plus CBD does not deliver to Alaska, Idaho, Iowa, Hawaii, Mississippi, Oklahoma, and South Dakota.
Products by Plus CBD
The product line for Plus CBD is still relatively small right now, offering three varieties of CBD gummies with different effects. Each one has a single flavor, and are made with kosher gelatin, which is not a vegan ingredient. The snacks are meant to be stored at room temperature, and do not require refrigeration to be kept fresh. However, the creators recommend not storing them in direct sunlight, as it could impact the taste and texture.
Every product from Plus CBD is tested multiple times during production, both in-house and in an outside laboratory. As safe as these products are, the company has developed a tin that is child-resistant, which means that adults won't have to worry about their children mistaking these products for candy and ingesting it themselves.
Any of the remedies can be returned for a refund within 30 days of delivery by sending an email to returns@plusproducts.com.
Balance
The blueberry-flavored Balance gummy is meant to help consumers to maintain "serenity." The formula brings out the natural calmness of the user, though there is very little information about this particular product. The other remedies also contain minimal details, as the Food and Drug Administration prevents actual health claims from being listed on these types of products until further legislation is passed. As a result, no actual statements on what CBD can be used for are on this website, but more suggestions regarding the possibility of what the formula offers.
Along with CBD, Balance also includes blueberry jam flavor and various versions of sugar to create the desired sweetness. Each gummy only contains five calories. This tin contains 700 mg CBD, and each gummy includes a 50mg CBD dose. There are 14 gummies available, and this product can be purchased for $35.
Uplift
Uplift is for consumers that want to "kick it into high gear." The formula includes grapefruit and Vitamin B, which are ingredients that can energize the body. Consumers will find B6, B9, and B12 in each snack.
Uplift offers the same 700 mg of CBD in each time, offering the same dose as Balance. Consumers will pay the same $35 price tag for this product.
Sleep
While the first two products offer a relaxing or energetic option, the Sleep formula sets itself apart. Plus CBD partnered with award-winning sleep company Casper to bring this product to their inventory. The formula offers CBD, along with melatonin, to help induce sleep. The formula also adds blackberry chamomile tea, which is known for its relaxing effect on the body, and lemon essential oil to create the full effect.
Rather than offering 700 mg of CBD, this formula includes only 350 mg of CBD. Each gummy offers the user 25mg of CBD and 1 mg of melatonin. Consumers can purchase this 14-piece tin for $35.
Contacting the Creators of Plus CBD
Even with the information online, consumers may find themselves with other question that they want to address. The customer service team can be reached with an email to hello@plusproducts.com, or by calling 1-800-515-5341.
Summary
Plus CBD is a small company for now, but they offer a direct and simple range of products. The travel-safe tin is helpful in transporting the products wherever the user goes, and there's no need to secure a prescription for any product. While there are still some states that do not allow the use of CBD, Plus CBD ships packages to all other states. Consumers can choose based on flavor, effect, or dosage, but all purchases are protected with the 30-day return policy.
To find out about the latest developments from Plus CBD, consumers can sign up for the newsletter at the bottom of any page on the official website.

TimesofCBD is the most active daily CBD news publication featuring the latest cannabis industry stories and marijuana market trends. As the leader in CBD-centric content curation, we invite all readers to come for the headlines and stay for the insights. Quality is the top priority when presenting user guides, analyzing product reviews and reporting fact-checked news announcements. All information is for educational and informational purposes only. Disclaimer.
Got news? Email contact@timesofcbd.com