New Perricone MD Hypoallergenic CBD Skincare Line Debuts for Sensitive Skin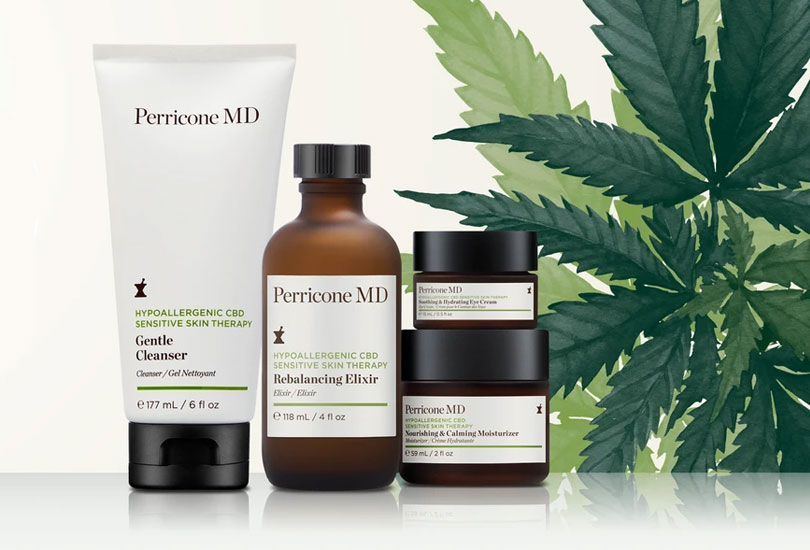 The new CBD skincare line is designed for individuals with sensitive skin. Perricone MD has used 99% cannabidiol isolate for their formulas.
As CBD's benefits are explored further, the industry seems to be opening its eyes to the applications it can have. Perricone MD, which has been focused on the holistic side of skincare and wellness for 20+ years, is continuing to offer high-quality products with the recent announcement of their Hypoallergenic CBD Sensitive Skin Therapy Collection. According to a press release from PR Newswire (provided by Perricone MD), the active ingredient featured in this skincare line is CBD.
CBD is known for delivering a high-quality natural antioxidant, making it an easy ingredient to include in relaxation. Inherently, these benefits translate to skincare as well, but Perricone MD takes advantage of their 99% cannabidiol isolate, making it purer and more potent than other formulas on the industry today. The majority of these other brands opt for broad-spectrum or full-spectrum CBD, and these extracts are more likely to contain impurities.
To create their formulas, Perricone MD has combined CBD with Cherimoya Fruit Extract and Buriti Oil, along with other clean ingredients. The balance helps consumers with the most irritated complexions to be soothed.
Robert Koerner, the Chief Marketing Officer of Perricone MD, released the following statement:
"We have led the category with CBD skincare innovation since 2017, first with our CBx for Men franchise, then with the addition of CBD to our Cold Plasma Plus+ Advanced Serum Concentrate in early 2020. As the ingredient has become more mainstream and widely accepted, we have decided to expand our portfolio through the introduction of Hypoallergenic CBD Sensitive Skin Therapy. We consistently hear from customers experiencing irritation that ultimately takes a toll on the skin's appearance, resulting in stressed and problematic texture. We are thrilled to be able to offer the collection as an effective solution for the angriest, stressed, and irritated skin."
Due to the composition of the formula, it is safe to use on the most sensitive of complexions, including the treatment of psoriasis and other severe conditions. Stacie Bell, Ph.D. of the National Psoriasis Foundation, recently brought awareness to the brand with its Seal of Recognition for the new line. Bell stated, "With the addition of these products, we are excited to offer our psoriasis patient community an expanded number of quality products recognized to soothe symptoms specific to psoriasis."
Dermatologists have tested all of the products, and there are none of the 26 known allergens included in these remedies. The non-comedogenic collection currently consists of four products, which are:
Gentle Cleanser: This offers a foaming formula with 53 mg of CBD and removes excessive oil ($35).
Rebalancing Elixir, which includes 77 mg of CBD with mushroom complex and Cherimoya Fruit Extract to keep the right pH level in the skin for better hydration ($99)
Nourishing & Calming Moisturizer, which offers 450 mg of CBD with Buriti Oil and Licorice Root Extract to keep dry skin more hydrated and softer ($69)
Soothing & Hydrating Eye Cream, which uses a balance of 125 mg of CBD, Bisabolol, and Marigold Extract to soothe the skin around the eyes ($72)
With a consumer study over four weeks, the use of these four products led to better hydration, improved skin texture, improved tightness and elasticity, and fewer wrinkles. Towards the beginning of August 2020, all four remedies can be found at Sootheskin.PerriconeMD.com, Ulta Beauty (online and in stores), Dillards.com, Macy's (online and in stores), and EC Scott (online and in stores).
Individuals with sensitive skin often struggle to find skincare products that won't cause more irritation to their already delicate complexion. CBD has been used in many ways already, but the ability to fight inflammation gives it a distinct advantage. Now, a new product line with CBD-infused remedies comes from Perricone MD to help the most extreme sensitivities.