Isodiol: CBD Company News and Product Review Updates
Isodiol: Isoderm, Iso-Sport, CannaCeuticals, Pot-O-Coffee, CBD Xtreme and Bioactive Rapid CBD
About Isodiol
Isodiol describes itself as a brand that includes a team of companies and collaborators that "grow & harvest hemp on an industrial scale, and then process it to extract the cannabidiol (CBD) to the highest available purity for worldwide distribution." The company focuses on supplying industrial hemp derivatives for various formulations, such as nutraceuticals and cosmetics. It has established key relationships worldwide that have enabled it to establish relationships with chemists, professors, technicians, and many others who believe in researching and discovering the full benefits of CBD hemp oil.
Various Brands In The Isodiol Group
As previously mentioned, Isodiol is comprised of various companies that offer their own range of CBD products. Those who opt for the products in the Isodiol group are choosing products that are formulated using Isodiol's quality approach that users can trust. Here are the product families offered by the brand so that users are aware of what they can expect when they choose Isodiol:
Bioactive CBD
Bioactive is a group of products that are mainly topical formulas, which include options such as the brand's Bioactive Nano mist, Bioactive Body Balm, Bioactive Rapid Patch, Bioactive Rapid Cream, Bioactive Adaptogenic Herbal Tincture, Bioactive Xtend Caps, Bioactive Sleep Caps, Bioactive Vitamin C, Bioactive Sleep Shots, and Multispectrum Blend. Though there are many product options available, here is an overview of one of the formulas that users may want to start with:
Bioactive NanoMist
Bioactive NanoMist is an oral spray that is meant to provide users with "fast, easy, and effective delivery of adaptogens, terpenes, and Iso99 CBD." The product is powered by Heneplex nanotechnology, a key feature of most Bioactive CBD products. This technology works to provide users with the healthy benefits of CBD. Those who use this product may experience relief from temporary discomfort and enjoy from a natural calmness.
Pot-O-Coffee
Those who love coffee and are looking for a coffee a brand that is infused with CBD may want to look into Pot-O-Coffee. The brand produces "handcrafted blends roasted to perfection with natural flavors infused with Heneplex, a powerful hemp complex." Not only do the products come in bags, but the coffee is also available in the brand's coffee k-cups. The K-cups are very easy to use and are compatible with the Keurig K-Cup brewing system. The coffee is also available in 20-liter and 30-liter sizes. This bulk version also has an added boost of caffeine so that users can start their day right.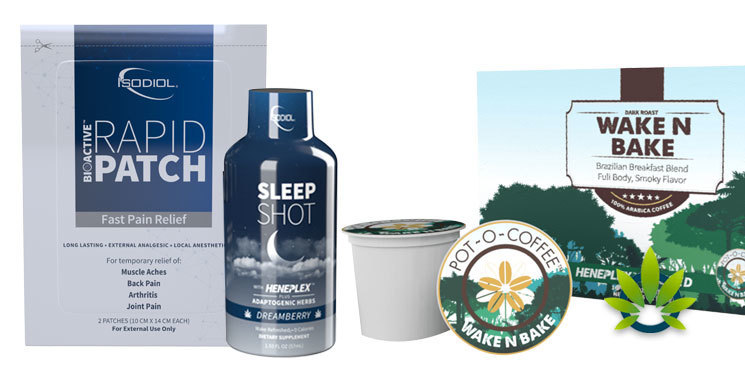 CannaCeuticals Luxury Skincare
CannaCeuticals Luxury Skincare is ideal for those who are looking for a CBD skincare brand that combines the power of nature and science. As the brand explains, its products provide "revolutionary anti-aging skincare fusing the plant-powered benefits of CBD with scientifically-advanced formulations to regenerate skin." The brand also offers a wide range of products that feature its full CBD 7 System. Though the brand offers many products, here are three of the top options, as identified by the brand:
CannaCeuticals Regenerating CBD Serum
Cannaceuticals Regenerating CBD Serum is a lightweight and high-quality skincare formula infused with CBD. The product, when applied regularly and as directed, works to blur the appearance of fine lines and wrinkles, to improve texture and tone, and to promote a more youthful appearance. The formula also may generate noticeable results anywhere from 7 to 14 days.
CannaCeuticals Rejuvenating CBD Cream
Cannaceuticals Rejuvenating CBD Cream is a luxurious formula that works well to provide users with anti-aging qualities. The gentle and smooth facial moisturizer may be able to "visibly reduce the appearance of fine lines and sun damage" and it could help users feel more confident with their appearance.
CannaCeuticals CBD Lip & Eye Gel
Cannaceuticals CBD Lip and Eye Gel is a formula that specifically targets the lip and eyes and may work well due to its ability to handle the delicate areas. When applied regularly and correctly, the product works to tighten and firm the appearance of lip and eye contours, and it may be able to combat against fine lines, dark circles, and puffiness. Over time, users may notice a significant difference in the appearance of their skin and ultimately, they may be more satisfied as well.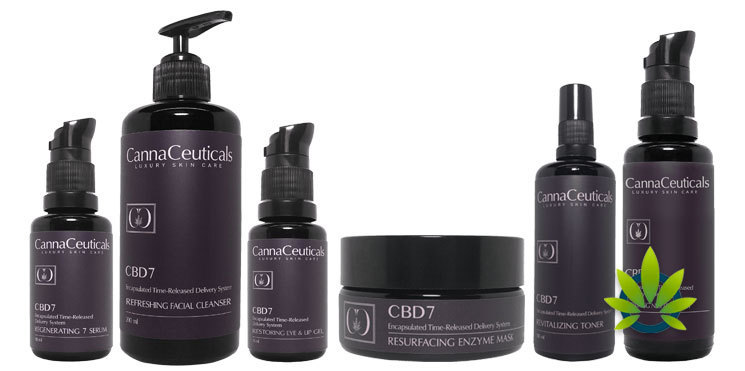 Iso-Sport CBD Performance Products
Iso-Sport describes itself as a brand that offers "award winning products [which] are the result of years of dedicated research and are backed by science for those who demand the absolute best from themselves and their performance." The CBD-infused sports products are specifically designed to provide users with qualities such as pain management, hydration, topical relief, and so much more. The main product categories offered by the brand include pain management, CBD beverages, CBD topicals, and CBD supplements. Given the many options available, here is an overview of one product that can give users a sense of the brand and what it has to offer:
Iso-Sport Ease Pain Relief Capsules
These pain relief capsules are for those who train hard and who are looking for post-workout relief. The capsules are formulated with the brand's unique blend of CBD and body-repairing ingredients. As the brand mentions, the capsules are formulated to "help athletes recover quickly and naturally."
CBD Xtreme
CBD Extreme is for the CBD-edible lover. The brand features many different delicious sweet treats and flavor options so that users can get the benefits of CBD in one of the most fun ways possible. In addition to edibles, the brand also offers vaping tinctures that come in flavors such as grape, strawberry, and many more.
CBD Xtreme Adaptogenic Amp'd Up
This formula delivers to users a boost of caffeine, CBD, and natural vitamins that are found in fruits and vegetables. It packs a major boost of energy and it comes in convenient shot form as well. Those who use this product may be able to get the energy boost that they need for hours on end and at the same time, they may be able to enjoy from the benefits of CBD as well.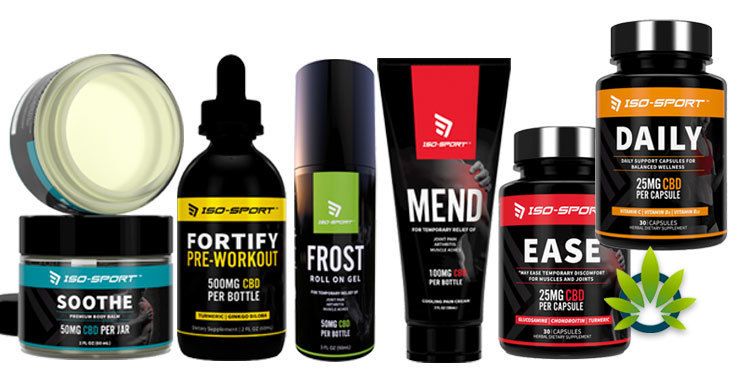 Isoderm
Isoderm is a brand that is focused on providing users with neuro support formulas that are made with the brand's bonath delivery technology. The neuro support products are topical substances that utilize "Direct Effects technology, [and] a patented delivery system." The innovative system used to make the brand's products ensures that those who use the brand's products may be able to experience stellar absorption that provides them with quick benefits. As the brand explains, the products may offer temporary relief from headaches, body pain, and joint pain. It may also help address nervous system disorders.
Neuro Support CBD
Neuro Support CBD delivers soothing and rapid relief. The formula is also free from THC, the psychoactive substance in CBD. By choosing a formula without THC, users can experience the benefits of the product, without having to worry about such an adverse effect. The formula is also fast-acting due to its absorption quality.
Aquivita
Aquivita is a refreshing and delicious brand that offers CBD infused beverages. As the brand explains, "Aquivita delivers a new function of water to life with invigorating beverages and beverage enhancers, all-natural refreshments are now available in three kinds of water, including CBD-powered, alkaline-rich, and spring varieties, rejuvenate mind and body by adding delicious beverage-enhancing CBD drops to your favorite drink." Those who choose the brand's beverages may be able to experience a boost in hydration, a reinvigorated mind and body, and a boost in their wellness.
Aquivita Heneplex Infused 9+ pH
Like most of the other products in the brand's line, this formula is a mineral-rich beverage that is fortified with just the right substances, such as a powerful hemp complex. The formula works to promote natural healing, it may enhance stamina levels, and it may lead to more mental clarity and a balance in health and wellness.
Bradley's Brand
Bradley's Brand offers a number of tinctures in unique flavors that users are bound to enjoy from. A few of the main flavors include cherry soda pop, pineapple sherbet, and peanut butter and jelly.
Peanut Butter And Jelly Tincture by Bradley's Brand
This tincture uses MCT oil base that is derived fully from 100% coconuts. The product is completely free from artificial flavors, synthetic ingredients, and THC. Thus, those who opt for this product can enjoy from the delicious flavor and CBD, without the psychoactive effects. Keep in mind that it is important to apply the product as directed per the brand's instructions.
Exclusive Technology And Infrastructure
Dissimilar to many other small-scale CBD brands, Isodiol is well-equipped with technology and production capacity rights to develop high-quality products. As the brand explains, it has "worked tirelessly to bring together the most talented technological minds to breed and cultivate hemp." The brand's extensive experience concerning planting, development, and researching CBD enable it to provide users with the type of quality products that they are striving for. Moreover, many of the formulations are unique and are based upon stellar extraction methods. The type of extraction used influences the end product and determines the elements of the formulas.
Isodiol Refund Policy
The Isodiol website states that "all products purchased via retail, not to include wholesale orders, carry a 30-day customer satisfaction guarantee. If you are not satisfied with any of these products, please follow these guidelines to receive a full refund less shipping charges."
Isodiol Summary
Overall, those who are looking for a reliable CBD company that offers a group of products that could work well and effectively to provide a range of benefits, then Isodiol may be the right option for one's needs. Keep in mind that as with any product, there are no guarantees. To learn more and to get started, just visit the brand's website today.
Isodiol Company News Updates

TimesofCBD is the most active daily CBD news publication featuring the latest cannabis industry stories and marijuana market trends. As the leader in CBD-centric content curation, we invite all readers to come for the headlines and stay for the insights. Quality is the top priority when presenting user guides, analyzing product reviews and reporting fact-checked news announcements. All information is for educational and informational purposes only. Disclaimer.
Got news? Email contact@timesofcbd.com