Canada's 48North Cannabis Corp Set to Start World's Biggest Outdoor Marijuana Growing Operation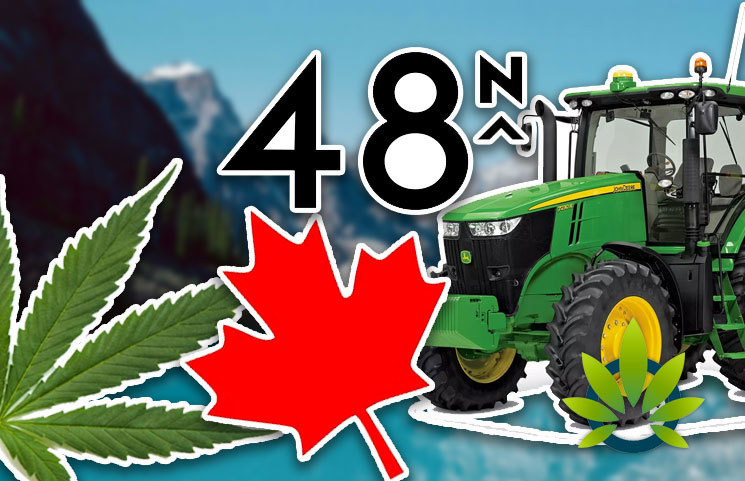 A Canadian company known as 48North Cannabis Corp is the first organization to build the largest legal cannabis-growing facility in the world. The facility sits on 100 acres and is located near Hamilton in Ontario. It will produce an estimated 40,000 kilograms of organic outdoor cannabis annually with the first crop expected to be harvested this September. The first crop will also have the lowest-cost per gran in Canadian history.
The Canadian parliament has in recent years presented motions regarding cannabis products and edibles, but not all of them have been passed into law. Pending laws such as the one seeking to legalize edibles and cannabis products by October coincide with 48North Cannabis Corp's first crop and might affect the much-anticipated lowest-cost per gram sale.
48North Cannabis Corp has changed the cannabis industry permanently
The co-CEO of 48North Cannabis Corp, Jeannette VanderMarel claims receiving the outdoor cultivation license was a game changer for the organization. The license is awarded by Health Canada after a company passes various tests and meets the requirements for growing cannabis in an outdoor environment. Good Farm will now pave the way for tens if not hundreds of other organizations seeking to legally grow cannabis outside.
The co-CEO also said that as a result of the recently acquired license, the company had expanded its annual expected capacity by 40,000kg (from 5,000kg to 40,000kg). She also claims this spike will help 48North Cannabis Corp deliver on the promise it made to its consumers regarding delivering high-quality cannabis. 48North Cannabis Corp also claims it cannabis will be affordable and its products will include dried flower market and organic cannabis for the plant's next generation of products.
The license given to 48North Cannabis Corp by Health Canada means the company has the right to commercially produce 45,000 kilograms of dried cannabis this year and the following ones to come.
Low-cost, organic cannabis
Another co-CEO of 48North Cannabis Corp, Alison Gordon stressed on the importance of getting the license claiming now the company could deliver high-quality cannabis to Canadian and international markets. Alison further adds that to be successful in the cannabis industry, your products need to be organic, delivered on a consistent basis, and of high-quality. The company seems to be successful in this after recently signing three lucrative deals.
48North Cannabis Corp signed a deal to deliver 1,200kgs of dried cannabis to SQDC, an exclusive distributor from Quebec. The other agreement was signed with Humble + Fume who 48North Cannabis Corp are to supply 6,000kgs of dried cannabis to. The last agreement is between 48North Cannabis Corp and AGLC (a wholesaler in Alberta) where the former should supply 2,460kgs of dried cannabis to the latter.
Green Organic Founder speaks out
The co-founder of leading Canadian cannabis venture The Green Organic Dutchman, Ms. VanderMarel also spoke out regarding the new facility by 48North Cannabis Corp. Ms. VanderMarel claims to have conducted research and came to the conclusion that Good Farm is the largest facility of its kind in existence. She also commended the Canadian government for legalizing the recreational use of marijuana and its citizens for using cannabis responsibly.
Good farm is located 10 minutes away from 48North Cannabis Corp's head facility and 20 minutes from the Hamilton airport.