A Dozen Marijuana Proposals Filed By New York City Council Members In Just One Day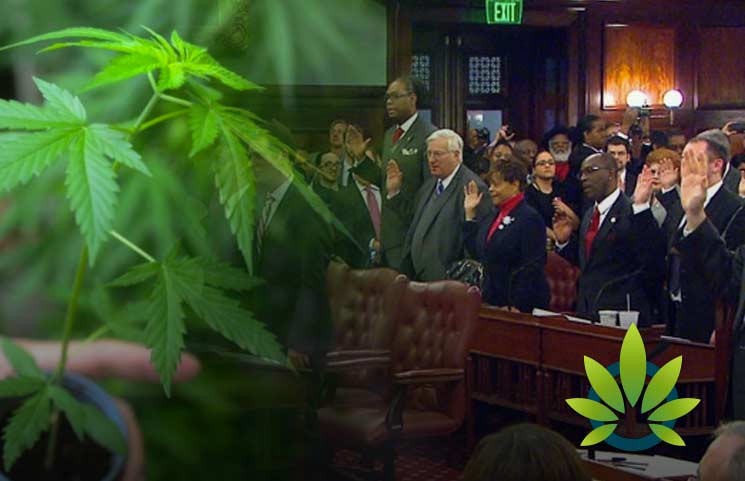 New York may be closer to legalizing a commercial marijuana market. This week, ten resolutions and two bills were filed by council members. One resolution proposed that legislators pass and the governor sign a bill providing cannabis licensing a priority for those who have been harmed by the drug war. Another resolution demanded that legislation remedy "disparate burdens placed on people of color in the enforcement of marijuana prohibition."
Council Member Daneek Miller introduced another resolution for federal cannabis reform in the form of a Marijuana Justice Act. This proposed bill would put a stop to federal marijuana prohibition. Further, states would not be penalized where cannabis enforcement is executed unfairly.
Council member Jumaane Williams also introduced a proposal that would prohibit state employees from performing a pre-employment drug test concerning cannabis – making it easier for those with cannabis-related offenses to find jobs. Williams stated in a press release, "We need to be creating access points for employment, not less – and as we move toward legalization, it makes absolutely no sense that we're keeping people from finding jobs or advancing their careers because of marijuana use."
There were several resolutions about technical matters as well. For example, one proposed reclassifying THC and other "marijuana-based products" as "equivalent of flower marijuana."
Further, there were four council members that signed a resolution concerning the New York City Administration for Children's Services in that the administration would need to implement a policy stipulating that consumption or possession of cannabis "does not by itself create an imminent risk of harm to the child, warranting the child's removal."
TimesofCBD always fact checks sources and aims for the best accuracy in the reporting curated cannabis content consisting of the latest CBD news, user guides and product health research. Quality is the priority, but we are not eligible to be liable as everything here is for educational, informational purposes only. Always seek real additional medical advice and consultation with a professional healthcare practitioner before considering any CBD. No statements found on this website have underwent Food and Drug Administration evaluation. The efficacy of any products or claims made have never been approved by the FDA either. No products shall ever be intended to diagnose, treat or cure any disease or prevent any ailment.