CBD in Indiana: IN State Laws and Where to Buy Legally
CBD Oil Legality in Indiana: Cannabidiol State Law Regulations in IN, USA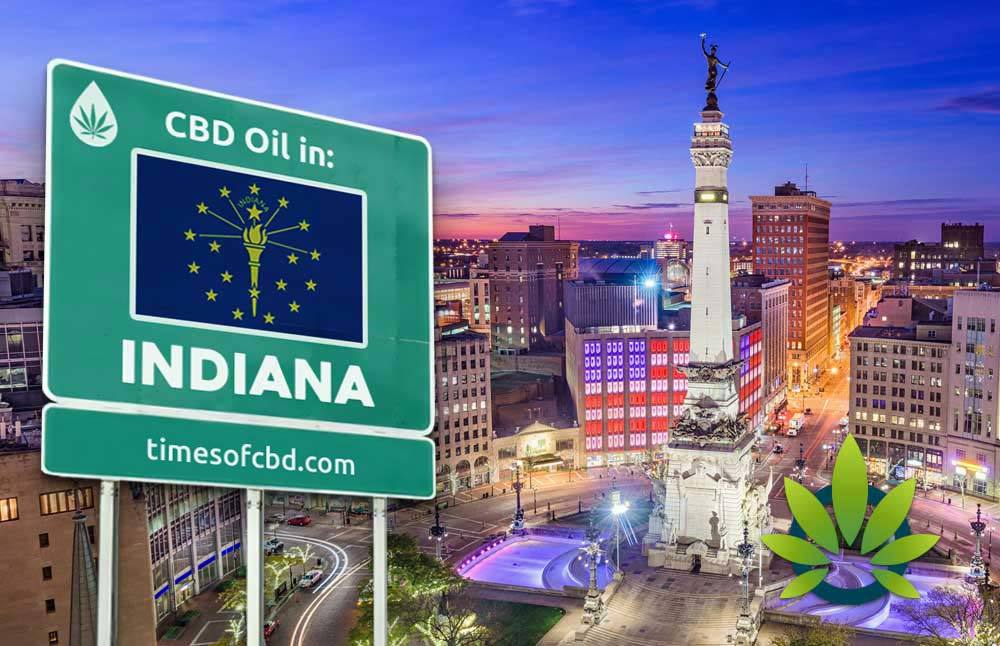 Indiana has never been a state with a particularly significant reputation for liberal drug and therapy policies. Indiana's policy on CBD and cannabis law can be characterized by a few laws, all of which work together to create a complicated legal framework that can be occasionally difficult for consumers to safely and easily navigate. In particular, the state has taken a stance against legalizing even medical marijuana, but they seem to have little-to-no issue with the legal use of CBD.
The legalization of CBD was codified through the Senate Enrolled Act 52. This piece of legislation made it legal for any person to possess, sell, or purchase CBD oil. The only stipulation to this legalization of the industrialized hemp industry is that the CBD oil sold must have a THC content of less than 0.3 percent per volume. This is not abnormal for U.S. states when it comes to hemp-derived CBD law; states maintain frequently that it is not legal to possess CBD with a significant THC content.
Additionally, the industrial hemp pilot program was made legitimate under Indiana codes from 15-15-13-1 to 15-15-13-17, which were put on the books back in 2016. Finally, the state legalized medical CBD with a slightly higher THC content for use in epilepsy treatments back in 2016.
Age Requirements For CBD In Indiana
Indiana does not have a codified requirement for the age needed to purchase CBD products within the state. This does not mean, however, that stores and retailers selling CBD oils and edibles will allow just anyone to purchase their products. Because the FDA has been so slow to embrace the potential benefits of CBD and CBD oils, many businesses are particularly slow to sell the products to anyone who might be perceived as too young to understand the potential risks.
The general rule of thumb is that someone looking to purchase CBD products from a brick and mortar shop in Indiana should be at least over the age of eighteen—perhaps even over the age of twenty-one. But for others, a doctor's recommendation might sometimes be one way to step past the red tape of age restrictions in Indiana. But this is always variable based on a number of factors.
Where To Find Indiana CBD
Numerous stores within the state of Indiana will carry different types of CBD products. Because the industry is continuing to grow at a rapid pace, it is relatively easy to find CBD in stores all over the state. Hundreds of food health stores, head shops, smoke shops, and even gas stations in Indiana carry potent CBD products. Unfortunately, high-THC CBD cannot be bought anywhere, and no significant dispensaries exist within Indiana.
The most important consideration for potential buyers where vendors are concerned is likely to be the age requirements to enter the shop and make a purchase. The entrance age is never really an issue in gas stations or food wellness shops, but these stores might still require purchasers to be over the age of eighteen to buy their CBD products.
For smoke, head, and vape shops, many require that a patron be at least eighteen or twenty-one to even enter the shop—let alone make a purchase of CBD oil.
Types Of CBD In Indiana
Indiana is still a growing market for the CBD industry, and the state might not quite have the same expansive selection that other states might have. Still, the legalization of the hemp industry means that the state still has many different types of smokable, edible, or spreadable CBD products available from its many CBD retailers.
It is important to remember that CBD products in the state of Indiana are only legal if they have a THC content of less than 0.3 percent. Even possessing or distributing CBD oil with a higher THC content than this might be against the law, and could even constitute a serious misdemeanor or felony, depending on the jurisdiction. This being said, any CBD product derived from industrial hemp with a THC content lower than the state's legal maximum is allowed to be used for health or nutritional purposes.
Buying CBD Online In Indiana
Consumers can buy CBD online and have their products shipped to Indiana with little legal worries. Buyers should realize that they are still responsible for ensuring that they are not violating the state's laws on legal CBD oil. Retailers on the internet are required to disclose the THC content of their products. If this THC content is higher than 0.3%, then the product is not legal in Indiana.
Future Legality Of Indiana CBD
Indiana has not shown many signs of relaxing stance on marijuana and cannabis products. But as the CBD industry expands even further in the state, consumers can expect more innovation, and perhaps legislation moving towards a more accepting state-mandated view of medicinal CBD.

TimesofCBD is the most active daily CBD news publication featuring the latest cannabis industry stories and marijuana market trends. As the leader in CBD-centric content curation, we invite all readers to come for the headlines and stay for the insights. Quality is the top priority when presenting user guides, analyzing product reviews and reporting fact-checked news announcements. All information is for educational and informational purposes only. Disclaimer.
Got news? Email contact@timesofcbd.com