Ananda Hemp: CBD Company News and Product Review Updates
Ananda Hemp: Full Spectrum CBD Oil Drops, Capsules, Salve and Pet Products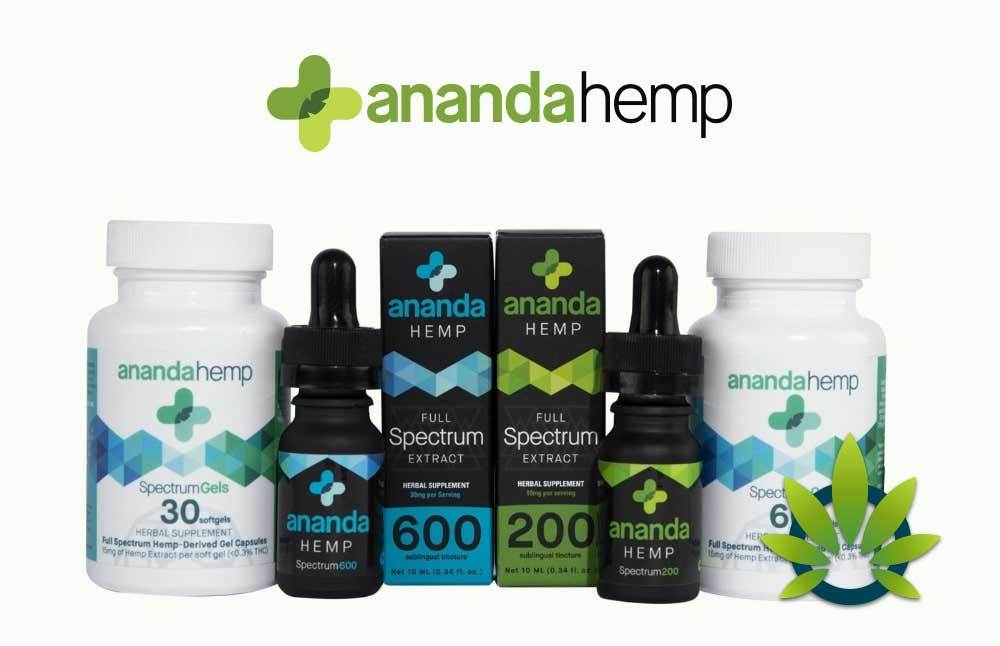 Ever wonder why there exists a lot of hype surrounding hemp and cannabinol (CBD)? Not sure how CBD's supposed medicinal properties work in humans? Intriguingly, humans have a system called the endocannabinoid system (ECS). As per Wikipedia, an ECS consists of endogenous lipid-based retrograde neurotransmitters that allow cannabinoid receptors and protein to join together to contribute towards the wellness of one's central and peripheral nervous systems (CNS and PNS). The naturally occurring ECS helps regulate one's mind and body.
Hence, it is clear now that CBD does in fact play a huge role in attaining balance in consumers. In today's review an important brand that helped the hemp industry come into existence will be assessed and it is none other than Ananda Hemp.
In addition to Ananda Hemp's purpose, several factors such as its contribution to the hemp industry, products offered, and overall affordability will be analyzed. This should give consumers some sense of whether it is a brand worth considering.
What Is Ananda Hemp?
Ananda Hemp operates within the hemp industry with the intentions of providing high quality, CBD-infused essentials. Based in Kentucky, Ananda Hemp uses a homegrown approach to farming to ensure the entire growing process is spot on, clean and natural. Furthermore, steps have been taken to ensure there are no presence of pesticides and GMO.
One thing that is praiseworthy is that Ananda Hemp is a first mover. For instance, they were the first to have ever imported hemp seeds legally into the US – bringing exposure of hemp along with the different types of strains that are known for being beneficial.
Ananda Hemp's Contribution To The Hemp Industry Devopement
Ananda Hemp has contributed immensely in helping to pick up the Hemp Industry, which is the main reason why the firm is deemed a first mover in every possible way.
In addition to being the first to import hemp seeds, Ananda Hemp's farmer, Brian Furnish played a significant role in passing the 2014 Farm Bill – allowing farmers to grow hemp in the US. In 2017, Furnish worked alongside a congressman to remove hemp from the "substance list" – helping to legalize hemp in all 50 states.
Finally, Ananda Hemp has donated a significant sum of money into hemp-related research globally.
Ananda Hemp Products
Ananda Hemp currently offers CBD in a wide range of formats including oils, capsules, topical solutions, intimate oils and essentials targeting pets. Here is a sample breakdown of the type of products found within each category:
CBD Oils
CBD Oils come in three different strengths including 200mg, 600mg and 2000mg of CBD per bottle. With every Ananda Hemp CBD Oil comes a full spectrum source of CBD and a botanical terpene blend.
Hemp plants are known for housing over 110 cannabinoids to date – making CBD just 0.88% of the whole picture. Unfortunately, the average CBD-focused firm extracts CBD on its own, which Ananda Hemp believes forms a weaker solution. Existing findings have concluded that CBD brings optimal results when combined with other cannabinoids.
Similarly, most extreme extraction processes eliminate hemp's source of terpene, also known as the plant's flavor profile. One might assume terpenes to having no actual benefits, however, it has been affirmed that the flavors themselves have therapeutic effects – all of which have been used by Ananda Hemp.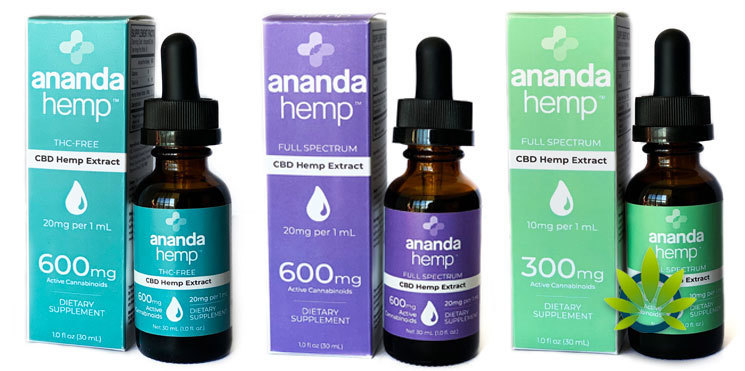 CBD Capsules
CBD Capsules come in either 30 or 60 counts. Both formats contain 15mg of full-spectrum per capsule and the recommended serving is one capsule twice daily. Although a suggestion has been provided, each individual's tolerance levels are different, hence if one capsule suffices, the second serving does not need to be ingested. As for their full spectrum blend, every product contains CBD, CBN, CBL, CBDA, CBG, CBC, THCV and/or CBDV with less than 0.3% THC.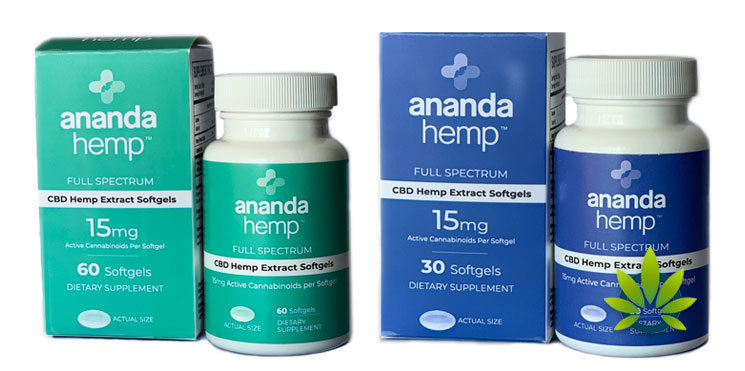 Topicals
Ananda Hemp carries one topical solution called the Spectrum Salve 125 – implying that it contains 125mg of full spectrum. Since it is a topical solution, other plant-based ingredients also went into its making to promote enhanced skin health. This includes organic coconut oil, shea butter, cocoa butter, beeswax, white willow bark and cayenne to name a fraction. For optimal and immediate results, it has been advised to apply the cream onto affected regions (and not open wounds).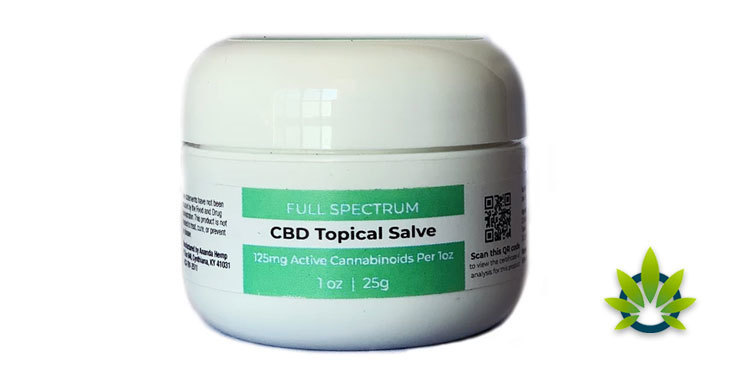 Bliss Intimate Oil
Ananda Hemp continues to prove themselves for their commitment towards offering innovative solutions. The Bliss Intimate Oil is the first of its kind, which uses CBD to enhance one's sexual experiences. As per the claims made, the solution has been created by a reproductive medicine and cannabis clinician and contains a wide range of essential oils for optimal results.
Each bottle contains 250mg of full-spectrum, which is pH balanced and sugar-free to ensure one's delicate regions are safeguarded from potential complications.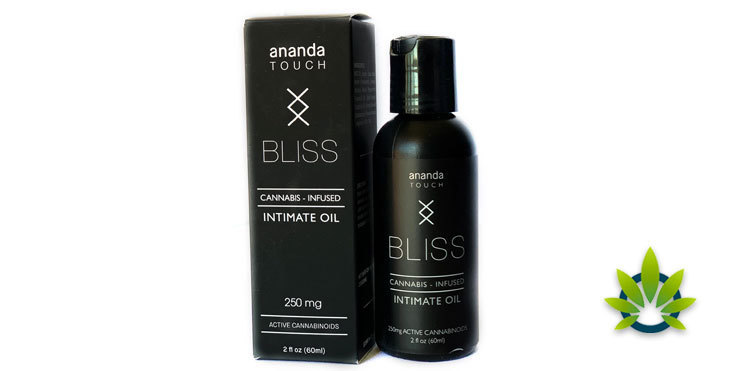 Ananda Pets
Just like humans, animals also have ECS, hence they too can reap the benefits of CBD for optimal health. Ananda Hemp's pet essentials contributes towards cats and dogs' cognitive function, immune system, hip, muscle and joint mobility, relaxation, comfort and overall wellness. Each bottle contains 300mg of full-spectrum and has been advised to be given through a pet's cheek, back teeth or directly in one's food.
If pet owners went above the recommended dosage, Ananda Hemp claims it to have minimal effects on pets, however, to remain safe, offering servings as recommended is the ideal way to go.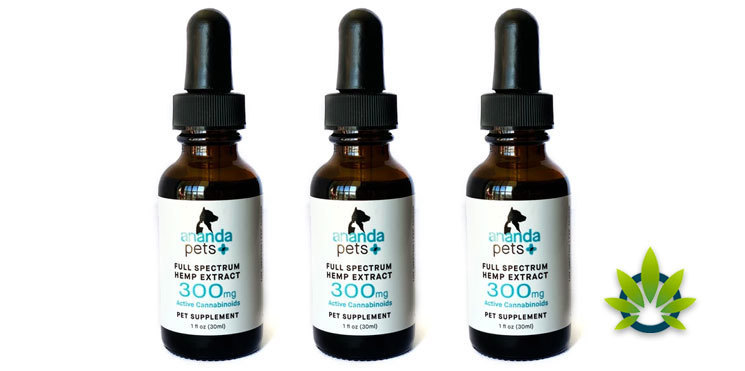 Are Ananda Hemp Essentials Economical?
Based on the product description, one can deem Ananda Hemp to be economical for the sole reason of high quality. While there are several brands that manage to provide pure CBD extracted solutions, Ananda Hemp ensures that consumers get their money's worth, as the potency of the solutions have been maximized. Similarly, no brand as thus far managed to compress 2000mg of CBD into one solution, which obviously will be reflected in the prices.
As for the price ranges themselves, consumers can expect the following:
CBD Oils: $39.95 to $229.95
CBD Capsules: $64.95 to $119.95
Topicals: $23.95
Bliss Intimate Oil: $60
Ananda Pets: $59.95
Ananda Hemp Final Thoughts
Overall, Ananda Hemp is an ideal brand to try for those looking to include CBD-infused essentials into his or her daily consumption. Several factors make Ananda Hemp a valid and reliable source.
First, their contribution to the overall hemp industry reflects their commitment in bringing awareness of hemp-related benefits. In addition, lab results have been provided for every available product, which not only increases consumer confidence, but also makes Ananda Hemp all the more reliable.
Second, the use of a full spectrum blend reflects their extensive R&D. Knowing that CBD on its own is not as potent as combined with other cannabinoids, Ananda Hemp successfully extracted hemp plants' components to offer stronger and effective solutions. Next, their eagerness in depicting different positive effects of cannabinoid usage is witnessed in their intimate oil, as no other brand has come up with this to date. Lastly, given the care put into each product, the prices have been reasonably set to ensure access to the general population.

TimesofCBD is the most active daily CBD news publication featuring the latest cannabis industry stories and marijuana market trends. As the leader in CBD-centric content curation, we invite all readers to come for the headlines and stay for the insights. Quality is the top priority when presenting user guides, analyzing product reviews and reporting fact-checked news announcements. All information is for educational and informational purposes only. Disclaimer.
Got news? Email contact@timesofcbd.com