LiefMed, FireOrganix Partner to Create Vitality+ CBD Dog Treats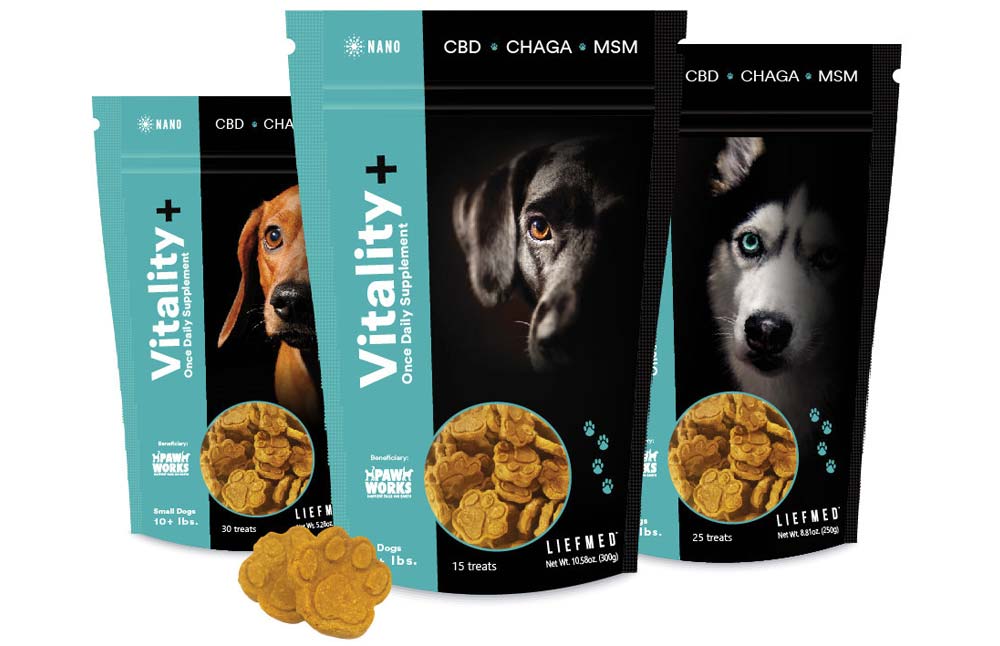 FireOrganix and LiefMed, two of the world's most trusted brands and committed to helping people live healthier through research and creations of safe and ecological products, have entered into a partnership, introduce the first-ever water-soluble and certified hemp-derived CBD treats for dogs. Known as Vitality+, this flavorful pet chew is made of organic hemp and Chaga mushrooms.
Widely known as "immortality mushrooms," Chaga grows well in American, Asian, and northern European forests. Chaga's use dates back to several thousand years ago when the native communities began using it as a source of relief from the raw and brutal environment they lived in. The mushroom contains superior antioxidant properties, vitamins K1 and B2, B3, and D2, amino acids, and aids in digestive support.
FireOrganix is widely reputed for its deep-rooted commitment to creating premium water-soluble products using cannabinoids sourced from certified hemp ingredients. FireOrganix prides itself on working closely with accredited laboratories, farms, and hemp leaders to deliver quality and safe hemp products.
As he introduces Vitality+, Justin Daly, LiefMed's CEO, said that their core plan was to make a water-soluble dog treat that could be absorbed with ease. Hemp comes naturally as oil, meaning most hemp-derived products are insoluble and always have low bioavailability. LiefMed's partnership with FireOrganix was to help them create water-soluble CBD solutions.
Britt John Johnson, FireOrganix's CEO and founder, praised their advanced water-soluble technology, enabling them to create hemp formulations with smaller CBD molecules that get easily absorbed in the bloodstream. In the press release, Johnson says that the soluble nature of their products makes them more effective and absorbable by pets and humans.
Vitality+ is unique and organic since it's made with Chaga sourced directly from the Alaska farms. The Chaga is harvested by professionals in winter, ensuring the core isn't damaged, and the conk is allowed to regrow. The treat uses ingredients that are 100% plant-based, sourced directly from the farm, and doesn't contain fillers, preservatives, or GMOs. Sold at $24.99, Vitality + dog treats can be given to large, media, and even smaller dogs.

About LiefMed
LiefMed's core drive is to create high-quality products that transform lives and help people and pets live healthier. LeifMed works towards putting a stop to the lifelong tradition by most people only to take their health seriously when they're already sick. They've got a "stay active" campaign that aims to inform people on the best way to eat, stay active, and use products so they can live healthy lifestyles.
About FireOrganix
FireOrganix's core plan is to create safe and organic water-soluble ingredients from high-quality and genuine cannabinoids directly from hemp. FireOrganix has manufactured and sold a range of high-quality products to wholesalers and retailers. They specialize mostly in creating organic hemp ingredients for food, nutraceutical, and nutricosmetic industries. The company's dedication to working with hemp industry leaders certified farms and trusted worldwide laboratories has enabled them to achieve consistency in quality product delivery.