CBD in Florida: FL State Laws and Where to Buy Legally
CBD Oil Legality in Florida: Cannabidiol State Law Regulations in FL, USA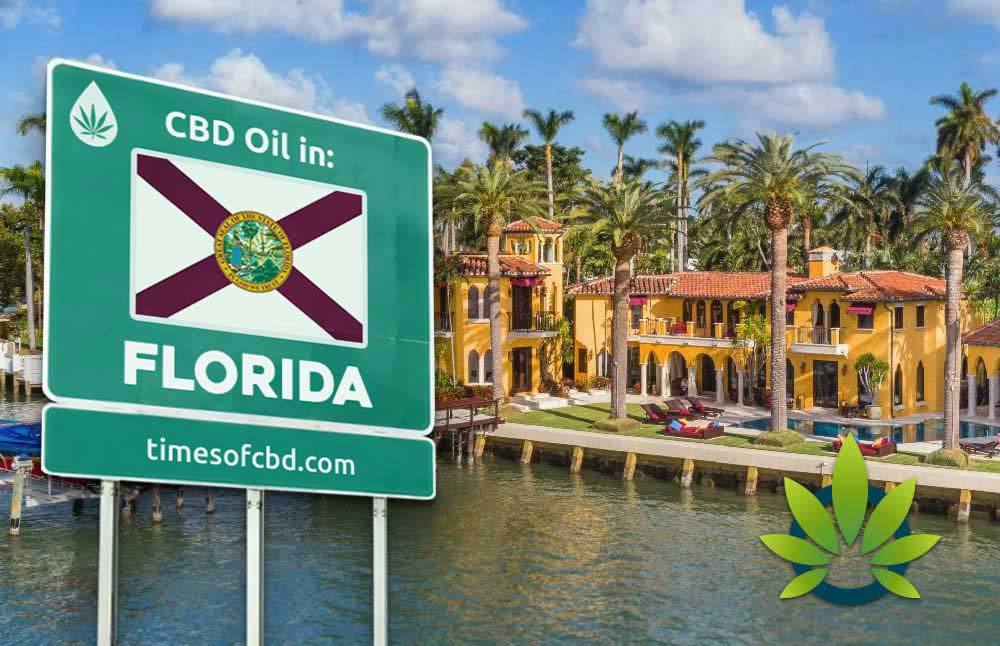 Florida has garnered quite the reputation in the United States for quite a few reasons. For one, the state has always been known for its illustrious beaches and colorful criminals. Additionally, a long list of delicious eateries and restaurants have given Florida a reputation as a destination for foodies. But with the growing legalizing efforts of U.S. legislators regarding cannabis and industrial hemp-derived products, Florida has also shown the world that it might just be a destination for CBD and cannabis-related products as well as beautiful beaches.
CBD should be understood as being distinct from some other products in the growing marijuana market. Although marijuana and CBD are both substances derived from the cannabis plant, CBD usually comes in the form of an oil and oftentimes does not contain THC, the substance in marijuana that gives its users that characteristic high. In addition to creating an important distinction between two fundamentally different types of products, this consideration is important in determining to what extent a given cannabis or hemp-derived product is legal in the state of Florida.
For this state, CBD oil is always legal as long as the product contains less than .03% THC. With a percentage this low, the THC is largely inactive, will not generate a measurable high, and will not show up on the common drug test administered to many employees and students. If the product is derived from hemp, it is generally understood that the CBD oil can have up to .05% THC levels.
Age Requirements For CBD In Florida
In Florida, the primary age at which constituents can always obtain non-THC CBD products is eighteen. At the age of eighteen, most smoke shops and head shops will allow consumers to make purchases. Since these shops make up a good portion of the establishments that carry CBD and hemp-derived products. This can vary based on the jurisdiction and supplier, though, so readers are heavily encouraged to conduct their own research before trying to make a purchase.
Florida has a medical marijuana infrastructure in place for THC-containing products. This means that many consumers are only eligible for some types of products if they already have a physician-signed medical marijuana card. The restrictions on who can obtain this card are a bit more fluid and complicated. Generally, doctors can recommend that use medical marijuana to alleviate some painful conditions.
When CBD is sold in normal stores, wellness shops, and even gas stations, however, the age restrictions are either eighteen years old or nothing at all. Additional research from the individual consumer is necessary to figure out if the store near them might be able to sell them the CBD product that they need. As of right now, only licensed dispensaries are allowed to sell actual THC-including medical marijuana products and oils.
Where To Find Florida CBD
Florida CBD can be found in a few different types of establishments. The easiest way for those with a medical marijuana card is to step into any licensed medical marijuana dispensary in the state. These dispensaries are backed by the state government and have undergone significant quality checks, meaning that they often offer the most potent and efficient selections available in the state.
But when a consumer is not looking for potent THC-containing CBD, simply travelling to a health and wellness store or a health food shop may be the best route. These shops do not typically carry anything with a high THC content that can induce a high, but this does not mean they do not offer quality Floridian CBD for a variety of applications.
Buying CBD Online In Florida
Online CBD is also a viable option for Florida natives looking to secure some CBD for their health issue or dietary concern. The advantage to going online to purchase CBD is that it allows the consumer to browse a wide selection of potential CBD products. One major downside is that the CBD industry on the internet often operates with very little oversight. Some products can be far less than they are purported to be, and consumers might just be out of luck if they fall for a scam.
Independent research is an absolute must for readers looking to try their luck on the CBD market over the internet. For those not willing or able to do this kind of work before buying their products, traditional brick and mortar stores might be a better bet.
Future Legality Of Florida CBD
Many within the state believe that Florida is soon to legalize marijuana for both recreational and medicinal purposes. When this happens, the legal web surrounding CBD and THC-containing cannabis-derived products will likely become less confusing. For now, caution and research are the name of the game for Florida citizens looking to buy some CBD products.

TimesofCBD is the most active daily CBD news publication featuring the latest cannabis industry stories and marijuana market trends. As the leader in CBD-centric content curation, we invite all readers to come for the headlines and stay for the insights. Quality is the top priority when presenting user guides, analyzing product reviews and reporting fact-checked news announcements. All information is for educational and informational purposes only. Disclaimer.
Got news? Email contact@timesofcbd.com