Yuyo Botanics: CBD Company News and Product Review Updates

- Ad -
Yuyo Botanics: Woman-Owned Organic Cannabinoids Botanic Blends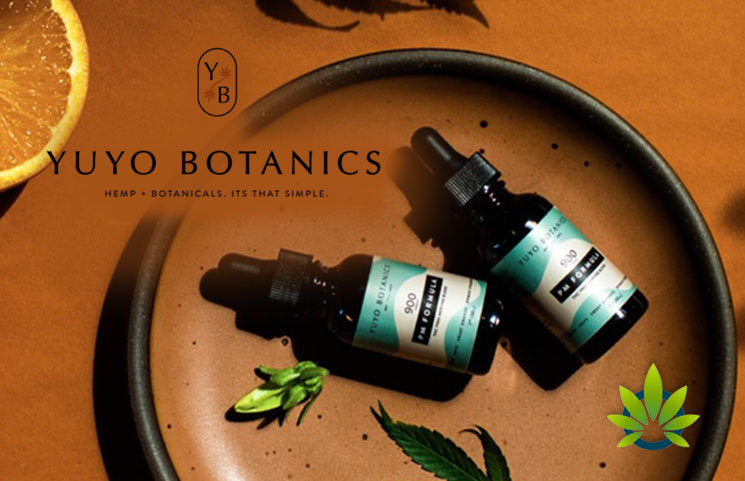 The best people to create products are those who grow them from the ground up and then into the coveted CBD products that people need for its variety of health benefits.
Yuyo Botanics is a group of Tennessee natives who are dedicated to growing and manufacturing hemp extract in conjunction with other nutritious plants to benefit you by improving your health and at the same time, furnish you with information you may not know concerning CBD.
When it comes to hemp extract oil, having a good understanding of its compounds, and how they interact with the body's CB1 and CB2 receptors does not suffice. Some of the aspects select brands within the cannabis market fail to deliberate include the way in which said plants have been grown and extracted along with how it should be combined (i.e. other ingredients and a ratio of cannabinoids). This is where Yuyo Botanics comes into play.
What makes Yuyo Botanics a potential brand of worth is the complete understanding of hemp acquired. This doesn't come to much of a surprise bearing in mind the fact that the Co-Founders are actually organic farmers. The purpose of this review is to provide consumers with a complete package in relation to what Yuyo Botanics comprises of. This could include internal facets like their goals and values, as well as the products offered.
What is Yuyo Botanics?
Yuyo Botanics is more than a CBD brand. More specifically, they pride themselves in delivering a wide range of essentials that encompass of distinctive botanicals.
The creators both value an organic approach to farming, which they deem results in quality plants filled with beneficial properties. In order to give respect to each plant, the duo also seems to place emphasis on the sustainability of the environment and being fully transparent with potential customers. Let's take a closer look at how this has been attained via Yuyo Botanics' products.
What Does Yuyo Botanics Currently Offer?
Their products range from formulas to salves, which are consumed either during the day or at night when they are most beneficial. They include:
The 300mg AM formula
900mg PM formula
100mg Turmeric slave
300mg whole plant formula
900mg turmeric formula and
a set containing THC free products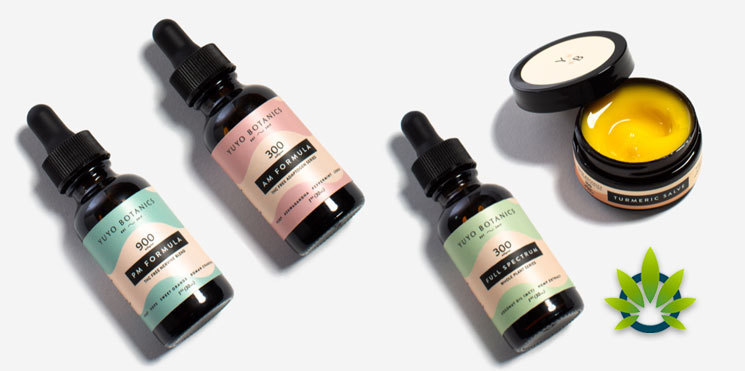 Yuyo Botanics currently offers four essentials that reflect their mission and value. They include the AM and PM Formula, Full Spectrum Hemp Extract, and a Turmeric Salve. In order to assess representativeness, a breakdown of Yuyo Botanics is necessary. What's to come looks at each product in relation to its ingredients, purpose and cannabinoids' strength.
AM Formula 300mg
This is a combination of 300mg hemp CBD extract in a 30ml bottle together with ashwagandha, peppermint, and lemon. It is a daytime tincture meant to manage stress through the day and maintain balance in the endocannabinoid systems as well. The formula is also endowed with natural occurring terpenes; it contains limonene and menthone that improve nutrient absorption and reduce inflammation respectively.
The AM Formula, as the name hints out, was created with the intentions of maintaining wellness. Interestingly, it seems like Yuyo Botanics has tailored the tincture that way it can be taken during the day.
Evidently, a common theme in the ingredients is the use of anti-inflammatory and antibacterial properties, which are essential in treating chronic pains and helping to strengthen the immune and digestive systems. Another common theme that seems to relate among the ingredients is its ability to ease symptoms associated with stress and anxiety, reduce headaches and potential uplift consumers.
PM Formula 900mg
You might find that the 300mg formulas are not as strong as you would prefer them; this 900mg tincture is loaded to the max with your favorite organic hemp CBD extract. In addition is MCT oil, ginger root, black pepper and turmeric root. If you are prone to high-stress levels, this formula is the best recommendation as it works fast and effective to ensure stress has been subdued.
The difference between the AM and PM Formulas rest in their purposes. In particular, both appear to share common properties in the form of hemp to ease anxiety, body pain, and varying aches. However, the disparity rests in the alternative ingredients – with the PM Formula also helping to treat insomnia. Besides the use of hemp, consumers can also expect to see Hops and Sweet Orange.
Hops is believed to come from "female flowers", allowing it to aid in alleviating menopausal symptoms and helping to rid one of restlessness, diabetes, and others. The contribution Sweet Orange brings to the PM Formula is its ability to alleviate pain, while protecting the body from potential bacteria infestation.
Full Spectrum Hemp Extract Tincture
As the name implies, the Full Spectrum Tincture delivers a wide range of cannabinoids, including cannabidiol (CBD), cannabigerol (CBG), and cannabinol (CBN). The reason of said combination has been argued as the power cannabinoids have in interacting with one another to positively impact one's health. All three cannabinoids have anti-inflammatory, anti-fungal and analgesic properties, making it sensical to strengthen the tincture in such convergence.
As for the possible help it can provide, the Full Spectrum Tincture is said to be fundamental for those experiencing tension and stress, lack of focus, inflammation, and aches and pains. What makes this essential unique from the rest is that it can be used as a topical solution, ultimately stimulating the multi-tasker in each individual.
Finally, it should be noted that this essential contains the accepted threshold of THC and THC-A, where the former is known for its hallucination properties. However, due to its significantly small presence, consumers may achieve calmness, but without the high.
Turmeric Salve
The Turmeric Salve has been reckoned as an alternative delivery system to help ease body pain and soreness, manage sore muscles, inflammation, aching joints and post-workout stress, use this salve by directly applying on the affected area. Due to its strength, use on the face is prohibited. In particular, the topical not only combats chronic and acute pains, but it also helps to maintain skin health. Some of the ingredients that reflect Yuyo Botanics' thought process include Turmeric, Hemp, Capsaicin, Menthol, and Aloe – together combining anti-inflammatory, anti-bacterial, and analgesic properties to optimize one's health.
Final Thoughts
Based on the analysis above, it is clear that Yuyo Botanics knows what they are talking about. Not only has the duo used full spectrum hemp – to ensure each solution is of utmost strength – they also measured the properties of other plants that can be pooled with cannabinoids. This reflects both their thought process and their yearning to make a positive difference in consumers' lives. To learn more about Yuyo Botanics and the supposed third-party lab testers involved in measuring each product's purity, reach out to the duo at: https://www.yuyobotanics.com/

TimesofCBD is the most active daily CBD news publication featuring the latest cannabis industry stories and marijuana market trends. As the leader in CBD-centric content curation, we invite all readers to come for the headlines and stay for the insights. Quality is the top priority when presenting user guides, analyzing product reviews and reporting fact-checked news announcements. All information is for educational and informational purposes only. Disclaimer.
Got news? Email contact@timesofcbd.com