Social CBD: CBD Company News and Product Review Updates

- Ad -
Social CBD: Cannabidiol Drops, Disposable Vape Pens, Pets Hemp Tinctures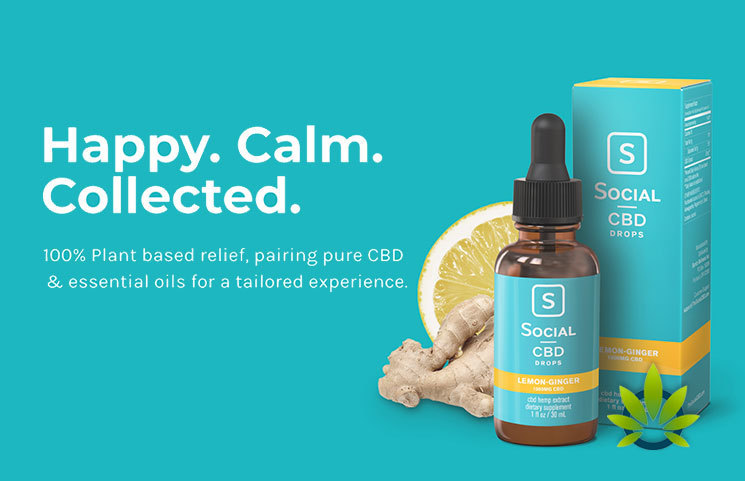 Are you not comfortable with taking cannabinol (CBD) oils? Is the taste not setting yet? A notable benefit with CBD market is the wide range of CBD products available to date. This includes for adults, children, kids, vapers, snack lovers and many more. What started off as a market filled with orally intaking oils has expanded to an extensive level with much more room for creativity. Speaking of creativity, this is where Social CBD comes into play!
Social CBD provides their twist on CBD and to date, they've been recognized by big players such as Allure, Rolling Stones, New York Times, Forbes and many others. To better understand why Social CBD is preferred and has gained such support, the following review will look at the brand with respect to its reason for being, the type of CBD products and much more.
What is Social CBD?
Social supposedly started off in an effort to solve a problem that the at-the-time infant CBD market had: the lack of CBD-infused vapes. With this respective goal in mind, along with the right workers, quality materials and CBD, the team at Social supposedly reached a height they would have never dreamt of. An example of this is their Social CBD vape pen.
As seen on their official website, their CBD vape pens contain ceramic core cartridge, which supposedly help to preserve the taste by stabilizing its temperature. The cartridges have also been described as "airtight custom" to ensure that leaks are avoided at all costs. As for what goes into each pen, Social claims that quality is their primary focus, which entails seven quality control checks at the production level where pens are locked into dispensaries to avoid failures of any sort.
This alone shows the care Social has in providing quality products to consumers, which is a factor that could have easily made them a recognized brand. However, there's more to it than quality control so let's take a closer look at some of the products that are currently being offered!
Select CBD Rebrands to Social CBD
Their strategy to rebrand occured with the changes in the CBD industry, the culture and legal narrative around cannabis. Select CBD was looking to deliver a clearer message as to what their brand represents. Aiming to spark a movement around better self-care and greater health they decided to change to Social CBD, with the purpose of breaking through myths and shed light on the truths on what hemp and CBD is and the role they play in our lives, and to what Social stands for.
What Products are Offered by Social CBD?
Clearly, vape pens are what Social CBD is mainly known for, but what many do not know is that they also carry CBD-infused Montel capsules, drops, and products tailored for pets. Here is a quick breakdown as to what can be expected from each type:
Social Vape Pens
Social Vape Pens combine 250mg hemp-derived CBD with essential oils as flavor. This was supposedly done to enhance one's wellness, while ensuring that consumers have a pen in need of a given situation. For instance, Social CBD offers vape pens for relaxation, focus and revival – which as mentioned before depend on the essential oil used. Hence, the flavors include Relax Lavender, Focus Spearmint, Revive Grapefruit, Relax Cinnamon, Focus Peppermint, Revive Lemon and for the holidays, Holiday Peppermint.
As for its uses, each 1 to 2mg of CBD produces a 3 second puff. There are no set doses as it varies from individual to individual. Finally, each vape pen – despite the type offered – is currently valued at $45.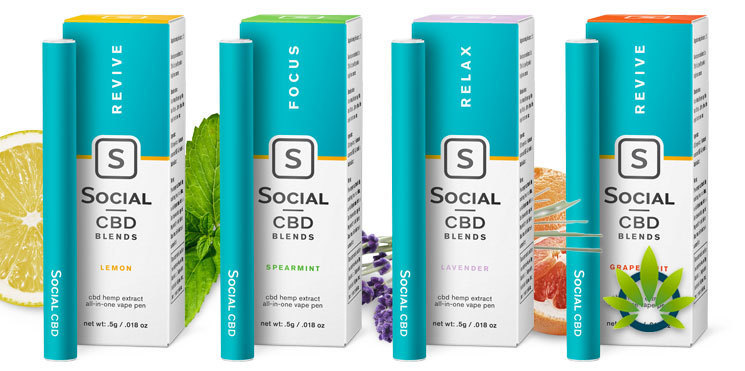 CHECK OUT SOCIAL CBD PRODUCTS HERE
| Relax Vape Pens (Grapefruit, Lavender, Spearmint, Peppermint) | Prices – $24.99 – $40.00 |
| --- | --- |
| 125mg Revive | Grapefruit Vape Pen | $24.99 |
| 125mg Relax | Lavender Vape Pen | $24.99 |
| 125mg Focus | Spearmint Vape Pen | $40.00 |
| 125mg Focus | Peppermint Vape Pen | $40.00 |
| 125mg Revive | Lemon Vape Pen | $40.00 |
| 125mg Relax | Cinnamon Vape Pen | $40.00 |
Social Drops
Social Drops were created for the non-smokers and vapers. Like the content of the vape pens, the drops combine essential oils and CBD. The flavors found within this line of category include Lemon Ginger, Peppermint, Natural and Lavender. All four flavors are provided in bottles containing 1000 mg and are priced at $65.
Many of Social customers seem to be satisfied with the results they've gotten. For instance, Dakota from Oregon claims that, "Vaping Social CBD oil is a quick and convenient way to relieve pain and calm my anxiety, I don't go anywhere without it." Another customer claims it helped them get off of their prescriptions. This being said, one should not do so on their own unless they have been given the green light from a health practitioner.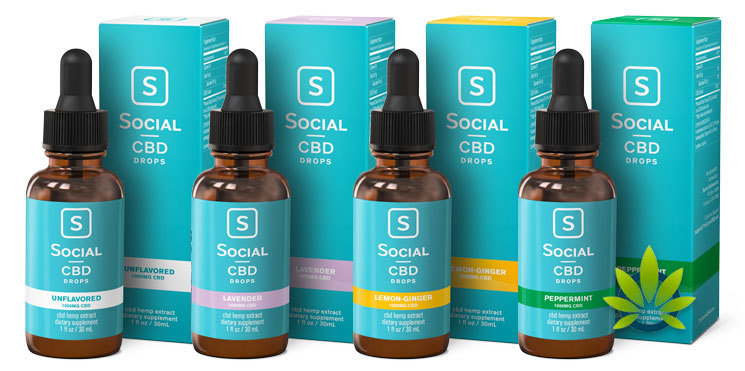 CHECK OUT SOCIAL CBD PRODUCTS HERE
Social CBD Topicals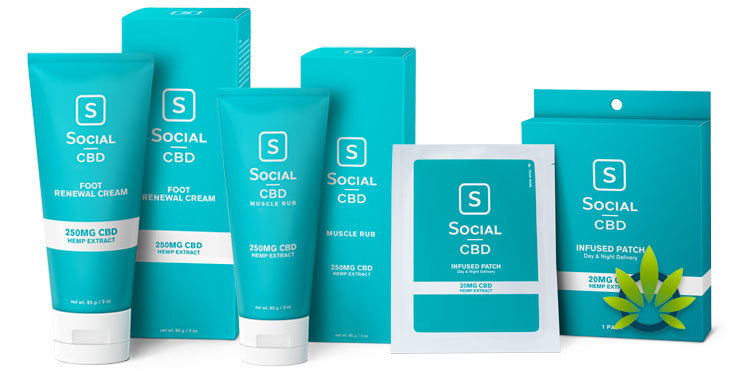 CHECK OUT SOCIAL CBD PRODUCTS HERE
| Social Drops (Lavender, Lemon Ginger Drops, Peppermint, Unflavored) | Prices |
| --- | --- |
| 500mg Drops | $35.00 |
| 1000mg Drops | $65.00 |
| 2000mg Drops | $120.00 |
Social Pets
Of all the possible CBD brands existing to date, Social gets the crown for having the most extensive line for pets! Just like us humans, pets also have an endocannabinoid system, therefore their health is no less than ours. In ensuring that pets are happy and health, Social has combined CBD with a wide range of flavors pets are typically accustom to, which include bacon, peanut butter, chicken and salmon flavor along with unflavored oils.
In terms of its uses, pet owners can simply add it directly to their pets' mouth or into their water, and on top of food. As for the value of the pets' CBD products, each 30 ml bottle contains 750mg of CBD going at $50 each.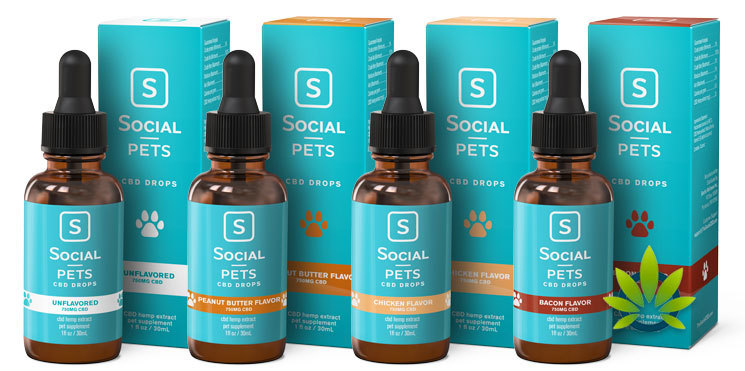 CHECK OUT SOCIAL CBD PRODUCTS HERE
| Social Drops for Pets | Prices |
| --- | --- |
| 750mg Pets Unflavored Broad Spectrum CBD Drops | $60.00 |
| 750mg Pets Chicken Broad Spectrum CBD Drops | $60.00 |
| 750mg Pets Peanut Butter Broad Spectrum Drops | $60.00 |
| 750mg Pets Bacon Broad Spectrum CBD Drops | $60.00 |
Montel by Social
This last category is a special one as it is the works between the Social team and former American television personality, radio talk show host and actor, Montel Williams. Interestingly, Williams has been open about his health, as he lives with a long-lasting disease that has negative effects on the brain, spinal cord and optic nerves called Multiple Sclerosis (MS) along with anxiety and depression.
Williams claims Montel by Social was created out of necessity, as he failed to find the necessary strains for his optimal health. He affirms that this line focuses on "quality, consistency and safety." Williams' line contains CBD infused capsules, one tailored for alertness and the other for relaxation.
Each capsule is said to contain 50mg of CBD and can help those with related illnesses to at least get the boost to get through the day and the relaxation needed to end the day. Each bottle contains 30 capsules and currently costs $80. The duration of the supply is dependent on the strength of CBD one needs.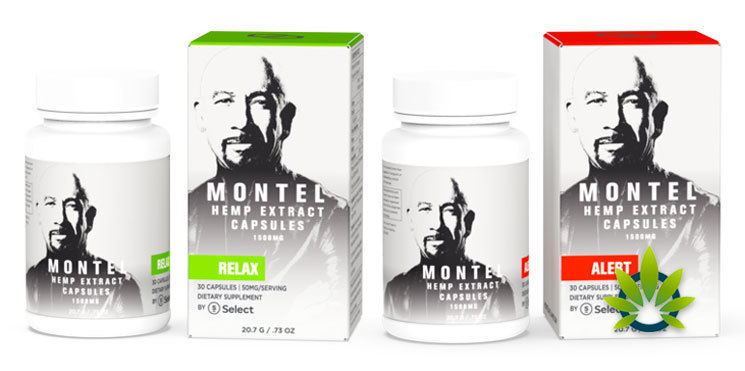 CHECK OUT SOCIAL CBD PRODUCTS HERE
| Montel Hemp Extract Capsules | Prices |
| --- | --- |
| Alert – Montel by Select Capsules – 50mg ea. | $80.00 |
| Relax – Montel by Select Capsules – 50mg ea. | $80.00 |
Final Thoughts
Based on the analysis above, it is clear that Social CBD has a competitive advantage. While most CBD brands focus on using flavors that tickle consumers' taste buds, Social took it to the next level by pleasing one's taste buds and inducing holistic effects to the mind and body. Another edge Social has is the quality materials used in ensuring that the contents inside and out of the vape pens, for example, preserve CBD's quality without bringing any nuisances to consumers during use. Finally, the prices are relatively low given the use of essential oils, supposed pure CBD and length of quality control. To learn more about Social CBD now known as Social CBD you can visit them at https://thesocialcbd.com/
Social CBD News Updates

TimesofCBD is the most active daily CBD news publication featuring the latest cannabis industry stories and marijuana market trends. As the leader in CBD-centric content curation, we invite all readers to come for the headlines and stay for the insights. Quality is the top priority when presenting user guides, analyzing product reviews and reporting fact-checked news announcements. All information is for educational and informational purposes only. Disclaimer.
Got news? Email contact@timesofcbd.com