PureKana: CBD Company News and Product Review Updates
PureKana: Premium CBD Oil Drops, Gummies and Pills to Relieve Stress?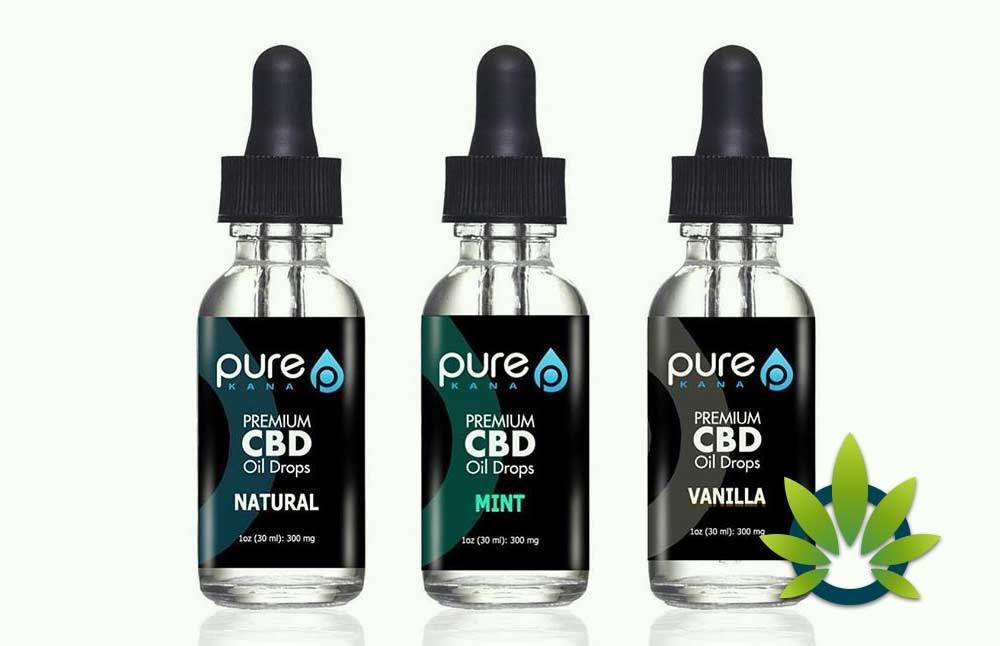 PureKana is a brand that uses hemp-based CBD formulas to nourish the body in a safe and legal way. Presently, the only way to purchase these items are through the official website, which should be easy while all 50 states presently can use CBD legally.
What is PureKana?
As cannabis looks to find a way in the medical industry, many companies are using the non-psychoactive chemical compound cannabidiol (CBD), which is often extracted from the hemp plant. One of those companies is PureKana, who says that their mission is "to lead the industry in bringing hemp cannabidiol (CBD) based products to the marketplace." They hope to use their platform to educate the world about what hemp CBD can do, while ushering them into a safe place in the healthcare industry.
PureKana is based out of Scottsdale, Arizona. The state presently does not allow the use of recreational cannabis, but medical marijuana has found a place, which makes the use of CBD slightly more acceptable. CBD itself is legal in all states presently, though there are restrictions on how it can be advertised. In the PureKana brand, consumers will find many items, such as:
Capsules
Powder
Topical salves
Oral sprays
Edibles
The company, which also offers formulas for pets, claims that "no one makes CBD rich hemp oil products like [them]," which consumers will see across the internet for almost every company. Much like the other options, there are no pesticides, herbicides, or other dangerous chemicals, and the company uses third-party testing to ensure the safety and quality of products.
With PureKana's choice of products, consumers will get doses of "ultra-concentrated hemp CBD" from Kentucky. The company uses a CO2 extraction method that is not described on the website, but it seems to be the last step of the process before testing.
Products by PureKana
PureKana's official website for their product line is divided into several categories, which are:
CBD oils
Capsules
Topicals
Gummies
Pure Picks
Pets
Bath Bombs
Read on below to learn a little more about each product type and what a customer can expect to spend.
CBD Oils
CBD Oil is one of the simplest ways for consumers to get the exact dose that they want. Each bottle comes with a dropper and contains a full spectrum of CBD. The company produces multiple assorted flavors (Natural, Mint, and Vanilla), which are available in concentrations of 300mg, 600mg, and 1000mg.
Each variation starts at $54 for the lowest dose, which is recommended by the company for novice users of CBD that want to test their own potency before increasing their consumption.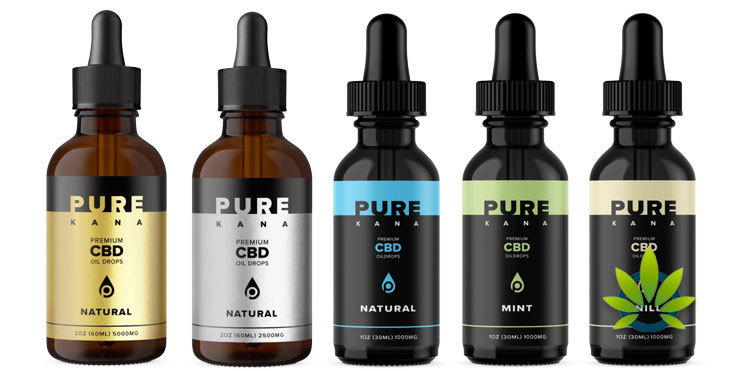 Capsules and Topicals
There is only one variation available for the CBD capsules, which are confined into individual doses to get the exact same 25mg potency every single time. Available for $83, the capsules use a soft gel coating which is broken down by stomach acid. Since this treatment is subject to a metabolic breakdown, unlike the oils, consumers are able to have more of a precise measurement when they take it.
The only topical product is the 3.4-ounce CBD ointment, which contains 600mg of CBD. Starting at $80, the moisturizing cream leaves no oily residue, and helps the treatment to enter the bloodstream for a reduction in inflammation and muscle soreness. While the ingestible products can take up to two hours to provide the desired effects, this treatment takes effect almost instantly.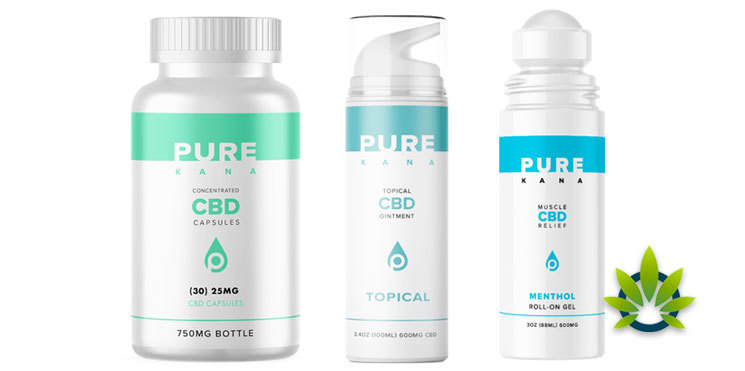 Gummies, Edibles, Vaping
The Gummies available through PureKana are strictly vegan, containing no animal or animal-related ingredients, unlike the soft gel coating of the capsules. Each gummy offers a 25mg dose of CBD, along with a combination of grape, corn syrup, and other ingredients for a fruity taste. This treatment is meant to promote all-day relaxation at $40 for a 20-serving bottle.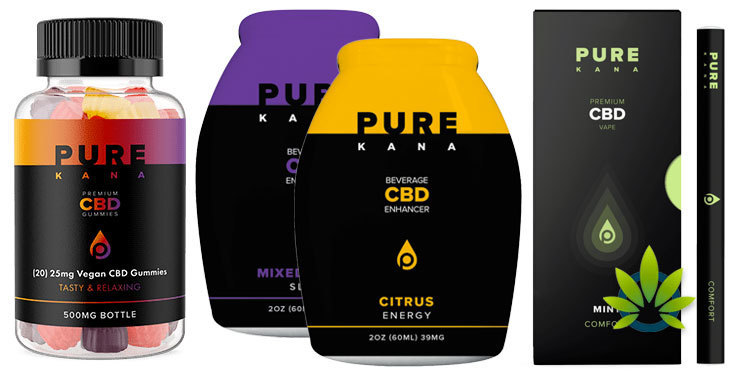 Pure Picks
"Pure Picks" is PureKana's clever way of advertising CBD-infused toothpicks. Each of the toothpicks has a 25mg dose of CBD, which enter the bloodstream sublingually. Consumers can nonchalantly chew on toothpicks to get the effects, which can "almost instantly" take effect through the entire body. The toothpick itself supplies up to 45 minutes of continual CBD release.
Presently, the toothpicks can be purchased in "Blue Raspberry," "Cinnamint," "Lemon Lime," "Orange Buzz," and "Pink Lemonade."
Pets
With the many benefits that CBD has on humans, PureKana decided to also create a line of dog treats for consumers that want their pets to have the same relaxed feeling that they get to experience. Starting at $34.99, there are 20 treats in every bag to help with separation anxiety, car rides, and causes of anxiety. Due to the medicinal effect of CBD on animals, it also promotes a healthier digestive system, eases the pain associated with aging, and improves the dog's skin and coat.
Presently, the two flavors available are Blueberry & Chicken and Peanut Butter & Pumpkin. The flavors are available in separate packages for small dogs and large dogs, so this factor is important to consider in the dosing.
Bath Bombs
Much in the same way that the topical cream helps to nourish the skin and permeate the bloodstream, so do the Bath Bombs from PureKana. The purpose of the bath bomb is to help with anxiety and to allow the user to unwind from a stressful day. It still includes the CO2 extraction method for the oils inside, and it is a good opportunity to soothe the immune system while reducing soreness and balancing the mood. The company recommends staying in the bathtub for about 25-30 minutes to let the effects settle in.
Consumers have the choice of Almond & Coconut, Eucalyptus, and Roses & Peppermint. Each bath bomb costs $12.99.
Hemp Vs. Marijuana
There is a distinct difference between using hemp and marijuana to create the CBD in any supplement, though they are parts of the same plant called Cannabis Sativa. The genetic profile is different, since industrial hemp can only be cannabis sativa, while marijuana can also be cannabis indica or cannabis rederalis. Industrial hemp also has a different breeding process.
The federal government specifically identifies hemp as the Cannabis sativa L. plant and any part of it, "whether growing or not, with a delta-9 tetrahydrocannabinol concentration of not more than 0.3 percent on a dry weight basis."
At the moment, hemp CBD requires no prescription because it is completely legal to purchase independently. Furthermore, there is no need for a medical card, because PureKana's CBD only contains trace amounts of THC. However, those trace amounts stand a chance of coming up on a drug screen, so consumers need to take that into account if it is possible that they may have a drug test arise.
Contacting the Creators of PureKana
Considering the therapeutic effect that each product brings to the table, consumers may want to reach out to the PureKana customer service team to learn more information. The team is available on weekdays from 11:00am to 8:00pm EST via phone or email.
Phone number: 855-553-7441
Email address: info@purekana.com
Consumers that want to stay up to date with the latest changes surrounding PureKana can follow them on one of their many social media profiles.
PureKana Review Summary
PureKana offers many of the same products that the public has come to expect from a CBD oil company, but the use of CBD in pet products and bath bombs easily sets them apart. Customers will not learn much about the effects of CBD on this website, but they will have the opportunity to start with a low dose that can expose their tolerance level.
The products on the website are only available to buy by parties that are 18 years old and older. Since CBD is considered a supplement and not a medication, consumers will not need a prescription to take part in it. However, if the user is presently engaged in a prescription regimen to manage one of the conditions they want to solve with CBD, like anxiety or chronic pain, they should speak with a doctor first.
If the customer is not 100% satisfied with the results of using the PureKana products, they can get a refund within 30 days of the original purchase.

TimesofCBD is the most active daily CBD news publication featuring the latest cannabis industry stories and marijuana market trends. As the leader in CBD-centric content curation, we invite all readers to come for the headlines and stay for the insights. Quality is the top priority when presenting user guides, analyzing product reviews and reporting fact-checked news announcements. All information is for educational and informational purposes only. Disclaimer.
Got news? Email contact@timesofcbd.com