Palmetto Harmony: CBD Company News and Product Review Updates
Palmetto Harmony: Pharmaceutical-Grade MCT & Hemp Oil Extract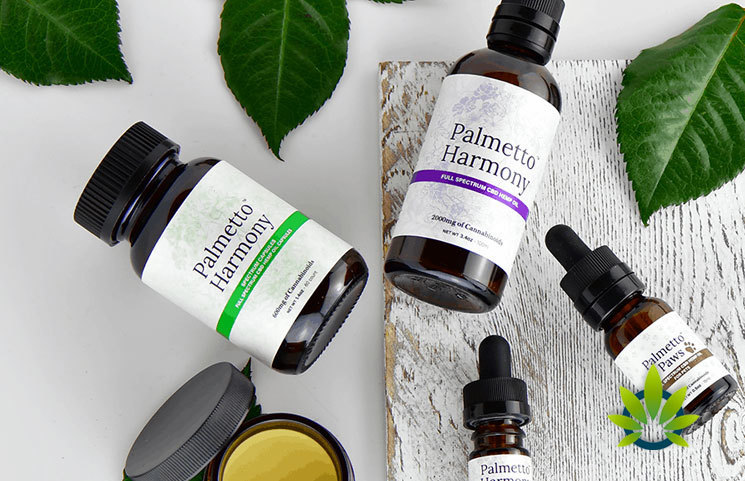 Palmetto Harmony is not an ordinary CBD company you will find in the United States. This company was born out of a mother's love for her daughter. In 2007, CEO Janel Ralph's daughter called Harmony was born with a rare but severe brain malformation. The rare genetic disorder is known as Smooth Brain and comes with severe symptoms such as severe seizures. This condition usually requires large amounts of medicine and drugs. Harmony's mother Janel Ralph used almost all of her resources to try and help her daughter. Unfortunately, they were told by doctors that the medical condition was scientifically untreatable. Instead of losing hope, Janel Ralph took it upon herself to try alternative treatments to mainstream medicine.
After trying CBD oil, she found out her daughter's health drastically improved. Because of the impressive results, Janel Ralph decided to start her own company called Palmetto Synergistic Research LLC in 2015. Months later, Palmetto Harmony as a brand was created.
Palmetto Harmony CBD Oil Products
Palmetto Harmony CBD Oil and Capsules
The company's products under this brand serve as an alternative medicine for those (like Harmony) looking to improve their quality of life. The company offers numerous products such as vaping oils, CBD tinctures, CBD capsules, pain-relieving salves, and CBD suppositories. Suppositories provide much-needed relief to patients in severe situations such as chemotherapy, where nausea makes it difficult for them to take oral medication.
Therefore, it is safe to say that this CBD company focuses on improving people's health. However, the company does not specify which of its products work best in certain situations. Hence, it is important you research before you decide which product to buy. Palmetto Harmony Organic Hemp Oil 100ml is the most popular product produced by the brand. This is one of the pioneer products that was used by Harmony herself to help reduce her seizures. The product is 100 percent organic, has no additives and artificial flavorings, and contains a wide terpene profile. The ingredients used in this product include Cannabis Sativa extract and MCT Oil. In case you are suffering from seizures, muscle pain, and mood swings, then use Palmetto Organic Hemp Oil 100ml.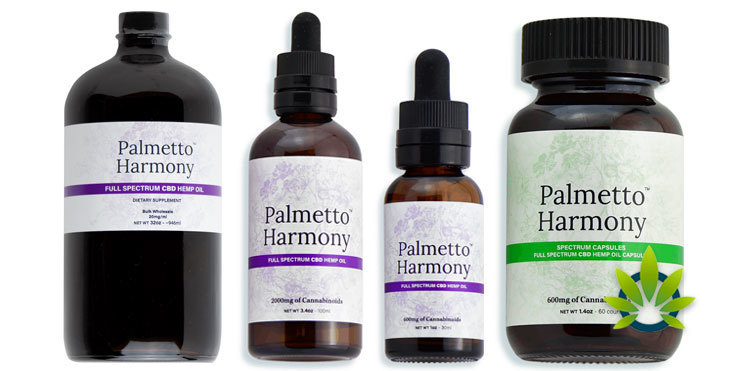 How To Use Palmetto Harmony CBD Oil
It is simple to use this CBD product because it comes with a dropper. Usually, the product is administered sublingually. Note that the number of drops will vary depending on your condition. Before you use any of their products, it is advisable you consult a physician. This will ensure you do not incur any undesirable side effects, and the CBD product you use fits your condition.
Palmetto Harmony Skincare and Topicals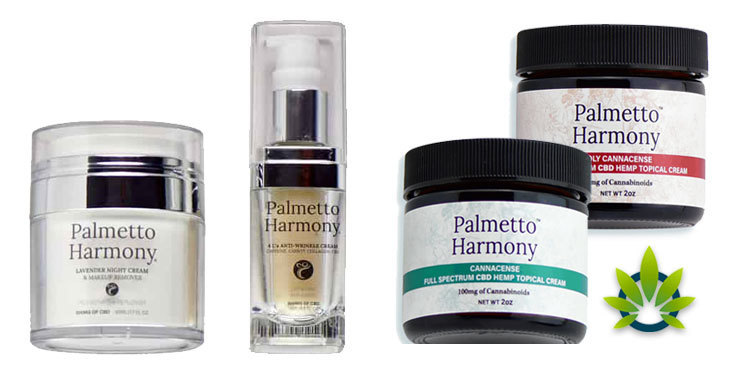 Palmetto Harmony Vape Products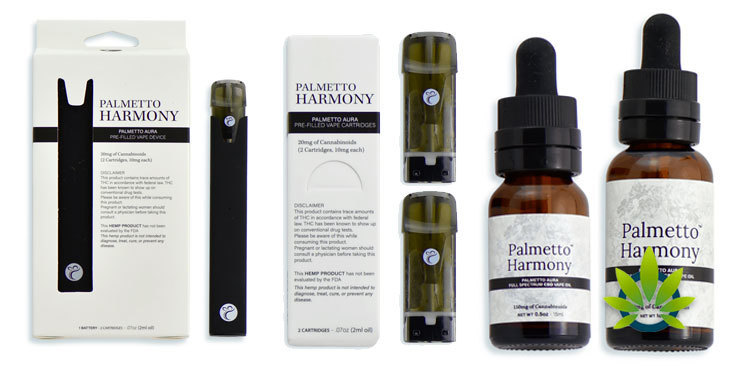 Palmetto Harmony Product Benefits
The CBD benefits of Palmetto Harmony products include the following:
Helps to reduce intensity and frequency of seizures
Helps patients with digestive problems
Can help patients with mood disorders and depression
Can be used instead of pharmaceuticals to relieve pain
Quality Sourcing
Palmetto Harmony aims to be the leading manufacturer of CBD products. To achieve this, they ensure all their CBD products are of the right quality, and the manufacturing process is consistent and safe. This begins with the sourcing of their CBD products. The company grows all their hemp plants in South Carolina. This is the only CBD brand that grows its own hemp plants.
Second, the company focuses on the quality of their manufacturing and extraction processes. All the batches that the company produces are tested by an independent ISO certified laboratory. While it is true that the brand's products have certificates of analysis, the document is not available publicly. However, you can request a copy of the certificate if you need to see one.
Palmetto Harmony says that all their extractions are performed on premium parts of the hemp plants that are 100 percent organically grown. Instead of using chemicals such as pesticides and herbicides to protect their crop, they use combative pests such as ladybirds to eat aphids. This ensures their crops are chemical free.
Palmetto Harmony Conclusion
From this review, you can judge for yourself that the company offers legit CBD products. There may be a few question marks about the transparency of the company, but that does not adversely impact the quality of their CBD products. We, therefore, recommend this product to anyone suffering from severe pain, stress or seizures.
Palmetto Harmony Company News Updates

TimesofCBD is the most active daily CBD news publication featuring the latest cannabis industry stories and marijuana market trends. As the leader in CBD-centric content curation, we invite all readers to come for the headlines and stay for the insights. Quality is the top priority when presenting user guides, analyzing product reviews and reporting fact-checked news announcements. All information is for educational and informational purposes only. Disclaimer.
Got news? Email contact@timesofcbd.com