Life Patent: CBD Company News and Product Review Updates

- Ad -
LifePatent: Medical-Grade CBD Oil, Topical Roll-On and Salve Hemp Products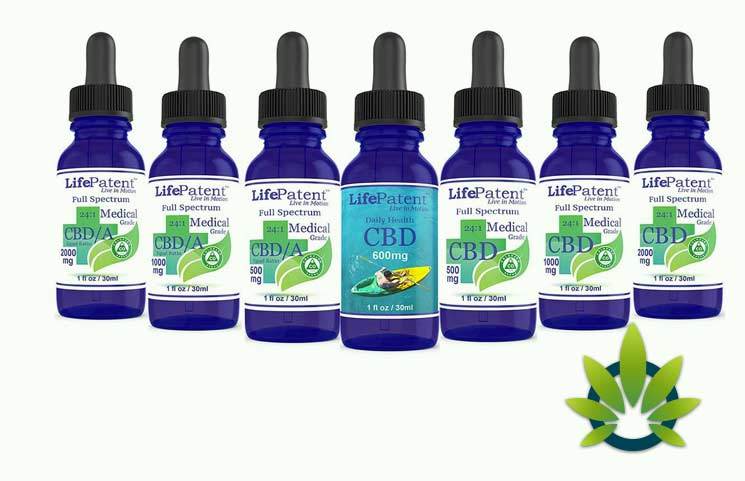 Life Patent is a company that offers people premium-quality phytocannabinoid-rich products. It guarantees that all of its products use only premium-quality, all-natural hemp extract. All of its formulations undergo strict laboratory testing and analysis. This keen attention to detail gives Life Patent CBD products a clear advantage over some brands. The company also makes sure that every product that gets packaged contains the right amounts of beneficial CBD oil.
The Wyoming-based company also has presence in Northern Ireland. They make sure that their CBD manufacturing processes comply with the provisions of the 2014 Farm Bill. They use industrial hemp grown and registered with the DA Industrial Hemp Pilot Program in Colorado.
Life Patent classifies its hemp products into four. These are Daily Health, Medical Grade, Black Label, and CBD/A.
Understanding what LifePatent offers would need one to explore the variety of products on offer with the hemp company. In this case, here is what LifePatent gives you:
Medical grade
The products in this category utilize a Premium Medical Grade T1 Hemp CBD blend to give a unique expression of the medical grade Cannabinoids. The category includes:
Medical Grade CBD 1000mg $99.95,
CBD 250 for Pets $24.95
Daily Health CBD 600mg per 1oz($59.95),
CBD/A Medical Grade 2000mg($199.95)
CBD/A Medical Grade 1000mg($99.95)
CBD/A Medical Grade 500mg($49.95)
Medical Grade CBD 250mg ($24.95)
Medical Grade CBD 2000mg($199.95)
CBDA 500mg Medical Grade ($49.95)
Medical Grade CBD 500MG($49.95)
Black Label
The LifePatent Black Label product bear a certified industrial hemp oil supplement that is organically grown and produced in Colorado with the Industrial Hemp cultivars. The Black label items are formulated to meet international standards regarding laws on transportation and commerce. They include Black Label Hemp Oil-400mg ($39.95), Black Label Hemp Oil-800mg ($79.95), Black Label Hemp Oil-1600mg ($159.95), and Daily Health CBD 600mg per 1oz ($59.95.
Daily Health
LifePatent's Daily Health CBD 600mg is the recommended product for those seeking a health supplement without the proper knowledge on what they want. The Premium Daily Health 600MG utilizes the same T1 Cultivar present in the other CBD products to bring a perfect balance of potency and taste.
CBD/A
The CBD/A products bear a special blend of Indica medical hemp cultivars and sativa to give a unique blend of the cannabinoids. The Medical Grade CBD/A is a unique formulation to give the products a simple, pure and natural twist to certify the real deal. Products include CBD/A Medical Grade 500mg ($49.95), CBD/A Medical Grade 1000mg ($99.95), and CBD/A Medical Grade 2000mg ($199.95)
What's Unique With LifePatent's Hemp Operation?
Quality and purity: LifePatent lists all the ingredients on their labels to verify the exact extracts in each batch
Use of premium hemp: From the growing process to extraction, LifePatent ensures only the most skilled and knowledgeable individuals to provide quality genetics
A wide variety of products: LifePatent's manufacturing line offers different items, each to suit the consumers' intake needs.
Available across 50 states: LifePatent products also meet the necessary standards with the Black Label even complying with federal laws to allow them to be available for the CBD communities across the USA.
Let's breakdown each of these into more detail.
There is only one product in the Daily Health category. This is the Daily Health CBD. It is a tincture preparation that contains 600 mg of CBD per ounce of the formulation. It also includes MCT oil from organic coconut. The serving size is equivalent to 0.5 mL. This contains about 10 mg of hemp extract.
There are two products in the Black Label line of Life Patent. These include a 400 mg and 800 mg formulation of Hemp Oil. The ingredients featured in these products are cultivars that provide consistent and reliable phytocannabinoids profiles. They also contain tetrahydrocannabinol. However, one should feel safe about the formulation since Life Patent guarantees that the level of THC in the Black Label products are within legal standards.
The Medical Grade product line of Life Patent features three preparations. It includes a topical formulation and two variants of CBD oil tinctures. The topical preparation contains 150 mg of CBD, while the tinctures come in either 250 mg or 500 mg formulation. The 250 mg Medical Grade tincture comes with 264 mg of CBD and 27 mg of CBG and CBC. It also contains 3% THC. The 500 mg formulation contains 525 mg of CBD and 61 mg of CBG, CBDA, and CBC. It also contains less than 6 percent of THC.
The Life Patent Apply Topical also contains a blend of natural ingredients. These include coconut oil, hemp seed oil, Moringa oil, and Argan oil. There are also almond oil, jojoba oil, and avocado oil. Beeswax and lanolin were also included in the formulation to help augment the therapeutic benefits of the hemp extract.
The CBD/A products of Life Patent come in three formulations: 500 mg, 1000 mg, and 2000 mg. The 500 mg formulation contains equal proportions of CBD and CBDA. There are CBC, CBC, THC, and THCA, in addition to terpenes. The formulations come with natural lemon flavoring and coconut MCT oil.
The 500 mg formulation contains 231 mg of CBD, 15 mg of terpenes, and 219 mg of other phytocannabinoids. The 1000 mg preparation contains 450 mg of CBD, 30 mg of terpenes, and 432 mg of other cannabinoids. The 2000 mg CBD/A features 870 mg of CBD, 60 mg of terpenes, and 843 mg of CBDAs.
How LifePatent Compares to Other CBD Brands
LifePatent seems like a company serious with providing quality and quantity in regards to CBD products. We found little if any, negative feedback that would make us not recommend the brand line of products. The only point of concern is the need to consult your doctor before trying out any of LifePatent's products.
LifePatent: Medical-Grade Full-Spectrum CBD Oil Products Conclusion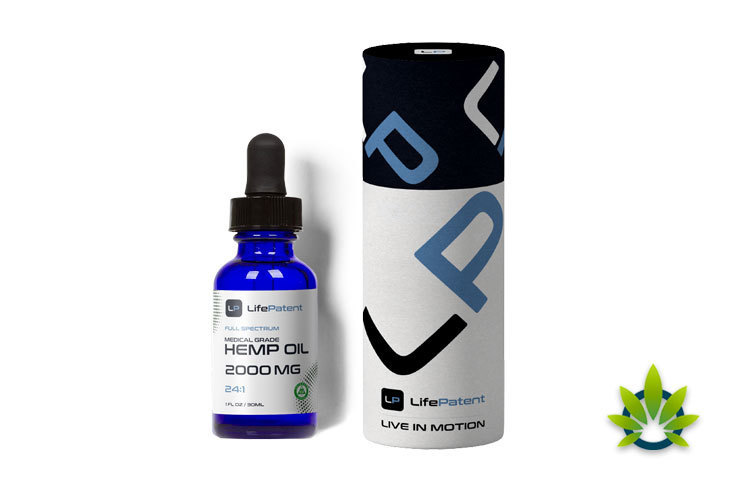 LifePatent is a hemp company owned by a collective group of veterans with interest in bringing together hemp and bioscience experts to unravel the potential of the hemp plant. The LifePatent Company takes into consideration full traceability in every stage of their sourcing and production process to ensure they get to provide the best quality cannabinoid products the market has to offer. The Colorado-based firm also hopes to provide CBD products that fully comply with all the necessary state, federal and international laws on the use of industrial hemp and the derived products.
LifePatent News Updates
No news updates for LifePatent CBD company just yet!

TimesofCBD is the most active daily CBD news publication featuring the latest cannabis industry stories and marijuana market trends. As the leader in CBD-centric content curation, we invite all readers to come for the headlines and stay for the insights. Quality is the top priority when presenting user guides, analyzing product reviews and reporting fact-checked news announcements. All information is for educational and informational purposes only. Disclaimer.
Got news? Email contact@timesofcbd.com