HempMy Pet: Organic CBD Dog Biscuits, Hemp Seed Oil and Extracts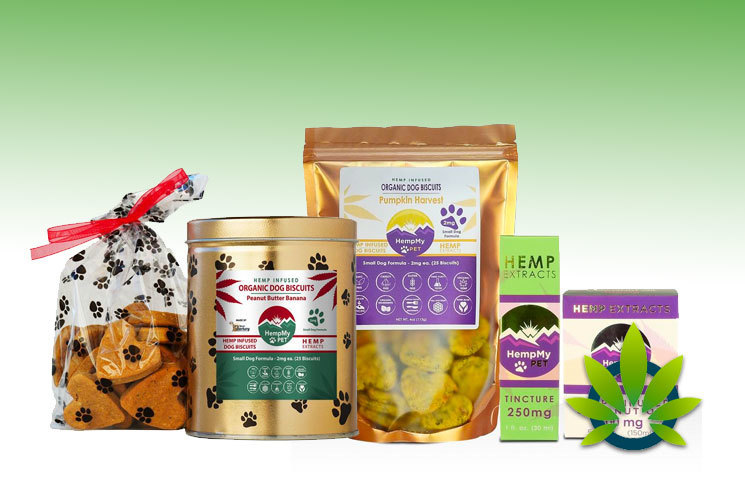 A safer, effective, and more affordable option than other treatments, CBD treats many dog health problems including cancer pain, anxiety, seizures, and arthritis. The only drawback to this is CBD oils' naturally bitter taste that makes it hard to administer to pets. Consequently, sweet CBD biscuits and treats have been developed to offer an alternative to CBD bitter oils. CBD dog treats and biscuits contain zero THC amount, the psychoactive cannabinoid. So, do not worry that your pup might get "high".
HempMy Pet sells handmade pumpkin and peanut biscuits in small batches to give a fresh and tasty treat that canines love. These products are made with human-grade and organic ingredients and are infused with hemp that is organically grown in Colorado by the company itself. These biscuits are meant to complement the dog's diet, happiness, and most importantly, health.
Top 3 HempMy Pet CBD Biscuits.
Handmade Small Dog Formula 2 mg – Pumpkin
This pumpkin harvest biscuit is recommended for little doggies that need a daily supplementation to their diets. However, the biscuits are not meant to replace the dog's food. The formula of this biscuit is cruelty-free, GMO-free, and Gluten-free. Additionally, this product is tested by a third party and made with HempMy Pet's full-spectrum extract.
Each bag costs $25 and contains 25 biscuits, with each biscuit having 2mg of CBD. The recommended serving is one 2mg biscuit per 10 lbs. body weight. These are general guidelines though and can be adjusted based on desired results. This is because each doggie is unique in a way and responds differently based on their metabolism, weight, and varying needs.
The ingredients are:
Pumpkin
Unrefined coconut oil infused with full spectrum hemp extract from organically grown Colorado hemp
Rice flour
Garbanzo bean flour
Apples
Tapioca starch
Eggs
Baking powder
Mint
Parsley
Handmade Large Dog Formula 5 mg – Pumpkin
HempMy Pet's pumpkin large dog formula harvest biscuits are suggested for larger dogs that need a daily supplement for their diets. The biscuits are made using organic and Human-Grade ingredients, and the hemp infused is organically grown by the company in Colorado. The formula of this biscuit is cruelty-free, GMO-free, and Gluten-free. It is also third-party tested and made using the full-spectrum hemp extract.
Large dog formula biscuits are meant to reward/supplement meals and not to replace the dog's food. Each bag sells at $32 and has 15 biscuits, each with 5mg of CBD hemp actives. The recommended serving is 1 biscuit for every 50 lbs. body weight. However, these are general guidelines andcanvary based on the desired results since each doggie is different from others and has varying responses metabolism, weight, and need responses.
Ingredients are:
Pumpkin
Full-spectrum hemp extract derived from hemp organically grown in Colorado
Garbanzo bean flour
Tapioca starch
Rice flour
Unrefined coconut oil infused with hemp extract
Eggs
Baking powder
Parsley
Mint
Apples
Peanut Butter Banana Christmas Tin Handmade Dog CBD 2mg FormulaBiscuit
These delicious biscuits have a vegan formula and are made of organic and human-grade ingredients. The small dog formula is recommended for supplementing the diets of small dogs and is cruelty-free, gluten-free, and GMO-free. The biscuits though are for supplementation purposes only, and should not replace the dog's diet.
Selling at $27, each bag comes with 25 biscuits with each of these biscuit containing 2mg of CBD hemp actives. A pet owner should serve one biscuit (2mg) for each 10 lbs. body weight. The formula is third party tested and made with the full-spectrum of HempMy Pet.
Ingredients are:
Peanut butter powder
Garbanzo bean flour
Organic bananas
Unrefined coconut oil infused with hemp extract
Cinnamon
Hulled hemp seeds cinnamon
Hemp extract water
With cruelty-free, GMO-free, and Gluten-free third party tested pet CBD biscuits, HempMy Pet is undeniably one of the leading CBD pet product producers. To get a treat that suits your dog, beware of his/her diet requirements, weight, and health needs. Also, do not use these biscuits to replace your dog's diet.
TimesofCBD always fact checks sources but is not eligible to be held liable for the accuracy in CBD news, medical reports and research guides. Everything here is for educational, informational purposes only. While quality is our priority, no statements found on this website have underwent Food and Drug Administration evaluation. The efficacy of any products or claims made have never been approved by the FDA. No products shall ever be intended to diagnose, treat or cure any disease or prevent any ailment.  Always seek additional medical advice and consultation with a professional healthcare practitioner before considering any CBD.