CBD in Illinois: IL State Laws and Where to Buy Legally
CBD Oil Legality in Illinois: Cannabidiol State Law Regulations in IL, USA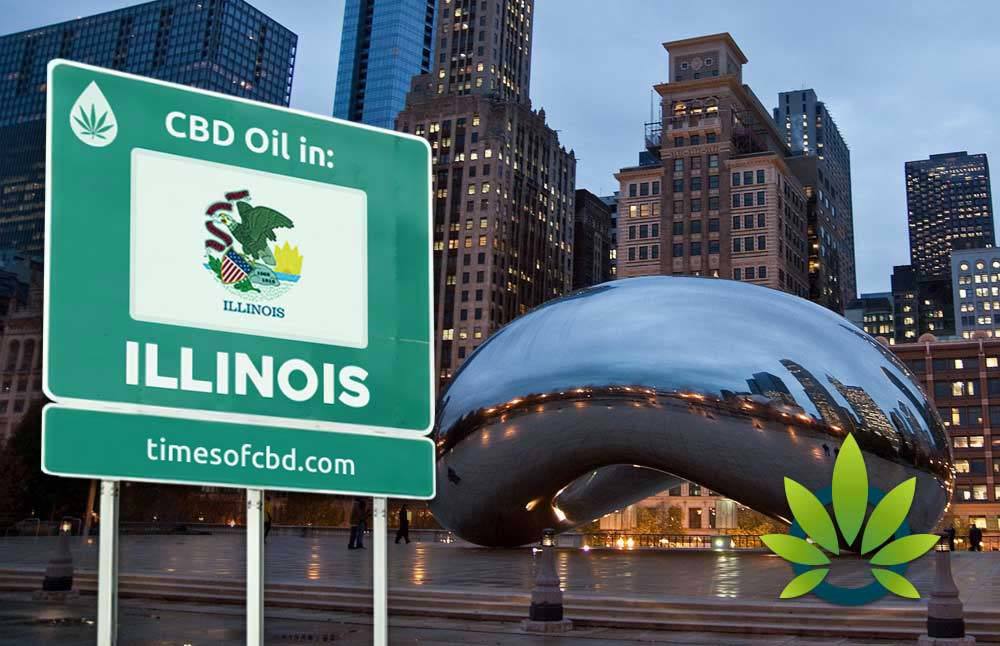 Illinois has one of the most complicated cannabis law frameworks in the country. A variety of different pieces of legislation have made the state's CBD and marijuana users increasingly wary of the direction that the state might be moving. But as it stands, Illinois still gives consumers much more in the way of opportunity than some of the less progressive states within the U.S. A medical cannabis law is on the books, and the state has piloted an industrial hemp program in the hopes of having a full legal framework in place for the growing market.
It has always been in the interest of both the state and its citizens to put in place a list of responsible, fair laws for the regulation of substances derived from the marijuana and cannabis plants. Especially with the massive media attention that CBD and cannabis has garnered in the past few years, lawmakers have been told many stories of the benefits offered from a legal industrial hemp program.
Lawmakers have likely also seen a variety of studies published in recent years detailing just how separate the hemp-derived CBD substance is from some of the more intoxicating extracts of the cannabis plant. In most cases, hemp-based CBD oil has little to no THC content within it, cannot product a substantive "high," and will not show up on most modern drug tests. As lawmakers have begun to recognize the variability of the extracts and derivatives of the marijuana plant, a complicated legal framework has manifested within Illinois.
The 2018 law SB 2772 made it legal for companies to distribute and sell hemp extract, so long as the content of THC is less than .03 percent by weight. Additionally, HB1 in 2013 legalized medicinal cannabis, while a statutory law put into place back in 2016 instituted an official industrial hemp pilot program.
Age Requirements For CBD In Illinois
The age requirements for CBD are often some of the most sought-after legal answers, for a variety of different reasons. Consumers often wonder what age they or their children might need to be in order to purchase, possess, or use a variety of cannabis products. Unfortunately, this question is a bit more complicated than might initially meet the eye.
First, the age requirement to purchase CBD will almost always depend on the type of CBD in Illinois. For marijuana-derived CBD products containing THC content, a doctor's note is required to purchase from any licensed dispensary—and purchases can only be made in these dispensaries. While someone under the age of eighteen or twenty-one can theoretically gain access to one of these cards, physicians are often slow to issue them. Even when a patient under the age of eighteen is issued a medical marijuana card, parental guardians will often be asked to go with them into the dispensary to make the purchase itself.
But most CBD does not have a palpable THC content. When this is the case, the age regulations depend primarily on the shop in which the product is being sold. Non-THC CBD is often sold in food health stores, head shops, and even gas stations. While food stores and gas stations seldom have restrictions on who can enter the facility, they will often not sell CBD products to anyone under the age of eighteen. For head and smoke shops, the requirement is often that anyone entering the shop be either above the age of eighteen or twenty-one, depending on local laws and regulations.
Where To Find Illinois CBD
In Illinois, CBD can be purchased from a wide variety of places. For users looking for CBD derived from the marijuana plant with a healthy dose of THC included, the only places to find these products are going to be licensed dispensaries. These dispensaries offer a high quality of product, but will always require a medical marijuana card in the state of Illinois.
But for consumers just looking for CBD without all the added THC content, many health food stores, head shops, smoke shops, and vape shops will carry brands of different kinds of CBD.
Types Of Illinois CBD
Illinois has nearly every type of CBD currently on the market. Smokables, edibles, balms, and more are available from retailers all over the country. The primary concern for the average user of CBD should probably be whether the product has significant THC content. This distinction helps to determine where the user can purchase their product, as well as whether they will need a medical marijuana card to obtain it.
Buying CBD Online In Illinois
As of now, it is legal to have CBD products shipped to Illinois, and distributors on the internet are almost always willing to ship to Illinois. Consumers need to be cautious of what the THC content of the CBD they or timesofcbd.com/buy-cannabis-online-in-canada/der might be, though, to avoid violating any laws in their own jurisdiction.
Additionally, users of CBD in Illinois should conduct individual research in order to verify the potency and quality of the products that they want to argue.

TimesofCBD is the most active daily CBD news publication featuring the latest cannabis industry stories and marijuana market trends. As the leader in CBD-centric content curation, we invite all readers to come for the headlines and stay for the insights. Quality is the top priority when presenting user guides, analyzing product reviews and reporting fact-checked news announcements. All information is for educational and informational purposes only. Disclaimer.
Got news? Email contact@timesofcbd.com