Leef Organics: CBD Company News and Product Review Updates

- Ad -
Leef Organics: Thrival CBD Extract Tincture, Wild Crafted Skin Oil and Revive Balm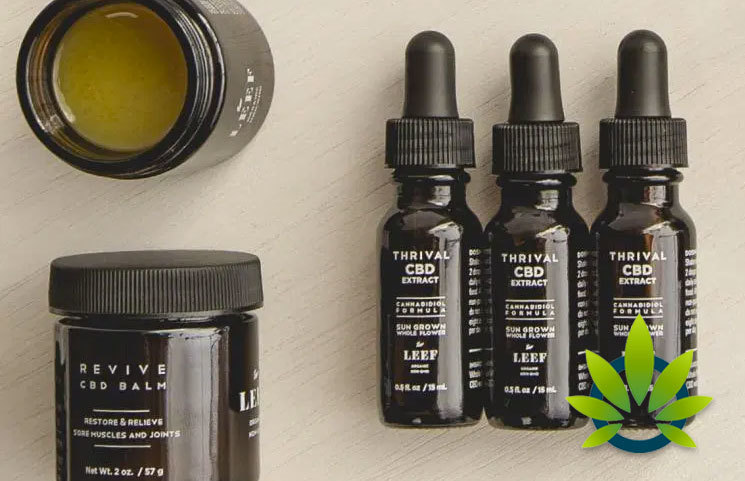 Cannabidiol has been praised as an all-natural and effective method for relief from a number of conditions, such as stress, chronic pain, inflammation, irritation, and the like. Though there are many different types of CBD brands and products on the market, not all of them are of premium quality. As a result, it is important to take the time to find the right brand for one's needs. With that, this review would like to introduce a high-end brand that offers products for men and women of legal age.
About Leef Organics
LEEF Organics is a California-based CBD company with presence in France and Northern Ireland. They offer all-organic and non-GMO products from seed to soil. The CBD is harvested by hand and then formulated into products in the United States.
The brand adheres to unconventional hemp refinement processes. The brand does not observe traditional extraction and processing methods that undermine the quality of the CBD products. The company's soil-to-user philosophy guarantees the highest possible potency and purity of their offerings. As the brand explains on its website, "Our single origin harvests are the cleanest form of CBD extract possible. We do NOT add any chemicals, over-heat, or strip the plant as with other common extraction methods."
Premium-Grade from Start to Finish
There are a number of qualities to be concerned about when choosing a brand, one of which is whether the formulas are organic and non-GMO. Products that meet these standards tend to be of higher quality and purity, which means that they may be better for user needs. In this case, Leef Organics; products are organic and non-GMO, from start to finish. This ensures that the products are likely free from chemicals, synthetic substances, pesticides, and other harmful substances that can detract from the quality of the overall products. Once the brand harvest and manufactures the products, it lab test them.
Lab Testing
Lab testing cbd is a crucial step in the process of formulating high-quality products. In this case, Leef Organics tests "every product for purity and potency against the most critical and wide array of standards." By lab testing all of its formulas, the brand safeguards against impurities and other low-quality substances in the formula. Further, the brand also notes that it keeps all of its lab tests. Those who are interested in viewing the tests can contact the brand to receive the data. This level of transparency isn't always easy to come by.
Whole Plant CBD
Leef Organics uses the whole plant in the process of making CBD formulas. As the brand explains, "as natural plant components interact with one another, and within the human body, they produce a stronger influence together than any one of those components could alone." Taken together, the ingredients in the brand's full-spectrum CBD promotes a more-effective and powerful effect. Further, the brand applies a CO2 extraction process.
Leef Organics CBD Products
The brand currently offers six products on its website and it is likely that its product base is growing. The products offered are quality substances that users can count on when adding them to their lifestyle. Here is an overview of what the brand has to offer:
Thrival CBD Extract
Thrival CBD Extract is a superfood that can help individuals achieve overall wellness. The brand formulates the product by using the whole plant and a cold-pressed fermentation process. This type of system may lead to the cleanest form of CBD extract available.
Revive CBD Balm
Revive CBD Balm features pure CBD extracts and a choice of pain-relieving botanicals. It also may be effective for inflammatory conditions.
Leef Daily Essentials
Leef's Everyday Essentials Box is a combination of products that may be able to provide users with rebalance and harmonization. The formula in the box include Thrival superfood with a touch of topical and Nooks and Crannies. This box may be just what users need to experience the comfort of CBD at the end of a long and tough day.
Nooks and Crannies
Nooks and Crannies is a CBD Soap kit that is packed with a powerful and premium-grade lineup of botanical formals. The CBD in the product may be what users are looking for to address some irritation and it may be able to provide a nourishing and invigorating effect. Further, the product is very gentle on the skin and works well for those who have sensitive skin as well.
These are just a few of the main products offered by the brand. With these formulas, and others, users may be able to experience the full support that they are looking for from premium-grade CBD products. To learn more about the specifics of each product, just visit the specific page.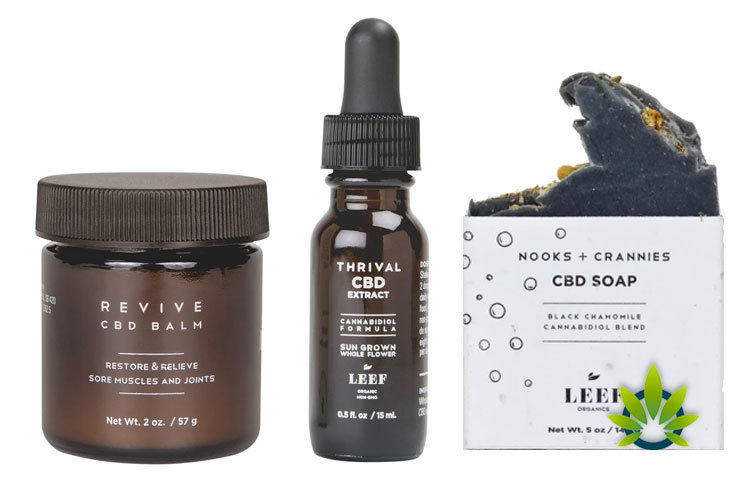 Leef Organics Refund Policy
Where some brands have liberal refund policies, there are those that don't. In this case. Leef Organics takes a liberal approach – it allows for returns within 30 days from the original purchase date. Keep in mind that to be eligible for a return, the product must be in unused condition or in the same condition that it was in at the time of purchase. The product must also be in its original packaging. Those who are interested in a return should contact the brand. It is also necessary to have proof of purchase on hand when returning a product.
Leef Organics Summary
Overall, Leef is a high-end and premium-grade CBD brand that may be able to provide men and women of legal age with the quality CBD formulas they are looking for. To learn more about the brand, its products, and all that it has to offer, just visit the brand's website today.

TimesofCBD is the most active daily CBD news publication featuring the latest cannabis industry stories and marijuana market trends. As the leader in CBD-centric content curation, we invite all readers to come for the headlines and stay for the insights. Quality is the top priority when presenting user guides, analyzing product reviews and reporting fact-checked news announcements. All information is for educational and informational purposes only. Disclaimer.
Got news? Email contact@timesofcbd.com