Lazarus Naturals: CBD Company News and Product Review Updates
Lazarus Naturals: Organic Pure CBD Hemp Oil Tinctures, Balm and Capsules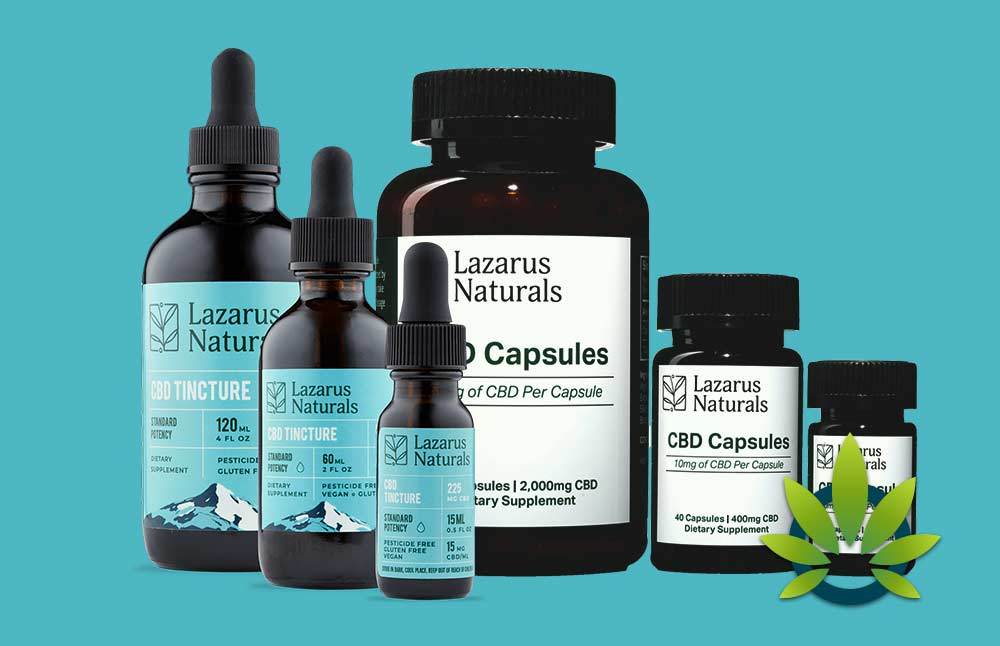 There are dozens of cannabidiol brands on the market, especially given the nature of the substance. Cannabidiol is a natural substance that may be able to provide men and women with relief from various issues, such as stress, anxiety, pain, discomfort, and the like. The key to experiencing these qualities is to find a CBD brand that users can count on. With that, this review has a prime suggestion that could work well. Called Lazarus Naturals, this brand posits that it offers users the "highest quality CBD products accessible to anyone." With all that this brand has to offer, users may be well on their way to experiencing the full support they are looking for.
About Lazarus Naturals
Lazarus Naturals is a brand that offers all-natural and superior-quality CBD products that are accessible to all men and women of legal age. As the brand explains, the formulas are "hemp derived CBD extracts" that are made in-house. The hemp is domestically sourced from the business's non-GMO farms. Further, the brand works to ensure the potency and quality of its products by using the highest cannabinoid content possible. Interesting enough, the brand also uses "kosher ethanol to extract the CBD and the terpenes from the plant material." Thus, those who face dietary restrictions may find this brand a great option.
Lazarus Naturals Product Options
As explained, the brand offers a wide-array of products for men and women to choose from. The products come in the form of the following substances:
Tinctures
Capsules
Isolates
Coconut Oil
Pet Products
These product options provide users with the variance they need and the product use methods that work well for them. By choosing a brand with such variance, users may find it easier to switch to other methods that they want to try and to incorporate into their lifestyle. There are many different product options that users can choose from. Though this review cannot cover all of the products that the brand offers, here are some that may be a good start.
Tinctures
Chocolate Mint High Potency Tincture: Chocolate Mint High Potency Tincture contains 50 mg of CBD per 1ml. The formula comes with a dropper so that users can ensure that they are taking the right serving size. The product is also described as vegan and gluten-free. It does not contain any artificial flavors, preservatives, or sweeteners. The brand also notes that the formula has a strong chocolate mint flavor, which is an amazing taste. Those who use this formula may find themselves experiencing the benefits of the full-spectrum CBD.
French Vanilla Mocha High Potency Tincture: The French Vanilla Mocha High Potency Tincture is a substance that may not only promote relaxing qualities, but it may also provide users with an enjoyable flavor as well. The tincture comes in French vanilla flavor. The product comes in tincture form so that users can apply an amount to any beverage that makes them comfortable and satisfied.
Capsules
25mg CBD Capsules: These are 25mg CBD capsules. The container can feature a range of capsules, form 10, to 40, to 200. The product is vegan, gluten-free, and there are no artificial flavors either. The capsules are ideal for those who are looking to want a high serving size of CBD at an affordable price. The products are also very easy to take and are tested by third-parties for pesticides and any other harmful ingredients.
200mg CBD Capsules: Those who are looking for a higher dose of CBD may want to consider the 200mg CBD capsules. There are four capsules per container. The capsules absorb well into the body so that users can experience the benefits of the formula almost instantly. Keep in mind that these are much stronger than other potency formulas, which is why users should use the product sparingly.

Lazarus Naturals Topicals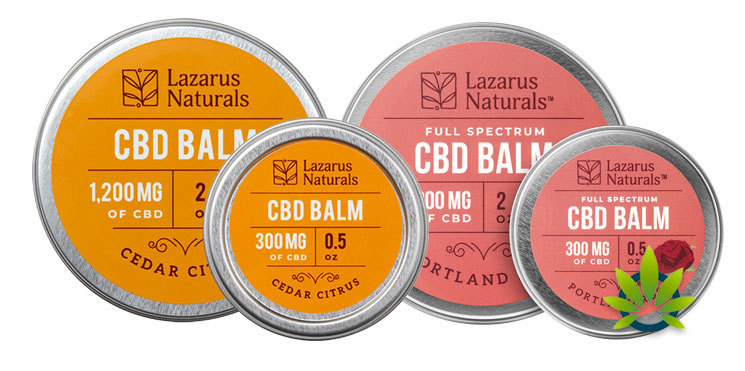 Cedar Citrus CBD Balm: Cedar Citrus CBD Balm features 50 mg of CBD and all-natural and plant-derived scents. The product is a topical formula that is soothing, gentle on the skin, and it provides users with the support they need for healthy and soft skin. A few of the main ingredients in the formula include organic mango butter, organic beeswax, fractioned coconut oil, organic cedar oil, Valencia orange oil, hemp extract, and oleic acid. The formula is made in the United States.
Other Lazarus Naturals Products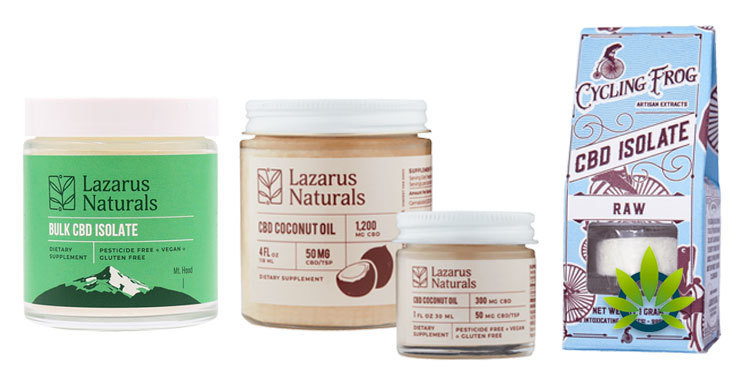 The company also offers the "High Potency Sample Pack" features three different products. The products here are ful spectrum, non-GMO, and are made in the USA. The products in the pack include the 300 mg CBD Coconut Oil, the 750mg CBD High Potency Tincture, and 50mg CBD Capsules. The pack is ideal for those who want variance and who are looking to try different products.
These are just a few of the many products that the brand has to offer. With all of the available product options, users are bound to find products that work well for their needs and that can fit well into their lifestyle. Many of the products also include reviews from customers who have used the products. This way, users can determine which products they want to try first.
Lazarus Naturals Ingredients and Features
Full-Spectrum Cannabidiol
Another quality to note about this brand is that it uses full-spectrum CBD, as oppose to isolate. Full-spectrum has been noted to be more effective than CBD isolate, as it features a wider array of phytochemicals. A few of the most common phytochemicals include cannabinoids and terpenes.
The full-spectrum quality also refers to the various plant molecules in the formula. All of the molecules in the formula stay consistent and at their highest level, especially because there is not a great deal of refinement that occurs. Some studies also suggest that the terpenes and other substances in the product that remain tend to work together to influence one another in a total synergistic effect.
Third-Party Tested
Though some brands can certainly perform their own testing of their products to ensure potency, quality, purity, and other prime qualities, such testing mechanisms may be biased at the end of the day. Therefore, it is ideal to choose a brand that has the testing performed by a third-party. In this case, Lazarus Naturals sends its formulas to a third-party testing service. The third-party checks all of the important mechanisms of the formula to safeguard that the products will be able to work at the level that customers expect. Those who are interested in learning more about the third-party testing and to view the certificates can always contact the brand.
Vegan and All-Natural
The brand also offers products that are vegan and all-natural. This means that the brand does not use any animal byproducts in its formulas and works to ensure that they are no synthetic ingredients, additives, fillers, chemicals, or other harmful substances that can detract from the quality and effectiveness of the formulas. Very few brands on the product are able to deliver such quality, which is why Lazarus Naturals may be the right option for users' needs.
The Right Amount to Take of Lazarus Naturals – Dosage
The brand's website offers a stellar informational tool for men and women to learn about the various qualities associated with CBD. One of the major questions that seems pertinent to men and women of all ages is how much CBD is best to take during one's day.
As the brand explains, the first line of inquiry should be with one's medical professional. Medical professionals who support CBD-use may have the insight and understanding necessary to help their patients make the right decisions based on various factors. The brand notes that a few of the most common factors influencing one's CBD serving size need includes:
Weight
Metabolism
Genetics
Further, it is important to recognize that the amount of CBD that one person takes to experience an effect can vary. For instance, some people can have a small amount of CBD and experience their desired effects, while others need a higher dosage. The brand explains that those who are starting to take CBD for the first time, it may be best to try only 10-25 mg of the substance and to increase it later.
Lazarus CBD is Derived from Industrial Hemp
Various CBD brands make their products from different substances. In this case, Lazarus CBD states that it extracts its CBD from hemp using kosher alcohol. The extract is then subject to a purification process and a distillation process. This ultimately results in a high-quality CBD product that is free from oil and other solvents that can detract from the quality and effectiveness of the products.
The brand also works to ensure that there is very little to not THC in the formulas. As the brand explains, its products comply with the "federally mandated 0.3% THC limit." Thus, those who use this brand's products can feel confident that they are using products that are legal and safe.
A "Grapefruit Warning"
A very interesting quality of this brand is that it also has a "grapefruit warning." This is a rarity, as not many brands explain that those who have been warned by their doctor to avoid grapefruits, may also want to treat any CBD products with caution. Those who are have any questions or concerns about this issue may want to contact a medical professional.
Money-Back Guarantee
The brand is confident in the quality of its products. As a result, it offers users the option of a money-back guarantee is case they are dissatisfied with the products for any reason. Thus those who have any issues within 30 days of purchase can contact the brand for a full refund. To learn more about the money-back guarantee, just visit the brand's website.
Support to Promote Affordability
Lazarus Naturals recognizes that though the products are affordable, they may not be affordable for all the individuals who may be interested in purchasing. To ensure that anyone can have access to the products, the brand has a local assistance program. The program is particularly geared toward military individuals. As the brand explains, it offers major discounts for veterans, people with long-term disability, and low-income individuals as well. There is also free shipping on orders over $50 for everyone. Thus, this should make the products particularly affordable.
Lazarus Naturals Review Summary
Overall, those who are interested in all-natural, effective, and reliable CBD products may want to give Lazarus Naturals a chance. To learn more about the products and to place an order, just visit the brand's website today. Those who have questions about shipping and the policies can view them on the brand's website too. There is an entire page dedicated to the issues concerning shipping.

TimesofCBD is the most active daily CBD news publication featuring the latest cannabis industry stories and marijuana market trends. As the leader in CBD-centric content curation, we invite all readers to come for the headlines and stay for the insights. Quality is the top priority when presenting user guides, analyzing product reviews and reporting fact-checked news announcements. All information is for educational and informational purposes only. Disclaimer.
Got news? Email contact@timesofcbd.com