Herbstrong: CBD Company News and Product Review Updates

- Ad -
Herbstrong: CBD Recovery Drops, Vaporizer Pen Set and Pet Products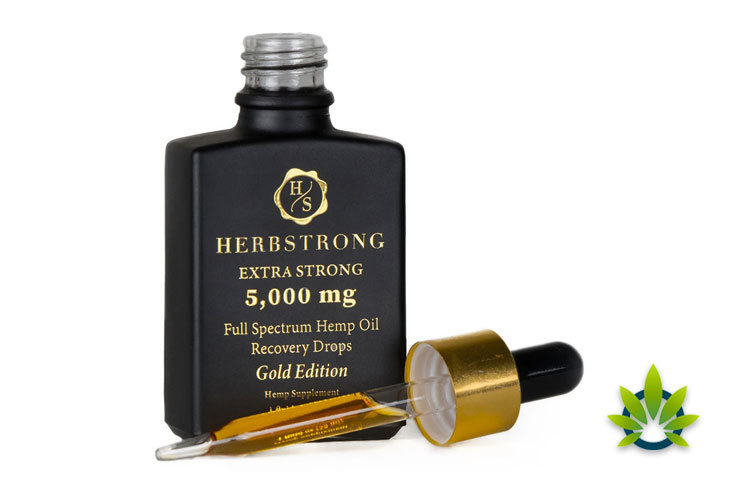 Herbstrong is a CBD brand that believes in the natural ability of hemp to help in the recovery of the human body. The brainchild of two Southern California cannabis-lovers, Herbstrong utilizes only industrial hemp in the production of its products. The company uses full spectrum hemp oil that includes all the essential phytocannabinoids of the hemp plant. The formulations may also contain less than 0.3 percent THC.
About Herbstrong
Herbstrong is a brand that offers a wide range of cannabidiol products that feature a reliable amount of CBD in its formulas. Those who visit the brand's website will find that has a number of Men's Physique competitors use the formulas due to the potential that the products have to promote their powerlifting efforts. Aside from powerlifters though, the brand's products can be used by everyday individuals as well to experience the support that they need to potentially lead a healthier and better quality of life. With all that is available, users may be well on their way to finding what they are looking for.
Herbstrong Formulas Do Not Cause A High
There are many different types of hemp products on the market and not all of them work the same way. Specifically, some brands leave THC in the CBD, which is recognized for its psychoactive effects. In this case, Herbstrong does not have THC products, which means that the formulas will not cause an unpleasant high. Further, there are no other substances in the products that can cause psychoactive effects. With this type of brand, users can use CBD formulas without having to worry about such adverse consequences that can leave people feeling unpleasant.
Herbstrong Product Options
As previously explained, Herbstrong offers a large-scale collection that users can browse through to determine the right products for their needs. The full-spectrum hemp oil features pure oil that is derived from hemp and that features the same compounds as the original plant. Those who use the formulas may be able to experience the therapeutic benefits that they are aiming for. Though this review will not be able to cover all of the products, here are a few of the main options so that users know what to expect:
These recovery drops may be able to promote overall body relief, recovery, and relaxation. The product features extra-strength compounds and organic and simple ingredients that could be just what users need to lead a better quality of life. Every drop features approximately 4mg of full-spectrum hemp oil and the product is also infused with MCT oil to promote the absorbency of the formula. With a product such as this one, users can be well on their way to experiencing positive outcomes.
Full-Spectrum Hemp
Choosing the right hemp products can make all the difference. In this case, Herbstrong uses full-spectrum hemp, rather than isolate. The latter has had all of the crucial elements stripped from it, such as cannabinoids, fatty acids, and terpenes. As a result, the hemp may be less effective and not offer the same properties as the full-spectrum line. As a result, it may be best to opt for a full-spectrum formula. The good news is that Herbstrong uses full-spectrum hemp in its products, which means that users may be able to get the qualities that they need from the product to experience the support that they are aiming for.
Herbstrong 1000mg Extra Strong Full Spectrum Recovery Drops
Herbstrong provides a number of CBD products that contain full spectrum CBD oil. These include Recovery Drops, Recovery Vaporizers, and Recovery Cream. The brand also formulated a special blend of CBD oil drops for the US military. There are pet drops, too, for modern pets.
The company provides members of the military the Recovery Drops Military Special Edition. This product contains 1000 mg of full spectrum (FS) CBD oil. The company is also giving members of the military a 50 percent discount for every purchase of this special edition of Recovery Drops. The product is ideal for relieving pain and for promoting sleep.
Herbstrong Silver Edition 3000mg Extra Strong Recovery Drops
This is a more powerful formula than the 1000mg product. As the brand explains, this product may be able to supercharge recovery and help users achieve body and mind balance. The product is designed with strength and effectiveness in mind. Those who opt for this product should take a daily dose price a day. Upon using the product, it may be able to alleviate issues such as aches, pains, soreness, and the like. With a powerful option such as this one, users may be able to experience the boost that they need.
The Recovery Drops product line comes in three varieties. The Extra-Strong formulation contains 1000 mg of FS CBD oil. It provides 4 mg of CBD per drop. The Silver Edition contains 3000 mg of FS CBD Oil or 6 mg of CBD per drop. The strongest formulation of Recovery Drops is the Gold Edition. This product contains 5000 mg of FS CBD oil, giving users 10 mg of CBD per drop.
Herbstrong Extra Strong Recovery Cream
Sore muscles after a tough workout or other physical activity can certainly be unpleasant. The good news is that the brand has a recovery cream that can help alleviate the soreness and discomfort so that users can get back to leading a better and more energetic quality of life. The product features 20mg of full spectrum CBD oil per dime-sized amount. It is also made out of industrial hemp and it unscented as well so that those who apply it need not worry about a fragrant scent.
The Extra Strong recovery Cream also features 1000 mg of FS CBD oil. Every dime-sized portion of the cream gives users about 20 mg of CBD. It does not come with artificial fragrances. Herbstrong also formulated it to work on sensitive skin.
Recovery Vaporizers
The company also provides Recovery Vaporizers. There is a complete set that includes a 500 mg FS CBD oil cartridge and a vaporizer battery. One can also purchase additional recovery CBD oil cartridges and batteries. The CBD oil only comes in the natural flavor of hemp.
Pet Products
There are 3 products in the company's Strong Paws Collection for pets. These include Recovery Drops in 3 formulations: 250 mg, 1000 mg, and 2000 mg. The company also has a line of apparel for interested individuals.
Fast Results
Herbstrong also offers products that are fast acting. And although the types of benefits that users experience can vary, the brand explains that it takes about 5 to 25 minutes post-consumption to experience short-term benefits. On the other hand, the long-term benefits take about 1-2 weeks of consistent use to show. As for the dosage among, the brand explains that it cannot tell how much one's body needs – thus it is up to the user to determine how much of the product works for them. Typically, the dosage amount can depend upon a number of factors, such as one's age, size, and experience with CBD.
Herbstrong Summary
Overall, those who are looking for a high-quality hemp brand may find that Herbstrong may be the right option. With all of the products available, users can get the boost that they need and the formulas that could lead to positive outcomes. To learn more about the brand and to get started, just visit the brand's website today.
Herbstrong Contact Info
Money Back Guarantee: Yes
Online Web Support: Yes
Phone Number: (877)-416-6496
Email: Help@Herbstrong.com
Official Website: https://herbstrong.com/

TimesofCBD is the most active daily CBD news publication featuring the latest cannabis industry stories and marijuana market trends. As the leader in CBD-centric content curation, we invite all readers to come for the headlines and stay for the insights. Quality is the top priority when presenting user guides, analyzing product reviews and reporting fact-checked news announcements. All information is for educational and informational purposes only. Disclaimer.
Got news? Email contact@timesofcbd.com