hempSMART: CBD Company News and Product Review Updates

- Ad -
HempSMART: Full Spectrum Hemp CBD Oil Drops, Nootropic Brain Tinctures, Pain Cream and Skincare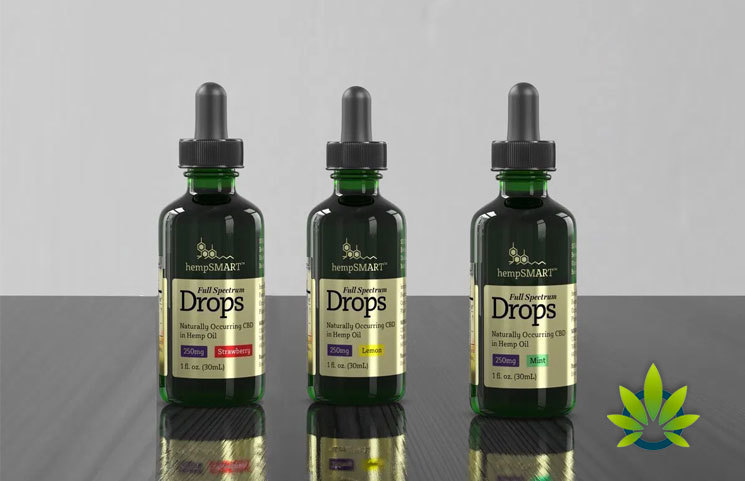 One's health and wellness is a serious matter and as such, it is best to take the time and energy to consider products that could work well to serve one's needs. For many though, finding the right solutions can be challenging, which is why this review would like to provide a suggestion. One type of product that could work well to relieve issues such as pain, stress, agitation and chronic pain is cannabidiol. This is an all-natural substance that could provide users with the support that they need.
What is Hemp Smart?
HempSmart is a brand that is dedicated to providing men and women with premium-grade botanical supplements that are developed from industrial-grade hemp. As the brand explains, its philosophy is to provide men and women with the "finest wellness and personal care products, based on premium has organically grown hemp-based CBD." With its products, users can experience the qualities that they are looking for in a supplement and the wellness boost that they are striving for. As many will find, the brand offers a range of quality products that they can try.
Organic Products
There are many qualities to look for in a brand, but one of the most important qualities is the quality of the products. In this case, HempSmart's products are all-organic. Meaning, the hemp used is grown without pesticides, chemicals, or other harmful substances that can detract from its overall quality and purity. Further, the organic quality ensures that the end product is one that users can feel good about adding to their lifestyle. Aside from using organic products, the brand ensures the purity of the formulas by having them tested by a third-party testing service.
THC Free
HempSmart's products are also THC free. THC is the psychoactive substance in cannabidiol and though some brands include it in their products, it is also recognized to cause adverse side effects and issues that most do not want to deal with. Fortunately, this brand does not include any THC in its formulas, thus those who use the products need not worry about experiencing an unpleasant high, As the brand explains on its website, " All our products THC free and always test to beat the legal requirement for being less than 0.3% THC."
Processed Using CO2
Various brands process their hemp differently. In this case, HempSMART implements one of the most preferable process, which is CO2 extraction. This extraction process is gentle and it does not impact the overall quality and purity of the product. The end formula results in a full-spectrum type of hemp. As oppose to isolate, which is stripped from all of its crucial elements such as terpenes and fatty acids, full-spectrum still retains these elements and others needed to experience the full quality of the product. With a full-spectrum formula, users can feel confident that they are making the right decision for their needs.
Complete Transparency
Moreover, the brand offers its customers complete transparency concerning its products. As the brand explains, its products are made from the highest-quality raw materials and extensive seed-to-sale documentation. This type of approach and testing by a third-party independent lab ensures that users who try the brand's products can feel like they are making the right decision when it comes to choosing a cannabidiol brand. Very few brands on the market implement such high transparency standards, which is why it is best to opt for one that does when users come across it. Transparency also means that users are completely clear about the product they are using and what it has to offer.
Health Benefits
To be able to pursue other life goals, it is important that you have peak health condition. HempSMART products put your health above everything else and come up with products that are set to enhance productivity. How so? You may wonder. The CBD infused products are key in providing you with more energy to face your day. If suffering from pain, which prevents you from concentrating on the more important tasks, worry no more, as HempSmart is the best partner. For mental clarity, restful sleep, contentment, emotional support and health freedom, be smart today and get yourself hempSMART products.
Life freedom
If you are feeling hard-pressed on the financial side of your life, there is a solution for you too. Once you have dealt with your health issues, it's now time to get your pockets heavy. What better way than to introduce the very same products that got you healthy to your friends and everywhere else and get paid for it? With this in mind, you will achieve financial freedom due to increased income, better lifestyles options to choose from, rewards for work well done, recognition for your hard work, unlimited potential and time freedom to do with as you please.
Hemp Smart Products
As previously mentioned, Hemp SMART offers many different products that men and women of legal age can incorporate into their lifestyle. The formulas are premium-grade options that men and women can count on to provide them with the support they are striving for. Here are some the main products offered by the brand so that users know, at least, where to start:
Hemp Smart 250 mg Full Spectrum Lemon Drops

Hemp Smart Full Spectrum Lemon Drops are made from industrial-grade hemp plants that regrown from the highest concentration of CBD. The oil itself features few, but very high-quality ingredients, including hemp oil, lemon essential oils, d-limonene, and natural stevia extraction. The lemon is sweet, delicious, and makes the product a great additive to any food or beverage.

Hemp Smart Face Moisturizer

Those who are looking for a skincare formula may want to consider Hemp Smart Face Moisturizer. This is a gentle and potent formula with full-spectrum hemp and ayurvedic herbs. As the brand explains, the product is designed to refresh, restore, and replenish the skin so that users can experience long-lasting hydration and balance. With this product, users can enjoy the benefits of a quality skincare formula that may work well.

Hemp Smart Pain Cream

There are various factors that can cause joint and muscle pain and discomfort. HempSMART Pain Cream may be able to provide some soothing qualities. As the brand explains, its pain cream helps to soothe sore and aching muscles and joints through a synergistic combination of full spectrum hemp and natural botanicals. The CBD in the formula is also of the full-spectrum type and it provides targeted support so that users may experience the relief that they are striving for.
These are just a few of the main products that users will find on the brand's website. Keep in mind that there are no guarantees as to the performance of the products and they do not provide any treatment for health conditions. These are mainly potentially therapeutic. Further, it is important to note that many respond differently to CBD, so it is best to start with a small dose.
Hemp Smart Summary
hempSMART products are infused with canabidiol (CBD), which is in various strengths provides you with a variety of products to choose from. The products are organically grown and sustainably sourced ingredients are used and therefore the products are 100% vegan friendly.
Overall, those who are looking for high-quality and effective CBD products may want to learn more about Hemp Smart. The brand's products are affordable, they ship out quickly, and they are all available on the brand's website, so just visit today.

TimesofCBD is the most active daily CBD news publication featuring the latest cannabis industry stories and marijuana market trends. As the leader in CBD-centric content curation, we invite all readers to come for the headlines and stay for the insights. Quality is the top priority when presenting user guides, analyzing product reviews and reporting fact-checked news announcements. All information is for educational and informational purposes only. Disclaimer.
Got news? Email contact@timesofcbd.com