Hemp Bombs: CBD Company News and Product Review Updates
Hemp Bombs: Potent CBD Oil, Gummies, Shots, Syrup And E-Liquid Products
Hemp Bombs is a company that produces CBD supplement for consumers to use on a therapeutic basis, though many of them offer medicinal benefits. The website includes remedies like gummies, e-liquids, pain relief lotions, and oils.
What Is Hemp Bombs?
The use of CBD is becoming more and more popular lately. Perhaps it coincides with the trend of multiple states deciding to legalize the use of marijuana for both recreational and medicinal use, or perhaps it is due to the public seeking out a natural remedy. Regardless of the reason, CBD companies are popping up constantly, offering new ways to treat the body for pain, anxiety, stress, sleeplessness and more. One of those companies is Hemp Bombs.
Hemp Bombs primarily advertises their "super potent CBD supplements," and note that their listing includes a wide range of remedies to ensure that there is a way for anyone to use the treatments. To ensure that their customers are happy with the products they receive, a "Certified Pure CBD Product Guarantee" is issued on the website.
The guarantee states,
"At Hemp Bombs, we can say with the utmost confidence that we offer premium CBD products to consumers. We source our CBD from premium-grade, organic-certified Industrial Hemp that is free of heavy metals, pesticides and other contaminants."
Along with their requirements, they require third testing of all of their remedies and have no traces of THC in any product.
THC is another chemical that comes from the cannabis plant, creating the psychoactive effect that many people think of when cannabis comes up. However, CBD manages to provide all of the same therapeutic benefits with none of the risk of feeling "high."
Hemp Bombs Products
There are a substantial number of products to choose from with Hemp Bombs. Consumers have the option of purchasing products individually, but the website makes the choice easy for people of any familiarity with CBD by grouping clusters of items into Premium CBD Bundles.
Premium CBD Bundle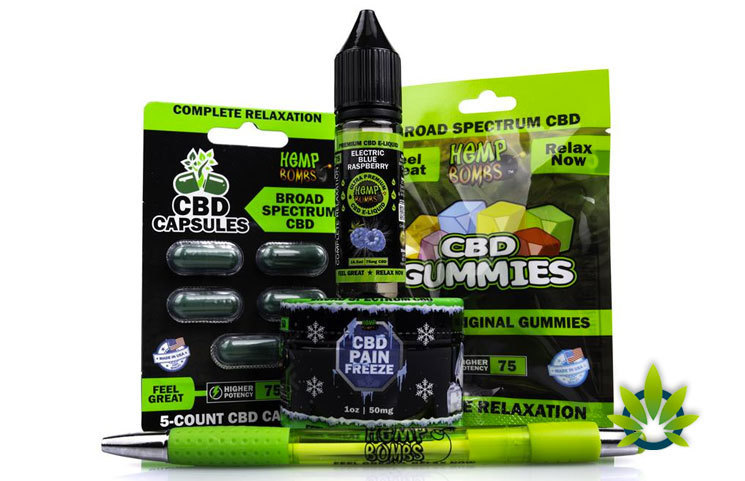 The starter bundle is priced at $49.99 (typically $59.96), and it offers:
1 pack of 5 CBD gummies
1 pack of 5 CBD capsules
1 flavorful 16.5 ml CBD E-Liquid
1oz CBD Pain Freeze
1 Hemp Bombs Ballpoint Pen
Edibles CBD Bundle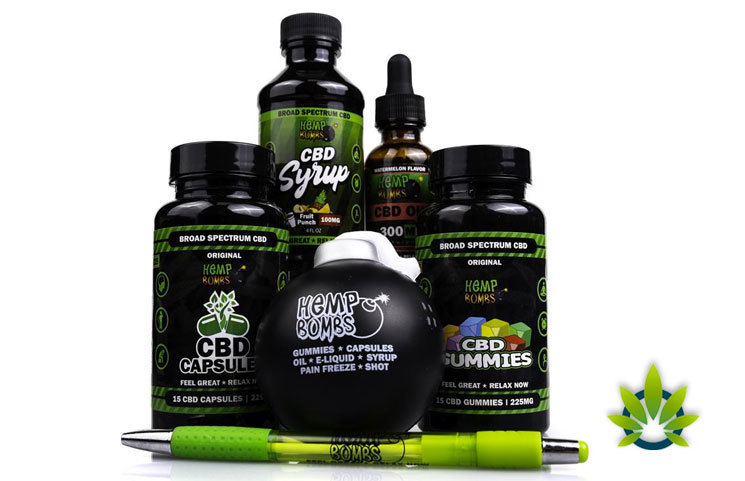 The next bundle is filled with edibles and is geared towards consumers that don't really smoke or vape to get CBD benefits. This bundle, available for $99.99 (typically $139.96), contains:
1 relaxation syrup
1 bottle of 15 capsules
1 bottle of 15 gummies
1 powerful 300mg oil
1 Hemp Bombs Stress Ball
1 Hemp Bombs Ballpoint Pen
Premium CBD Bundle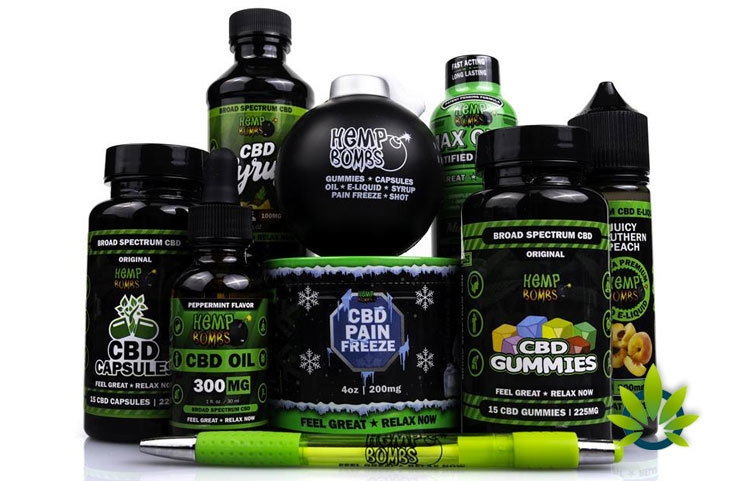 The third of the four available bundles is the CBD Premium Bundle. This collection of products is meant for users that are fairly familiar with CBD and their reaction to it. This $199.99 collection (formerly $254.99) contains:
1 bottle of 15 count CBD capsules
1 powerful 300mg CBD oil
1 bottle of 15 CBD gummies
1 flavorful 60ml 300mg CBD E-Liquid
1 relaxation syrup (100mg)
1 Max Chill CBD Shot
1 4oz CBD Pain Freeze
1 Hemp Bombs Stress Ball
1 Hemp Bombs Ballpoint Pen
High Potency CBD Bundle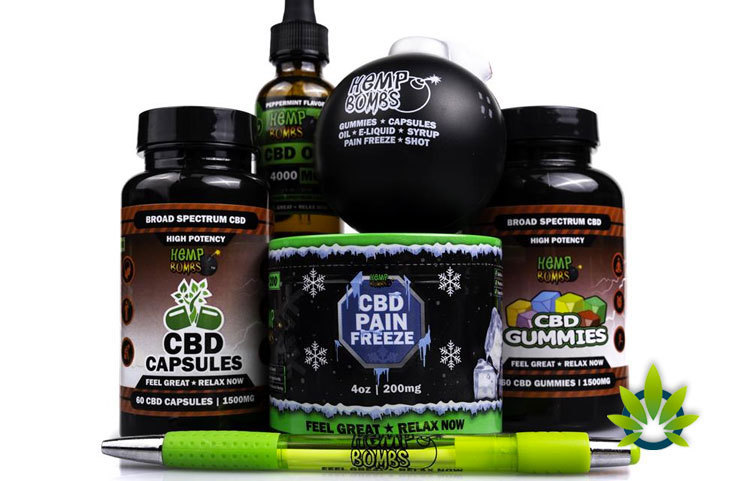 The final bundle, known as the High Potency CBD Bundle, is the most expensive at $499.99, even though it was formerly an even $620. This group of products is meant for lifelong CBD user that have a high tolerance and frequently use these products. It includes:
1 bottle of 60 count High Potency Gummies
1 powerful 4000mg CBD Oil (Peppermint flavor)
1 4oz CBD Pain Freeze
1 bottle of 60 count High Potency Capsules
1 Hemp Bombs Stress Ball
1 Hemp Bombs Ballpoint Pen
Individually, each of these products would cost much more than the savings that users get by purchasing them in a cluster. For instance, a single bottle of 60 CBD Gummies at a regular potency level is nearly $100. Each product has specific usage instructions, which are important to check out upon receipt. Furthermore, since the FDA doesn't have a process of approvals for supplements, consumers should take them at their own risk, though side effects have not been found at this point.
Taking CBD Supplements
One of the issues with taking CBD is that every person needs something different. Everyone takes CBD for varying reasons that may not necessarily require the same potency. As a general rule, the Hemp Bombs website recommends taking between 10mg and 25mg to first learn what the user can handle. From there, the adjustments should be done subtly if more or less is needed. However, if there's any concern about these doses, consumers can either go to a local shop that sells CBD products, or they can call Hemp Bombs directly to learn more information.
Even with all of the therapeutic benefits that come with the products, consumers that have other medications may want to consult with a medical professional before integrating these remedies.
Contacting Hemp Bombs
Considering the many products and many uses of the remedies on the Hemp Bombs website, it's fairly likely that customers will have at least a question or two. The customer service team offers both a phone number and an email address to get in contact.
Phone number: 1-800-589-9098
Email address: customerservice@hempbombs.com
The team can be reached between 9:00am and 5:00pm on weekdays, or until 2:00pm over the weekend. They are closed on holidays.
To have continually updated information about what the company has in store, users can also join their newsletter on the Contact page.
Hemp Bombs Conclusion
Hemp Bombs offers many different products to consumers, making it easy to find a way to take CBD in a comfortable way. Consumers that vape can choose any of the e-liquids, while people who abstain from this method can use the capsules or gummies instead. With a wide range of products, and the fact that they participate in third party testing, Hemp Bombs is a helpful place to start therapeutically treating the body with CBD.
Hemp Bombs News Updates

TimesofCBD is the most active daily CBD news publication featuring the latest cannabis industry stories and marijuana market trends. As the leader in CBD-centric content curation, we invite all readers to come for the headlines and stay for the insights. Quality is the top priority when presenting user guides, analyzing product reviews and reporting fact-checked news announcements. All information is for educational and informational purposes only. Disclaimer.
Got news? Email contact@timesofcbd.com