Green Garden Gold: CBD Company News and Product Review Updates
Green Garden Gold: Pure Hemp Products and CBD Oil Supplements?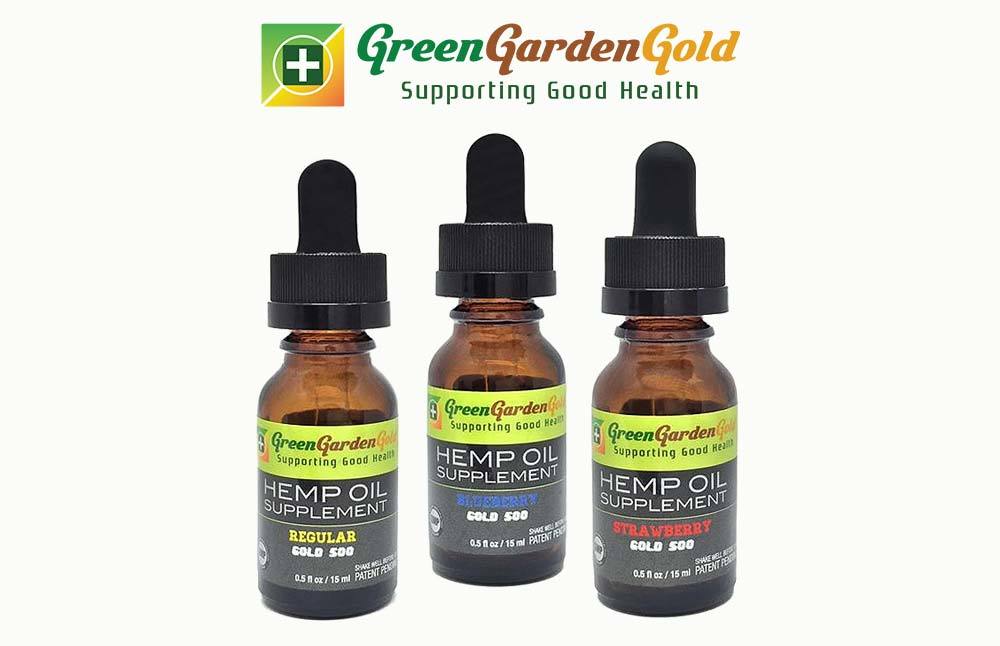 CBD oils are a great way to reap all the benefits of hemp, without actually smoking it or enduring the psychoactive effects. The good ones have THC levels of 0.3 percent or less.
What Is Green Garden Gold?
There are many brands of these oils in the market, one of which is Green Garden Gold's brand of CBD oils. The company boasts of its oils being of the highest quality, USDA certified, and made from premium hemp grown in Colorado.
Established in 2014, this company has gone on to become one of the leading CBD oil producers in the US. Because the company prides itself on retaining their quality, they have established a reputation of being a highly reputable suppler of CBD and hemp oil.
As an innovative company, they also have a wide range of hemp based products for human and pet consumption.
How Are Green Garden Gold CBD Oils Made?
They are extracted from cannabis using supercritical CO2 extraction methods designed to get only the CBD out, and remove almost all parts of the THC –this is the component that gets you high when you take cannabis.
While it may be very difficult to completely eliminate THC, the best CBD oils have it in very negligible percentages -0.3 percent or less.
At these levels, they don't show up in your bloodstream or urine –great for those random drug testing situations at work. So, you essentially get all the health giving benefits of CBD oils without the highs.
Green Garden's process gets rid of almost all the THC in the weed, adheres to strict quality standards so no additives taint the quality, and double checks the effectiveness of their process by sending random samples out to independent labs for testing –you can email them for their testing results if you want.
This is how the company maintains its premium quality and pure CBD oils that it has become very famous for. Green Garden Gold's CBD oils are free of impurities such as pesticides, herbicides, heavy metals and mold.
Their products also has no side effects and is generally used for improving your well-being and health. People routinely use it for pain and anxiety relief, treating certain forms of epilepsy and reducing inflammation in the body among others.
Green Garden Gold's CBD Oil Products
The company has a wide range of CBD oil based products, all of which are meant to help promote wellness, faster muscle recovery, eliminate body pains, ease anxiety, reduce systemic inflammation, combat stress and so much more.
Unlike many other providers, their products aren't just the regular CBD oils. They are packaged differently, thanks to their innovative strategies with some specifically targeting certain health problems. Of course, this doesn't take away from their purity and premium nature.
This is great for those people who can't stand the taste of the oil or tincture. This is basically 30mg CBD oil encased by a gelatin based soft gel capsule. This means vegetarians probably won't like this, as it contains animal products.
Each bottle typically comes with 30 capsules, thus making them ideal for 30 servings. However, their CBD Panidiol Joint Formula comes in 60 capsule bottles, with users required to take two capsules per serving –essentially a 30 day serving supply of vegetarian friendly capsules. People suffering from joint and muscle pains will find this ideal.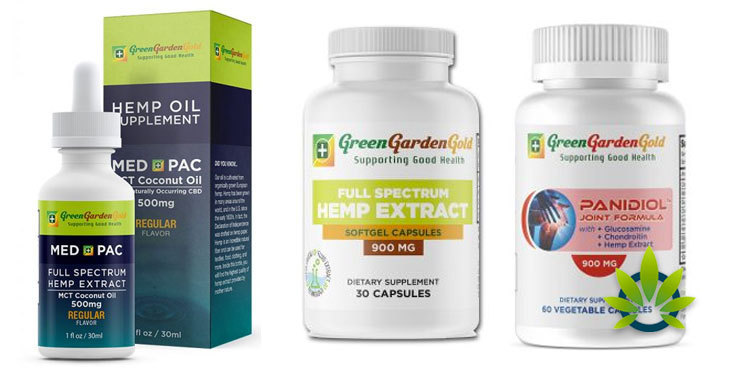 CHECK OUT GREEN GARDEN GOLD CBD PRODUCTS HERE
| Capsules | Prices |
| --- | --- |
| CBD Oil Capsules | $62.99 |
| CBD Panidiol Joint Formula | $69.99 |
CBD Oils and Tinctures
Named Medpac CBD Oils, these are the traditionally dispensed oil tinctures, requiring droppers. Using these simply means applying the droppers under your tongue.
But, if you don't like the taste, you can simply vape the oil. It's just as effective. These bottles are available from 300mg to 4000mg. Oh, and you can also get them in two other flavors –chocolate mint and berry.
The company also sells flavored VG Blended CBD Oils. These are available in 100mg to 1000mg concentrations. You can choose from a wide variety of flavors including strawberry, cinnamon, blueberry, and banana cream pie flavors.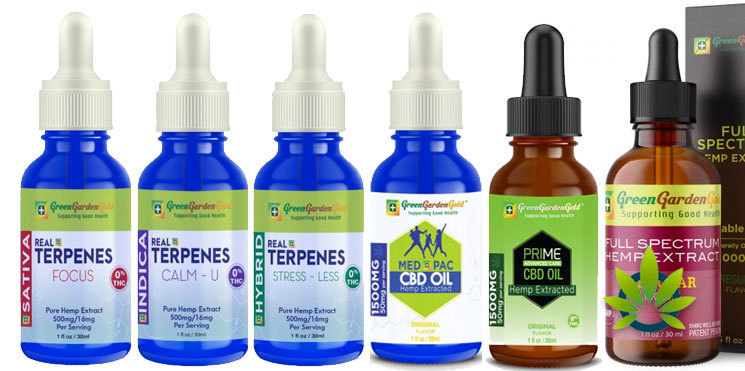 CHECK OUT GREEN GARDEN GOLD CBD PRODUCTS HERE
| PRIME Advanced Care – VG Blend (Original, Blueberry, Strawberry, Lemonade, & Mango) | Prices |
| --- | --- |
| 200mg PRIME™ CBD Oil – 7mg/serving | $29.99 |
| 450mg PRIME™ CBD Oil – 15mg/serving | $49.99 |
| 750mg PRIME™ CBD Oil – 25mg/serving | $79.99 |
| 1500mg PRIME™ CBD Oil – 50mg/serving | $139.99 |
| MED PAC – MCT Coconut Blend (Original, Orange, Berry, Chocolate Mint, Lemonade) | Prices |
| 450mg MED PAC™ CBD Oil – 15mg/serving | $54.99 |
| 750mg MED PAC™ CBD Oil – 25mg/serving | $84.99 |
| 1500mg MED PAC™ CBD Oil – 50mg/serving | $149.99 |
| 6000mg MED PAC™ CBD Oil – 50mg/serving | $299.99 |
CBD Oil Gummies
Green Garden Gold sell tasty Yummy Gummies, which you can chew on instead of taking them as oils. These come in 60mg concentrations, and contain gelatin and sugar. The sugar and gelatin do not affect the potency of the CBD oils in any way. If anything, they make it easy to take the oils as they are very portable –so you can easily carry them around.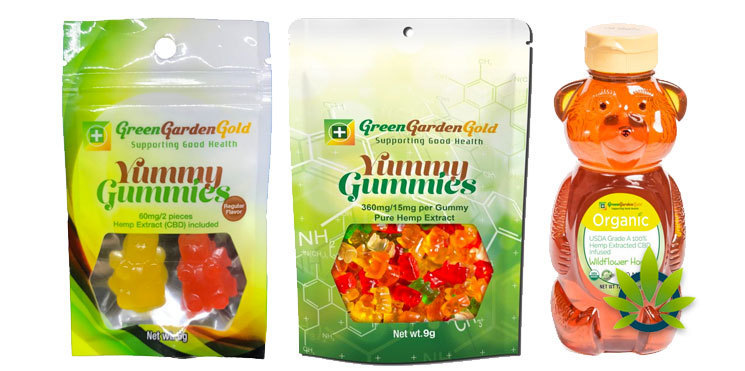 CHECK OUT GREEN GARDEN GOLD CBD PRODUCTS HERE
| Edibles | Prices |
| --- | --- |
| CBD Infused Yummy Gummies – 2 ct Pack | $9.99 |
| 24 Count Yummy Gummies 360mg/15mg Each | $29.99 |
| CBD Wildflower Honey 200mg | $29.99 |
| Gummy-tastic Bundle | $59.99 |
Hemp Extracted CBD Topicals & Serums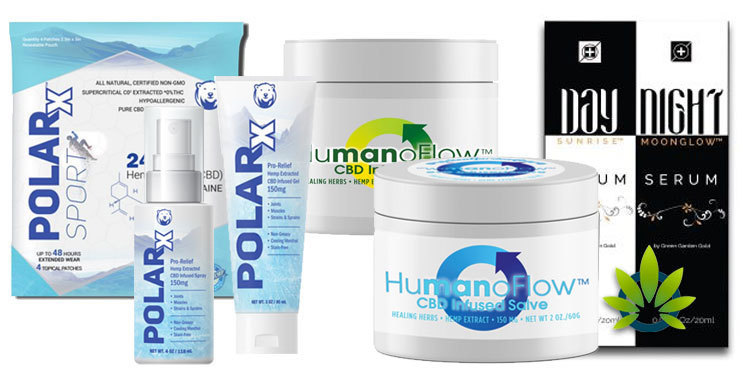 CHECK OUT GREEN GARDEN GOLD CBD PRODUCTS HERE
| Topicals | Prices |
| --- | --- |
| Day Sunrise CBD Serum | $49.99 |
| Night Moonglow CBD Serum | $49.99 |
| Day & Night CBD Serum Combo | $67.49 |
| HumanoFlow CBD Salve 150mg Infused CBD | $29.99 |
| HumanoFlow CBD Infused Gel | $29.99 |
| Long Lasting Relief POLARx Bundle | $119.97 |
| PolarX 150mg CBD Infused Analgesic Gel | $29.99 |
| PolarX CBD Infused Spray | $29.99 |
| PolarX CBD Patch + 4% Lidocaine | $29.99 |
Green Garden Gold Oil Products For Dogs
Green Garden Gold believes in holistic benefits. As a result, they developed a product for man's favorite pet, dogs.
So, if you have older dogs suffering from seizures, anxiety, arthritis and joint pains, they have CBD Joint Formula capsules and Doggy Be Good CBD Oil Drops that will help with these symptoms. The former is for joint pains and arthritis, while the latter is great for relieving seizures and anxiety.
And if you want to give your dog CBD oil treats, they have the regular and gluten-free treats for man's four-legged friends.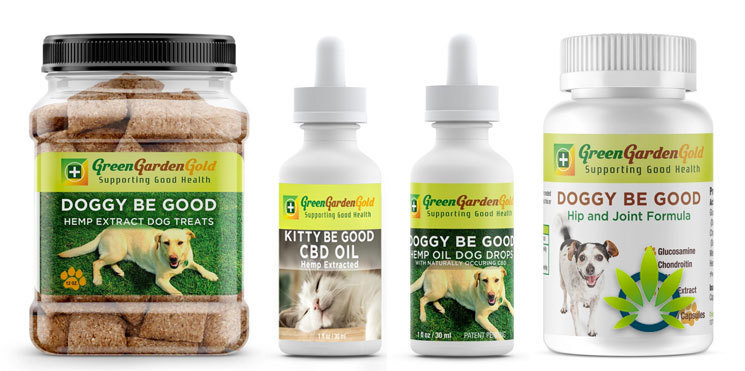 CHECK OUT GREEN GARDEN GOLD CBD PRODUCTS HERE
| Products for Pets | Prices |
| --- | --- |
| CBD Dog Joint Formula Capsules | $39.99 |
| Doggy Be Good CBD Oil Drops | $29.99 |
| Doggy Be Good CBD Oil Treats | $34.99 |
| Doggy Be Good CBD Soft Chew Treats | $29.99 |
| Gluten Free Doggy Be Good CBD Oil Treats | $39.99 |
| Kitty Be Good CBD Oil Drops | $29.99 |

TimesofCBD is the most active daily CBD news publication featuring the latest cannabis industry stories and marijuana market trends. As the leader in CBD-centric content curation, we invite all readers to come for the headlines and stay for the insights. Quality is the top priority when presenting user guides, analyzing product reviews and reporting fact-checked news announcements. All information is for educational and informational purposes only. Disclaimer.
Got news? Email contact@timesofcbd.com