Fountain of Health CBD: CBD Company News and Product Review Updates

- Ad -
Fountain of Health: FOH CBD Oil, Pain Salve, Muscle Roll-On, Skin Cream and Lip Balm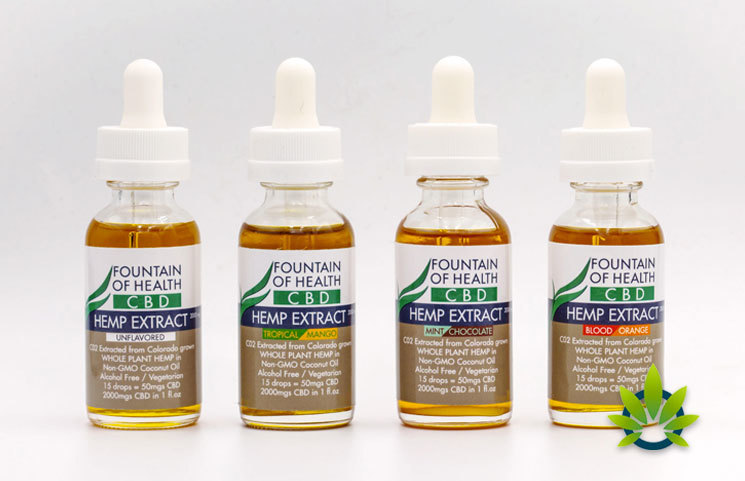 Fountain of Health CBD is a family run and operated company started by two families in Colorado. With backgrounds in farming and in the biofuel industry, they offer products that they themselves have grown and processed. Because they are 3rd generation farmers, they know how to grow high quality cannabis plants. They also use their expertise to extract carefully to preserve every single part of the plant. Their products are all-natural, healthy, and full-spectrum and the company has never done animal-testing.
The products of Fountain of Health CBD is made from hemp grown pesticide free in Colorado. It has been bred to have less than 0.3% THC and high in CBD. They use CO2 extraction, widely accepted to be the cleanest method of extraction, to produce the whole extract so that it can provide the full spectrum of Cannabinoids. The whole extract gets combined with coconut oil and at times, flavoring before being packaged and shipped to the customers.
The processing of the hemp is very short and with light pressure, which may produce lesser oil but the output is cleaner and has less chlorophyll and lipids. Their goal is to produce the best hemp extract products out there. All of the products must also pass a third-party lab testing to ensure that there are no residues or contaminants.
The possible benefits of full spectrum CBD includes relieving pain, anxiety, and inflammation. It also has antioxidant, antidepressant, anti-convulsant, and neuroprotective properties. It is believed to be great for health, specifically in inhibiting the growth of cancer cells, reducing blood sugar and vomiting, and even improving the symptoms of ADHD/ADD.
Fountain of Health CBD sells products in two formulations, CBD oil and CBD topicals. The first is available unflavored or with 3 different distinct, but subtle flavors (chocolate mint, blood orange and tropical mango). They are all composed of 6.7% cannabidiol and about 86% of MCT or coconut oil. The rest, on the other hand, is comprised of non-cannabinoid ingredients like waxes, lipids and others.
Their CBD topicals have various uses and is specially formulated to achieve its purpose. Their CBD pain oil salve, for example, contains 500 milligrams per ounce of active cannabinoids from their home-grown, natural hemp extract. Beyond that, there are tons of other natural ingredients like peppermint, eucalyptus, aloe, rosemary antioxidant, among many others.
Another popular product is their CBD Skin Soothing Oil Salve, which also has 500 milligrams per ounce of active cannabinoids. The other ingredients are partly the same as their pain oil salve, although they have been formulated to soothe your skin.
Up next is the Cool Aid Muscle Roll-On, which has fewer milligrams of active cannabinoids (330 mg/oz instead of 500mg) but is composed of other oils like Menthol, Apricot , Tea Tree, and Camphor Essential Oil.
Fountain of Health CBD prides itself for growing and producing the best hemp extract that, in turn, becomes the basis of their CBD oils and topicals. Their full-spectrum products have active cannabinoids unlike "isolate" products that utilize highly processed CBD in crystal form.
Fountain Of Health News Updates
Location: Colorado
Money Back Guarantee: Yes
Online Web Support: Yes
Phone Number: 720-629-0062
Email: sales@fohcbd.com
Official Website: https://www.fohcbd.com/
This review will be updated as more news become available and inquires get answered. Please leave a quick comment with feedback bellow with any questions or suggestions.

TimesofCBD is the most active daily CBD news publication featuring the latest cannabis industry stories and marijuana market trends. As the leader in CBD-centric content curation, we invite all readers to come for the headlines and stay for the insights. Quality is the top priority when presenting user guides, analyzing product reviews and reporting fact-checked news announcements. All information is for educational and informational purposes only. Disclaimer.
Got news? Email contact@timesofcbd.com