Dixie Botanicals: CBD Company News and Product Review Updates
Dixie Botanicals CBD Products: Hemp Oil Drops, Vape Liquid and Balms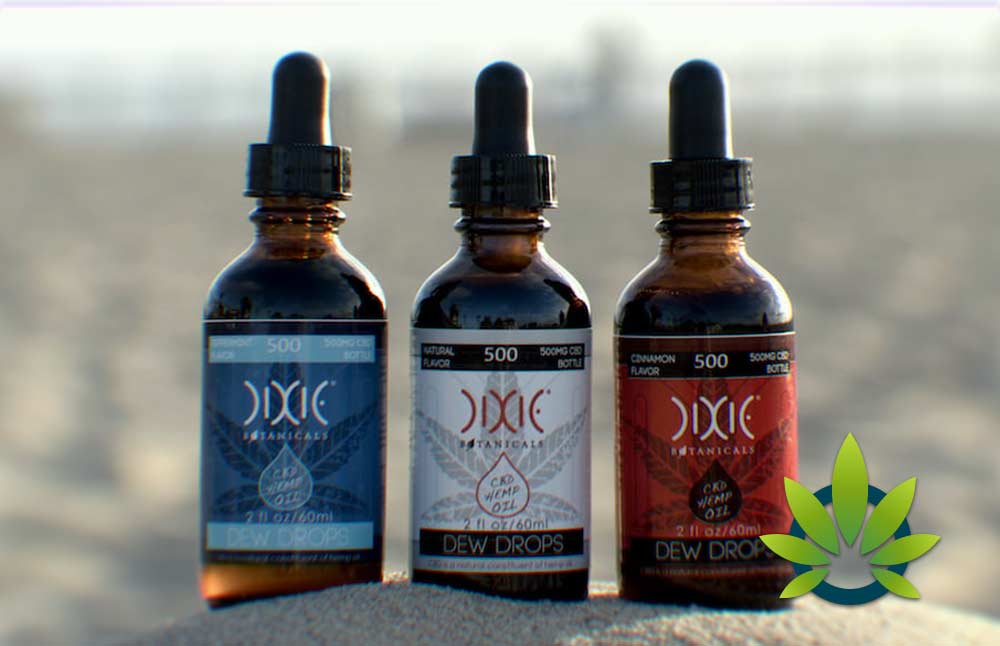 By launching its unique Hemp CBD oil in 2012, Dixie Botanicals became the first company to come up with hemp-based CBD products. This company has a customer-friendly line of products ranging from tinctures, natural botanical salves, to capsules.
Dixie Botanicals products are made using expertly grown and scientifically extracted CBD hemp oil. The company has a team of scientists, nutritionists, and clinical herbalists to formulate their hemp oil products. To ensure potency and quality, all Dixie Botanicals products are independently third-party lab tested. Lab reports are available to customers upon request.
Dixie Botanicals Products
Dixie Botanicals CBD Tinctures – Hemp Oil Drops
Dixie Botanicals are made with hemp from sun-touched Northern Europe's Emerald Hills. They are scientifically refined and tested. Dixie Botanicals has infused cannabidiol tinctures in cinnamon, peppermint, and Natural Flavors. These flavors are meant to make the tinctures friendly to people who get deterred from trying CBD hemp oil by the floral deeply earthly taste of hemp. Cinnamon gives a zesty, amazing flavor while peppermint gives an energetic, refreshing sensation yet cooling effect. The natural flavor is good for people who love an earthly, natural taste or experience.
Dixie Botanicals tinctures are non-GMO, vegetarian, and Soy free. They are formulated to enhance the user's overall wellness and are good for starting the morning and finishing nightly routines. The CBD in Dixie Botanicals tinctures revitalizes the user's daily supplement regiment. These tinctures come with an easy to use oral applicator can be taken directly or added to a beverage
Dixie Botanicals combines their CBD oil with sunflower lecithin to create a 100mg CBD 1-ounce bottle. Flavors include cooling peppermint, zesty cinnamon, and naturally sweetened natural. This product comes with a convenient dropper top to allow easy and quick administration. Currently, customers are able to get dew drop tinctures at a discount of 10-11%.
On this bundle, the buyer gets three bottles of Dixie Botanical's tinctures (cinnamon, peppermint, and Sweetened Natural) as one package. 1OZ (100mg CBD) comes with a 11% discount and thus costs $79.99, while the 2OZ (500mg CBD) comes with a 10% discount thus costing $269.99
1OZ (100mg CBD) hemp oil drops currently cost $23.99 while 2OZ (500MG CBD) hemp oil drops are priced $79.99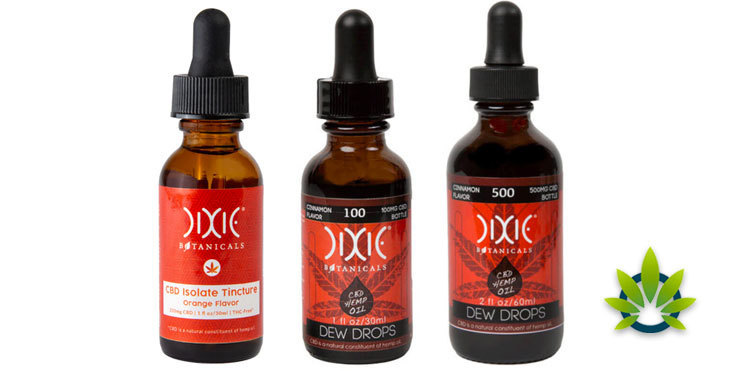 CBD Vape Cartridge – CBD Vape Liquid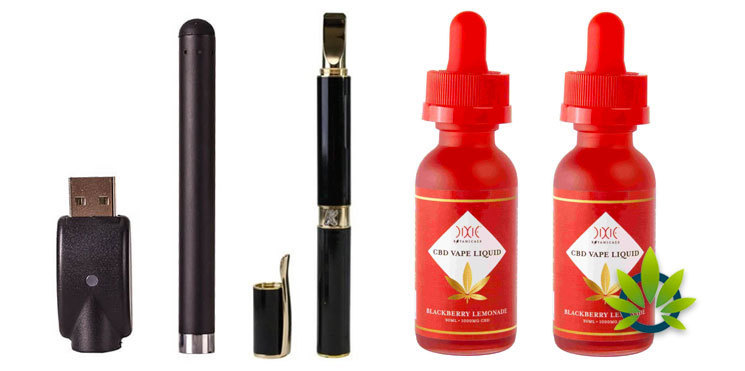 CBD vape liquid is made with isolate powder to help balance the user's systems. When buying this product, the customer can choose from Sour watermelon, blackberry lemonade, or vanilla caramel. It works pretty well with most liquid-compatible vaporizers and has a dropper top for easy tanks filling. A 30ml bottle has 1000mg CBD and sells at $89.99. this product is all natural, GMO-free.
CBD Concentrates – Isolate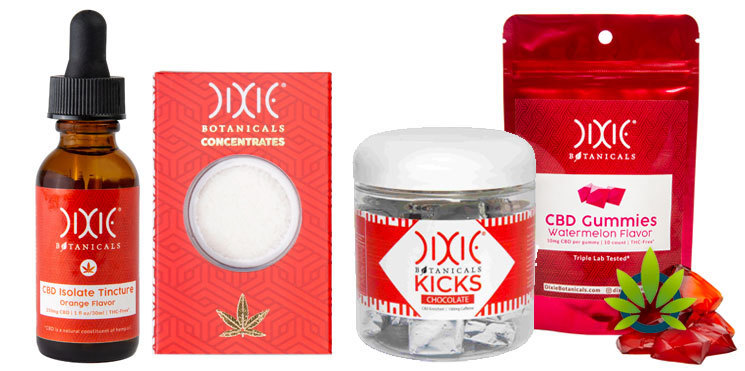 Currently Selling at $39.99, this product is made of refined CBD isolate that creates a 99% pure powdered CBD. The user controls the potency ratio of this product by dabbing or mixing with other extracts of cannabis. When vaping, the user should add CBD isolate to the e-liquid or vape juice to get a CBD-infused vaping experience. This product is decarboxylated and can hence be blended into beverages or food without having to heat or process any further. Dixie Botanicals CBD isolate can be found in portable 1gram jars for convenience in carrying it around.
CBD Concentrates – Dab Oil
Dab oil is currently sold at $23.99. It is a filtered and decarboxylated CBD concentrate that retains the original terpene profile and cannabinoid content of the hemp plant thus enabling the user to take advantage of the plant's natural benefits. This product is extracted safely and supercritically using CO2 and has 30% CBD. It is an easy-to-dab CBD concentrate and has a sap-like consistency. It stays on the user's daber until the nail is hot and vaporized fully to give a CBD-filled vapor cloud. Since it comes in 1-gram jars, dab oil is easy to take and carry around.
CBD Topicals – Salvation Balm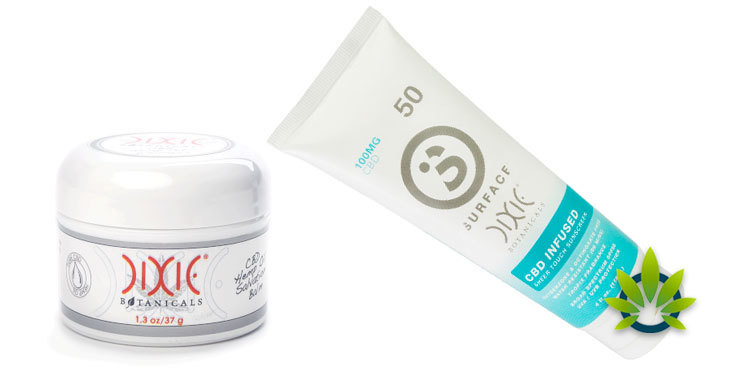 Dixie Botanicals salvation balm has a luxurious formula that boasts an interesting mix of camphor oil, beeswax, hemp CBD oil, and a distinct herbal blend. This product has a luxurious cocoa butter texture and has 50mg cannabidiol (CBD) hemp topical. It is ideal for a user with dry hair, tired muscles, dry skin, and so on Dixie Botanicals Salvation Balm is sold at $31.99.
Dixie Botanicals Review Summary
Compared to other brands, Dixie Botanical's products are undeniable of higher quality and fairer prices. At the moment, the company offers discounts to most of their products, which could be another reason to purchase from them. Dixie Botanicals have favorable shipping and return terms, and their website is well informed on CBD. This proves the company's commitment to raising awareness of the health benefits of hemp CBD.
With a variety of products and different CBD concentrations, you can get a product that precisely suits your needs. After a careful review, we confidently recommend Dixie Botanicals products to any person in need of CBD products.
Dixie Botanicals News Updates

TimesofCBD is the most active daily CBD news publication featuring the latest cannabis industry stories and marijuana market trends. As the leader in CBD-centric content curation, we invite all readers to come for the headlines and stay for the insights. Quality is the top priority when presenting user guides, analyzing product reviews and reporting fact-checked news announcements. All information is for educational and informational purposes only. Disclaimer.
Got news? Email contact@timesofcbd.com