4 Corners CBD: CBD Company News and Product Review Updates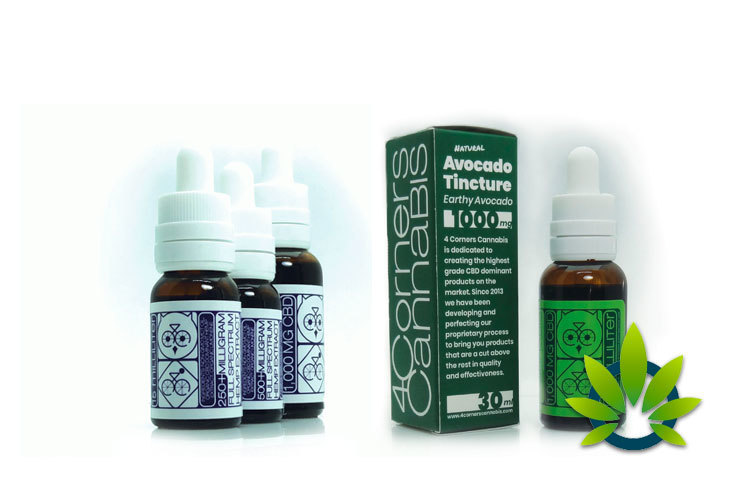 4 Corners CBD: High-Grade Cannabis Oil-Infused Tinctures, Salves and Vape Products
As more people turn to natural and therapeutic products to address common problems such as stress, anxiety, irritation, joint pain, inflammation, and the like; the popularity of CBD products continues.
To say that CBD Oil is a hot trending topic right now is quite an understatement. In recent years, the CBD industry has grown at such a tremendous pace that experts at Brightfield Group predict it could be worth $22 billion come 2022. However, what is concerning is that the industry remains highly unregulated. With the rise in popularity of CBD, expect more and more companies to enter the industry.
One such CBD company that has been generating a lot of attention since its inception in 2013 is 4 Corners Cannabis. Those who are looking for quality CBD products that could work well may want to take time to find the right brand they can trust. With that, this review would like to introduce 4Mind & Body.
The company claims its products contain 16% CBD and are made with top quality hemp.
Let's review the 4 Corners Cannabis brand to see what all they have to offer and promote. While there are many different brands on the market that offer formulas that could help these issues, one of the most popular options is cannabidiol (CBD) and is the main focal point of this company.
About 4 Corners CBD Cannabis
4Mind & Body, also known as 4 Corners Cannabis, is a brand that is "dedicated to creating the highest grade CBD dominant on the market." The CBD-focused company that is based in Colorado, US. The company has been in existence since it was founded back in 2013. What makes this company different from its rivals is the fact that they grow their own hemp. This means that the company has full control over its production, from seed to oil product. All of the formulas are developed using the brand's proprietary process that users can trust to deliver quality, care, and a positive experience. Very few brands on the market put the same level of care and consideration into their formulas, which is why this one may be a prime go-to option for men and women of all legal ages.
Most CBD companies hire third-party suppliers for harvesting and CBD extracts. The problem with this process is that it compromises the quality of their products, leading to inferior quality CBD oils. 4 Corners Cannabis, on the other hand, does everything in-house, utilizing scientific data, knowledge, and genetics. This company organically grows their plants, making them genetically unique from other cannabis plants. This ensures they maintain essential ingredients and maximize on potency.
4 Corners Cannabis CBD Products
CBD Oral Tincture
This is the most popular product offered by the company. The CBD Oral Tincture uses a carrier oil known as MCT coconut oil, which is thought to have health benefits such as energy-boosting and brain-boosting properties. This product also contains a natural orange extract called Limonene. In case you are looking for a natural relief from a wide range of ailments such as pain, anxiety, and sleep problems, then this could be the a good alternative product to use. Cannabis Tincture is available in three sizes; 250 mg, 500 mg, and 1000 mg.
CHECK OUT 4 CORNERS CBD PRODUCTS
| Oral Tincture Coconut Citrus | Prices |
| --- | --- |
| Oral Tincture 10mg – 10ml | $29.99 |
| Oral Tincture 250mg – 15ml | $59.99 |
| Oral Tincture 500mg – 15ml | $109.99 |
| Oral Tincture 1,000mg – 30ml | $199.99 |
Avocado Oil Tincture
Another wonderful CBD oil tincture variety offered by the company is the Avocado Oil Tincture. The main ingredients in the product are simple as well and they include organic, virgin avocado oil and CBD dominant hemp oil. The Avocado Oil Tincture is available in a 1000 mg, 30 ml bottle and is supposed to be consumed orally. The formula is ideal for those who are looking for an alternative to coconut oil or citrus scents. As the brand explains, the product has a robust and earthly flavor.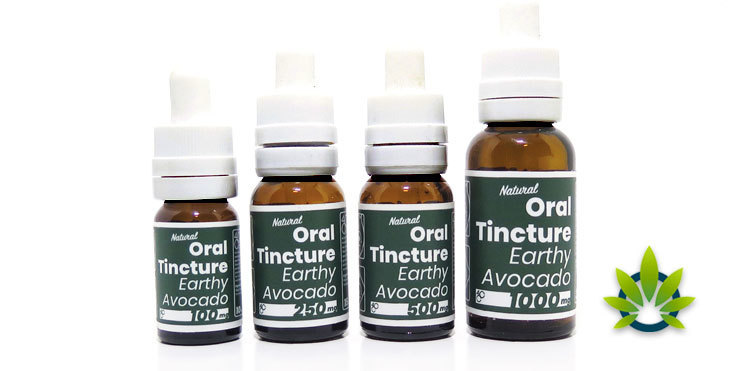 CHECK OUT 4 CORNERS CBD PRODUCTS
| Avocado Oil Tincture | Prices |
| --- | --- |
| Avocado Oil Tincture 10mg – 10ml | $29.99 |
| Avocado Oil Tincture 250mg – 15ml | $59.99 |
| Avocado Oil Tincture 500mg – 15ml | $109.99 |
| Avocado Oil Tincture 1,000mg – 30ml | $199.99 |
Oral Tincture Simply Cinnamon
Simply Cinnamon is a sweet and spicy tincture, an alternative to their other tinctures but still blended with their organically extracted cinnamon. Safe for anyone with coconut or avocado allergies, as it's made with a glycerin base.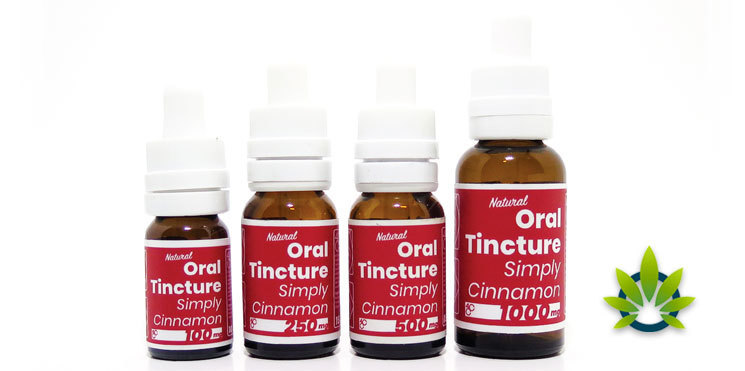 CHECK OUT 4 CORNERS CBD PRODUCTS
| Oral Tincture Simply Cinnamon | Prices |
| --- | --- |
| Simply Cinnamon Tincture 10mg – 10ml | $29.99 |
| Simply Cinnamon Tincture 250mg – 15ml | $59.99 |
| Simply Cinnamon Tincture 500mg – 15ml | $109.99 |
| Simply Cinnamon Tincture 1,000mg – 30ml | $199.99 |
Vape Liquid Glycerin Tincture
Vaping is considered by many as the best method to consume CBD quickly. The Vape Liquid is supposed to be taken with a vape gear, but it can also be consumed orally. It is available in 250 mg, 500 mg, and 1000 mg bottles.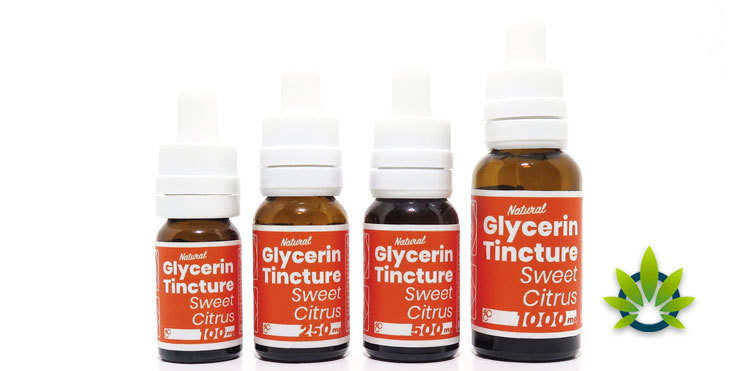 | Vape Glycerin Tincture | Prices |
| --- | --- |
| Glycerin Tincture 10mg – 10ml | $29.99 |
| Glycerin Tincture 250mg – 15ml | $59.99 |
| Glycerin Tincture 500mg – 15ml | $109.99 |
| Glycerin Tincture 1,000mg – 30ml | $199.99 |
Pedigree (Cannabis Pet Care)
Not only can men and women enjoy from the brand's products, but so can their pets. 4 Corners Cannabis offers animal grade products that do not feature any added limonene. The Pedigree product line is specifically designed for your pets. Just add a drop of the CBD oil on your pet's food and wait for the effects to kick in. You can give this product to cats, dogs, horses, and cattle to help boost energy or ease pain during transportation. The drops in this product can be added to one's pet's food or directly into their mouth. The tincture will then work to provide relief from various issues and ailments so that pets can get the full relief that they need to lead a better quality of life. The product is made with MCT oil and CBD dominant hemp extract.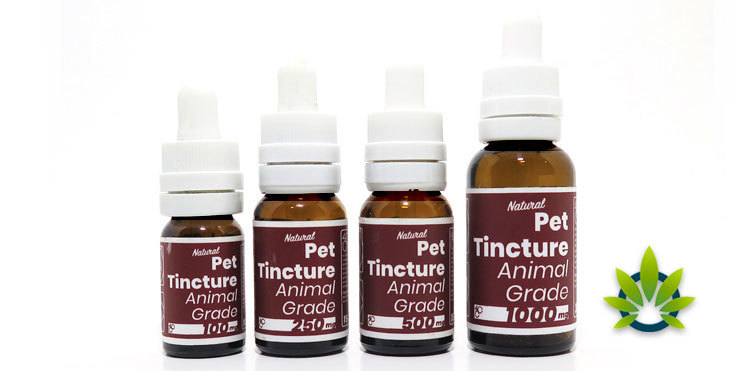 | Pet Tincture | Prices |
| --- | --- |
| Pet Tincture Animal Grade 100mg – 10ml | $24.99 |
| Pet Tincture Animal Grade 250mg – 15ml | $49.99 |
| Pet Tincture Animal Grade 500mg – 15ml | $59.99 |
| Pet Tincture Animal Grade 1,000mg – 30ml | $99.99 |
Salve
Those who are looking for a product that can help soothe their aches, pains, and the stresses out outdoor activities on their body may want to consider the brand's salve. The salve can be rubbed on one's sore muscles and with that, it will work to help repair the damaged skin and muscles. The formula has a fresh scent that is infused with coconut oil. And as the brand explains, it uses nothing less than the finest ingredients that users can count on to work well and deliver upon their expectations. By choosing a product with so few ingredients, users can still expect quality, without the negative substances.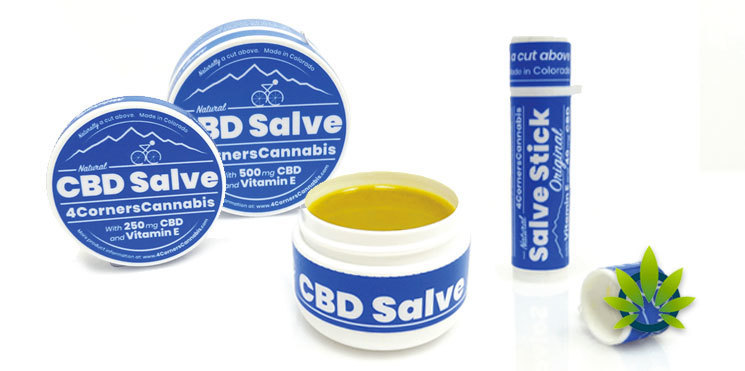 | CBD Salve | Prices |
| --- | --- |
| CBD Salve Stick 40mg – .15oz | $9.99 |
| CBD Salve Stick 80mg – .5oz | $29.99 |
| CBD Salve 250mg – 1oz | $59.99 |
| CBD Salve 500mg – 2oz | $99.99 |
CBD Honey
4 Corners Cannabis CBD Honey Bears contains hemp extract and is locally sourced. This premium hemp extract infused sweetener can be used on your favorite recipes, and your afternoon tea.
CHECK OUT 4 CORNERS HEMP PRODUCTS
| CBD Honey Bear | Prices |
| --- | --- |
| CBD Honey Bear 300mg – 8oz | $59.99 |
| CBD Honey Bear 500mg – 12oz | $99.99 |
Benefits of 4 Corners Cannabis product
Seed to end product control: The company not only produce high-quality CBD dominant products but also are involved in the whole production process, from seed sprouting to end product.
Third party lab testing: When you check their website, you will find an updated third-party lab testing results. Lab results for all their products are made available to the general public.
Ethical extraction techniques: The company argues that other extraction techniques deteriorate the quality of the end product. Hence, they use ethical extraction techniques that involve the use of organic food-grade ethanol that preserves terpenes and cannabinoids found in CBD plants.
The Process
Understanding the process behind the products is important because it helps users determine whether they are making the right decision for their needs. In this case, the brand explains that it strives to grow the highest quality hemp flowers on the market. The flowers are developed out of clones to maintain consistency and moreover, the brand then harvests the product and uses the entire plant so as to promote full-spectrum CBD. For those who are unaware, full-spectrum products tend to be more effective than their counterpart and isolate. Dissimilar from isolate, which is stripped from all of the key substances, full-spectrum products are rich in terpenes, fatty acids, a range of cannabinoids, and the like.
Low-Heat Extraction
The company also applies a low-heat extraction process to create its products. The low heat ensures that that the hemp can be filtered numerous times so that the finished oil is as pure, potent, and powerful as possible. Further, the extraction method is performed at the brand's state-of-the-art lab and by trained chemists so that the process is protected and the final formulas are consistent and are able to meet user expectations. As the brand explains, the formulas contain over 60% CBD, thus truly making a powerful formula that users can feel comfortable with.
Lab Reports
Another benefit of choosing this brand is that it has its products tested by a third-party testing process. The third-party tests for purity and potency so that users can experience the qualities they are hoping for when opting for the brand's products. Those who are interested in viewing the lab reports can do so on the brand's website. The lab reports are detailed, easy to access, and it is a way for the brand and user to experience transparency.
4 Corners Cannabis Review Summary
One of the main drawbacks of 4 Corners CBD is the high price of their cannabis oil-infused products. In this economy, it is expensive for someone to buy 1000 mg of CBD for $200. Unsurprisingly, you will find competitors selling the same bottle of tincture at half the price. But with this company, you will get value for your money. Their products have up to date Certificate of Analysis and besides the minimal THC, they also contain CBN, CBG, CBL, CBD, and terpenes. Therefore, consumers will get more than just the usual CBD when you buy their products. To learn more, visit their official website.

TimesofCBD is the most active daily CBD news publication featuring the latest cannabis industry stories and marijuana market trends. As the leader in CBD-centric content curation, we invite all readers to come for the headlines and stay for the insights. Quality is the top priority when presenting user guides, analyzing product reviews and reporting fact-checked news announcements. All information is for educational and informational purposes only. Disclaimer.
Got news? Email contact@timesofcbd.com