CBD Oil Legality in Iowa: Cannabidiol State Law Regulations in IA, USA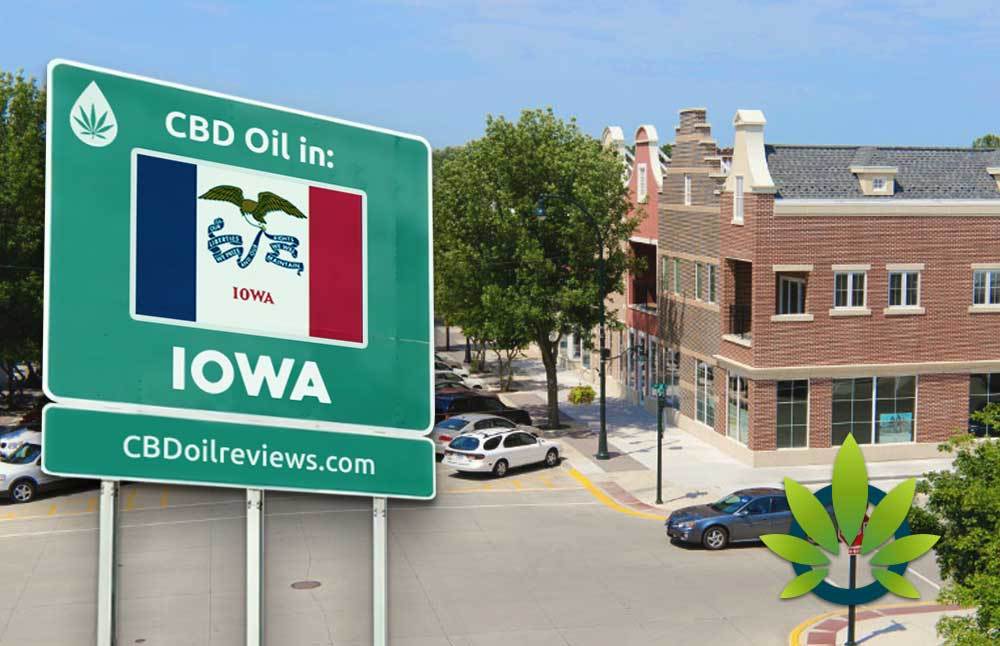 Iowa is known for many things in the United States. For one, the citizens of Iowa are members of the Midwest and are consequently some of the most welcoming and nice spirits in the continental United States. A slew of region-specific habits and concepts help to paint Iowa as a premier destination for students and travelers looking to get away to a calm but innovative state. But Iowa has won praise for the liberality and progressiveness of some of their policies, as well. As the state is the host of the first caucus for the democratic party in the Presidential elections, it has strong roots in progressive policies as well as conservative.
This is clearly evident in the state's laws on CBD and cannabis or hemp-derived products. Oddly enough, much of the CBD sales in the state come without the endorsement of the Iowa state government but are done by individual stores claiming that the authority of the 2014 farm bill overrides their state's lack of substantive laws in favor of the substance. This is most clearly evidenced by the Department of Health in Iowa's statement released in August of last year. The agency stated that CBD products remain illegal, despite their prevalence and the hype surrounding them.
But the state has made some strides in the CBD and hemp industries. Iowa code states that medicinal CBD is legal with the O.K. of a licensed physician (124E), and many jurisdictions still interpret the Farm Bill to have fully legalized the sale of non-THC CVD products.
Age Requirements for CBD in Iowa
Because of the legal ambiguity of the products, companies selling CBD in the state of Iowa are almost always going to require that their customers be over the age of eighteen in order to purchase CBD oils, edibles, creams, or any other product derived from the industrial hemp plant. Despite the clearly illegal nature of cannabis and marijuana in the state, it has no shortage of head and smoke shops. These establishments might require that visitors be twenty-one to even enter the shop, though most maintain an age requirement of eighteen.
For minors looking to access CBD, there are usually a couple of options. Keep in mind, though, that these options might be of dubious legality and readers are always responsible for ensuring that they comply with the laws of their local jurisdiction and state. Minors might be able to order CBD off of the internet, as many companies do not require age verification and will sell and ship to anyone with a credit card. This is questionable, though. Users doing this will be violating the rules of the site they buy from and might even be in violation of local laws for the possession of a controlled substance. This is not recommended.
Minors might be able to secure a prescription for medical CBD from their doctor. Though physicians are typically cautious about recommending CBD products to minors, if the condition makes CBD use necessary few doctors will avoid the decision entirely. It is best to inquire with a specialist to get this kind of prescription.
Where to Find Iowa CBD
Iowa is an interesting state to look for CBD in, especially given the splotchy history of the state government in codifying rules on the usage and possession or distribution of CBD products derived from the industrial hemp plant. Because the state has been clear that these products are not legal to sell, some stores have taken them off the shelves. But for the majority of health food stores and gas stations, as well as many heads and smoke shops, the Federal Farm Bill of 2014 makes it legal for them to distribute the product.
The best bet for an Iowan looking to secure some CBD is to inquire with the nearest health food store or gas station. Many gas stations will have the CBD in a section reserved only for consumers over the age of eighteen, and it never hurts to ask.
Types of Iowa CBD
Iowa has the same kind of CBD selection that many states with heavy criminalization of cannabis are likely to have. When it comes to CBD with a small, insignificant content of THC, Iowa should have it all. Edibles, creams, balms, and all kinds of smokable CBD should be buyable at the nearest gas station or health food shops, smoke shop, or head shop.
But the state will absolutely not be able to supply consumers with high-THC CBD. The Iowa Department of Public Health has been clear on the illegal nature of cannabis-derived substances.
Buying CBD Online in Iowa
Consumers can ship online CBD products from retailers to the state of Iowa with no issue, so long as the company, they order from is willing to ship to the state—most are.
Future Legality of Iowa CBD
It's hard to predict what the future might hold for this Midwestern state. Hopefully, some of the Midwesterner niceness will rub off on the government and positively impact the thriving CBD and industrial hemp program in Iowa.
TimesofCBD always fact checks sources and aims for the best accuracy in the reporting curated cannabis content consisting of the latest CBD news, user guides and product health research. Quality is the priority, but we are not eligible to be liable as everything here is for educational, informational purposes only. Always seek real additional medical advice and consultation with a professional healthcare practitioner before considering any CBD. No statements found on this website have underwent Food and Drug Administration evaluation. The efficacy of any products or claims made have never been approved by the FDA either. No products shall ever be intended to diagnose, treat or cure any disease or prevent any ailment.