Zakah Life: CBD Company News and Product Review Updates

- Ad -
Zakah Life: Organic Full Spectrum Hemp CBD Oil Pain Relief Balms And Petz Product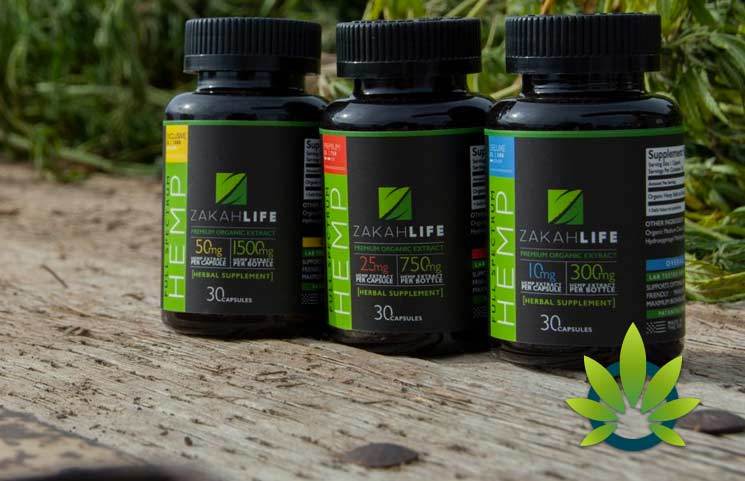 Zakah Life is an exclusively organic hemp wellness company that claims to have customer well-being and happiness as their first priority. Their mission is educating people on the remarkable benefits of hemp on their health. By understanding the science behind hemp impacts on the endocannabinoid system, Zakah Life seeks to craft CBD products that make people live happily continually.
Zakah Life Shipping And Refund Policy
Orders placed by 3:00 pm CST, on working days are shipped the same day and get to customers within 3 to 6 days based on the order's destination. Customers can track all their orders on Zakah Life's website.
One thing that makes Zakah Life stand out is its return policy. Customers unsatisfied with their online purchase can return products and get a full refund, so long as this is done within, 30 days of purchase, and the products are still sealed.
Zakah Life Benefits
Zakah Life has a line of capsules, edibles, topicals, and pet products, all with different hemp concentrations. Their patent-protected hemp extraction process modifies the already low THC amount in a lipid-based extract to yield exceptional full-spectrum products.
Zakah Life products are made with full spectrum hemp containing essential phytonutrients and terpenes. Terpenes are known for their incredible therapeutic benefits. They work together in the user's body to provide an entourage effect, hence offering relief to a vast number of health conditions.
Each batch of Zakah Life hemp products is tested by independent laboratories twice for safety, potency, and purity. All ingredients are free of chemical fertilizers, herbicides, and pesticides. Customers can get lab test results by emailing Zakah Life. This proves the company's commitment to honesty and offering quality products.
Zakah Life Hemp Capsules Products
Only people with at least 21 years of age can take Zakah Life's capsules. The capsules can be taken with or without food, and come with many health benefits.
Deluxe ZL 300
Selling at $39.95, a bottle of Deluxe ZL contains 30 capsules and a total of 300mg CBD hemp extract. Each capsule holds 10mg CBD, thus good for people in need of lower CBD doses for less severe conditions. The capsules are meant to offer general wellness a wide range of therapeutic benefits and have maximum bioactivity. The pack does not have THC's intoxicating features, and unlike many CBD capsules in the market, Deluxe ZL capsules contain no fillers.
Premium ZL 750
A bottle of Premium ZL contains 30 capsules and a total of 750mg CBD. Each capsule hence comes with 25mg CBD and works best for people in need of an average hemp concentration to solve slightly severe symptoms. This product claims to offer maximum bioactivity, and no fillers are added on it. Key ingredients are Full spectrum CBD hemp oil, Organic Coconut Oil (MCT), and vegetable cellulose. These capsules are vegan-friendly, and the recommended intake is one capsule a time. Buying this product on the Premium ZL will cost you $74.95.
Exclusive 2L 1500
Being Zakah Life's most concentrated capsules, Exclusive 2L capsules come with 1500mg full spectrum CBD hemp extract and cost $104.95. Therefore, each of the 30 capsules in this bottle is 50mg cannabinoid-rich. Like other Zakah Life's capsules, this pack contains no fillers and promises maximum bioactivity. Exclusive 2L capsules are good for hardcore athletes, people with sleeping problems, and those with bodily discomfort. The recommended intake of these non-psychoactive capsules is one at a time.
Zakah Life Topical Products
300mg Topical Recovery Balm ZL, Pro
This balm retails at $69.95 and contains 300mg CBD hemp extract. It has been handcrafted with full spectrum hemp to offer targeted relief and restore the user's optimal health. Past users testify the product's fast acting features in relieving pain, inflammation, and offering relaxation. Made in the USA, this product is non-psychoactive. The cream should be applied to clean skin and massaged to offer relief. Application on the face, sensitive or broken skin could cause harm.
150mg Topical Recovery Balm ZL, Pro 2
This balm has been infused with 150mg full spectrum hemp to offer relief of pain, inflammation, and sore muscles. Having half of the hemp concentration in the 300mg topical recovery balm, this cream is ideal for persons in need of lower amounts of CBD for lesser severe conditions. All ingredients are organic, and lab tested, making the product safe to use topically. This cream is not-intoxicating and fast acting. For best results, it should be topically applied to affected skin area and massaged well for some minutes.
Zakah Life Pet Products
300mg ZL Petz Advantage
Zakah Life carefully crafts ZL Petz Advantage to give cats and dogs relief and boost their energies. ZL Petz Advantage is made with 100% organic hemp oil extracts and is free of fillers, chemicals, pesticides, herbicides, and heavy metals. A bottle contains 300mg CBD hemp extracted through a patented process. Since the hemp is full spectrum, it provides crucial benefits of the pet's overall wellness. ZL Petz Advantage is veterinarian approved and non-intoxicating. The oil should be used orally. Fortunately, each bottle comes with a dropper for convenient administration.
The recommended daily serving size is 0.5ml for 0-25lbs, 1ml for 25-50lbs, 1.5ml for 50-100lbs, and 2ml for 100lbsor more.
Zakah Life Final Verdict
Based on Zakah Life's product qualities, safety features, and fair prices, we find them fit to vouch for. However, be sure to consult your doctor before using these products alongside other medications, or a veterinarian before administering to a pet.
Zakah Life: CBD Product Updates
DELUXE ZL | 300
PREMIUM ZL | 750
EXCLUSIVE ZL | 1500
ZL | AM WELLNESS GUMMY
ZL | PM WELLNESS GUMMY
TOPICAL RECOVERY BALM ZL | PRO
TOPICAL RECOVERY BALM ZL | PRO 2
ZL | PETZ ADVANTAGE
Zakah Life: CBD Company News Updates
Location: P.O. Box 7474 Broomfield, CO 80021
Money Back Guarantee: Yes
Phone: 877.MY.ZAKAH (877.699.2524)
Online Web Support: Yes
Official Website: zakahlife.com/

TimesofCBD is the most active daily CBD news publication featuring the latest cannabis industry stories and marijuana market trends. As the leader in CBD-centric content curation, we invite all readers to come for the headlines and stay for the insights. Quality is the top priority when presenting user guides, analyzing product reviews and reporting fact-checked news announcements. All information is for educational and informational purposes only. Disclaimer.
Got news? Email contact@timesofcbd.com