Weller Hemp: CBD Company News and Product Review Updates

- Ad -
Weller Hemp Extract Coconut Bites: Healthy Snack to Reduce Pain and Stress?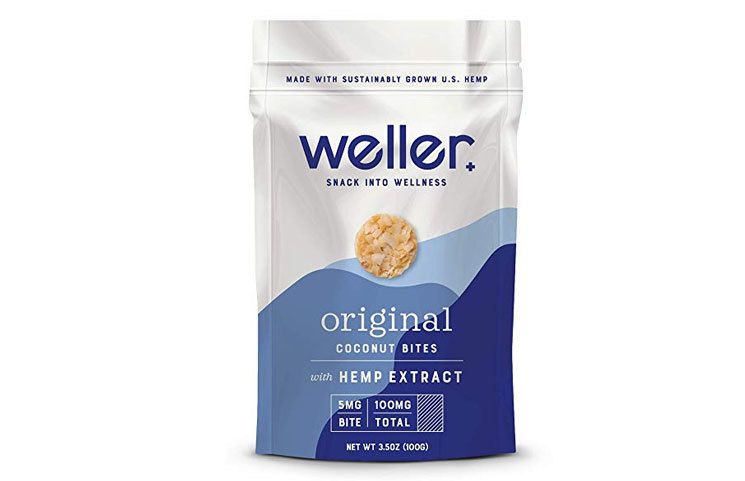 Healthy snacking is possible and better yet, men and women can now take their snacking to the next level with a new hemp-based snack product on the market. Hemp not only provides therapeutic properties, but it can also boost one's health and wellness. Of course, it is imperative to choose a product that one can count on. With that, this review would like to introduce Weller Hemp.
What is Weller Hemp Extract Coconut Bites?
Weller Hemp Extract Coconut Bites are delicious little morsels infused with coconut and hemp oil. The snacks are ideal for almost any situation, whether one is working on a long project and is in need of energy to keep going, or is hoping for something to snack on while taking a break. This snack option is a great opportunity to get that extra boost of wellness so that munchers can feel satisfied and move on with their day, without having to deal with the oppressive guilt that often comes with snack time. Every five bites contain just 140 calories, 5 grams of fiber, 1 gram of protein, and 25 grams of full-spectrum hemp extract. As users can tell, this is truly a healthy route to opt for when it comes to snack time.
Weller Hemp Sparkling Waters
Weller Hemp Sparkling Water is their version of a fruit cup if they were 12oz cans filled with deliciously refreshing bubbly water.  Each can deliver 25mg of CBD with zero calories, zero carbs, and zero sugar. These ready-when-you-are sparkling waters are the perfect sidekick to help you concentrate, recover from a workout, or simply reset after a long day. They come in watermelon, black cherry, and tangerine flavors.
Simple Ingredients
When choosing a shack, one of the most important qualities is to opt for one that features simple and healthy ingredients. The products with the fewest and most pronounceable ingredients are often the best go-to options on the market. In this case, Weller Hemp Coconut Bites contain ingredients that users can be satisfied with. Here are the main ingredients:
Coconut
Cane sugar
Tapioca
Acacia gum
Coconut MCT oil
Sea salt
Full spectrum hemp extract
For the purpose of a hemp-based product, one of the most important ingredients is the hep extract. In this case, the full-spectrum option has a wide array of important qualities that generate relaxation, reduce anxiety, and that provide users with the daily support that they need to feel at their finest.  In addition to quality ingredients, the nutritional qualities are promising as well.
About the Full-Spectrum Quality
As the brand explains, the full-spectrum hemp extract is tested and verified as a quality substance. The brand uses CO2 extraction for the hemp, which is best because it is a clean and reliable process. Unlike many other brands, this one does not apply solvents such as butane to the process. Even though the cost of the product may increase due to the brand's extraction process, it certainly leads to a better-quality formula.
About Weller
Weller is a Colorado-based wellness company that aims to change the way individuals approach snacking. It focuses on simple, high-quality ingredients that satisfy cravings and provide a feel-good effect.
Weller Hemp Summary
Overall, Weller Hemp Extract Coconut Bites is a prime snack option for many. The snacks provide men and women with a guilt-free option that has a range of health benefits as well. To learn more, just visit the brand's website.
Weller Hemp: CBD Product Updates
Carmel Coconut Bites total 25mg CBD
Original Coconut Bites total 25mg CBD
Dark Chocolate Coconut Bites total 25mg CBD
Tangerine Sparkling Water 6pk, 12oz cans with 25mg CBD
Watermelon Sparkling Water 6pk, 12oz cans with 25mg CBD
Black Cherry Sparkling Water 6pk, 12oz cans with 25mg CBD
Barista Blend CBD Drink Mix
Weller Hemp: CBD Company News Updates
Location: Weller, 1630 A 30th St, #517 Boulder, CO 80301
Money Back Guarantee: Yes
Phone: (303) 495-6989
Email: hello@welleryou.com
Online Web Support: Yes
Official Website: welleryou.com

TimesofCBD is the most active daily CBD news publication featuring the latest cannabis industry stories and marijuana market trends. As the leader in CBD-centric content curation, we invite all readers to come for the headlines and stay for the insights. Quality is the top priority when presenting user guides, analyzing product reviews and reporting fact-checked news announcements. All information is for educational and informational purposes only. Disclaimer.
Got news? Email contact@timesofcbd.com