Vital Leaf: CBD Company News and Product Review Updates

- Ad -
Vital Leaf: CBD Chocolate Bars, Elixir Drops, Body Pain Creams and Travel Capsules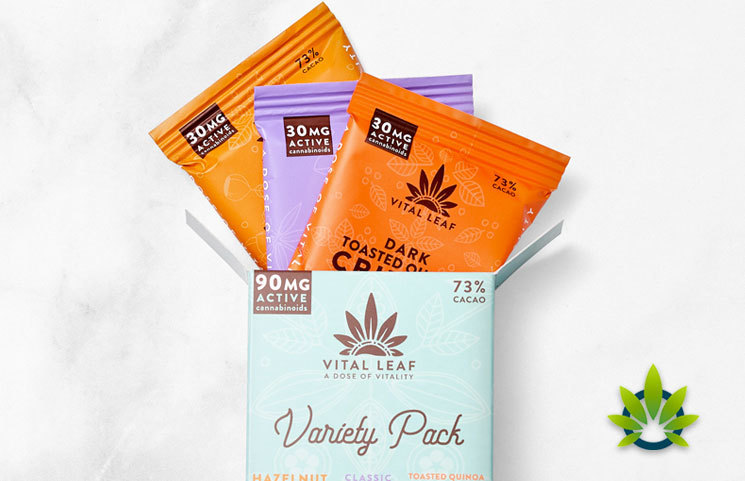 A firm believer in the Plant Forward philosophy, Vital Leaf strives to become one of the world's most trustworthy producers of high-quality CBD products. The company takes pride in its meticulous system of CBD manufacturing processes. This allows Vital Leaf to source and selects only the highest-quality, all-natural ingredients in their formulations. These ingredients work hand-in-hand with the hemp extracts that are rich in phytocannabinoids.
The company has an archive of all the Certificates of Analysis and laboratory test results that each of their products has undergone. Customers can always request the company to see the results of these 3rd party lab test results. This gives clients the peace of mind they need about the quality and safety of Vital Leaf products.
Vital Leaf uses full-spectrum hemp extract in its CBD products. The different formulations come with a rich blend of phytocannabinoids as well as terpenes. Because it is a full-spectrum CBD product, one can expect these formulations to contain THC. The company's strict manufacturing processes help ensure that the amount of THC in its products is less than 0.3 percent.
Vital Leaf Products
The product has four categories of CBD products. These include Skin Care, Capsules, Tinctures, and Chocolate.
Vital Leaf crafts its CBD Chocolates by hand. They use organic cacao and coconut palm sugar in the making of each chocolate bar. They also include 100 mg of CBD in the treat. Each bar of chocolate is equivalent to 10 servings, giving chocolate-lovers about 10 mg of CBD. The company does not use artificial flavors and refined sugar in their recipes. It is also vegan, gluten-free, and low-glycemic.
For people who want to care for their skin, there is the Vital Leaf CBD Body Balm + Arnica. Homeopathic practitioners use Arnica in the management of pain due to arthritis, sore throat, and other health conditions. It works well with the phytocannabinoids in CBD in soothing skin irritations. The Body Balm + Arnica also contains organic Shea butter and cacao butter. There are also natural essential oils to nourish the skin. The Relieve formulation contains cardamom, Neroli, and grapefruit. The Unwind product contains sage, chamomile, and lavender. Both formulations contain 300 mg of CBD.
People who want a more convenient way of taking CBD can get Vital Leaf's CBD Capsules. Each capsule contains 25 mg of CBD, including other phytocannabinoids. These capsules do not contain preservatives. They are also vegan and have undergone laboratory testing. It does not come in flavors other than natural hemp flavor, however.
Each serving of CBD Elixir Drops contains 10 mg of high-quality hemp extract. It also contains organic MCT oil and Lo Han Guo. This is an herb that is a mainstay in traditional Chinese medicine. Unlike the capsule formulation, the tincture preparation of Vital Leaf CBD comes in Rose Cardamom Vanilla and Chocolate Mint flavors. These can help make CBD dosing more palatable.
Vital Leaf ensures that all of its CBD products are absorbed and utilized by the body. This way, the phytocannabinoids can exert their beneficial effects.

TimesofCBD is the most active daily CBD news publication featuring the latest cannabis industry stories and marijuana market trends. As the leader in CBD-centric content curation, we invite all readers to come for the headlines and stay for the insights. Quality is the top priority when presenting user guides, analyzing product reviews and reporting fact-checked news announcements. All information is for educational and informational purposes only. Disclaimer.
Got news? Email contact@timesofcbd.com