Tauri-Gum: CBD Company News and Product Review Updates

- Ad -
Tauri-Gum: CBD-Infused Chewing Gum For Fast-Acting Oral Absorption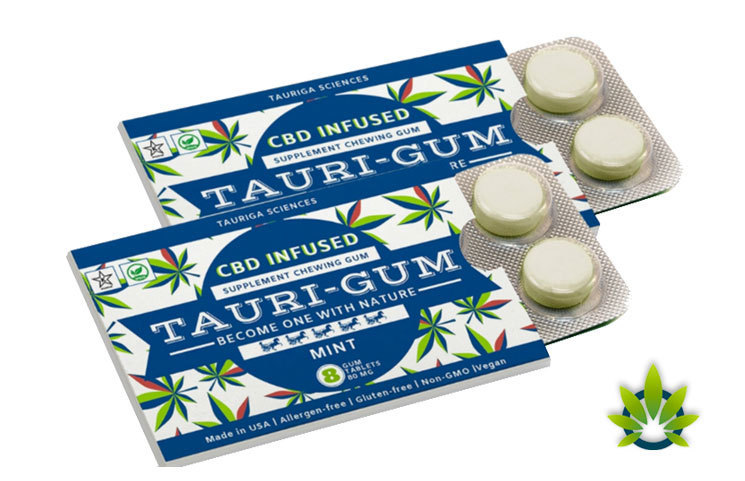 Tauri gum is a dietary supplement infused with CBD and consumed by chewing and absorbing it in the mouth instead of taking oil and pills for the same purpose. Being in gum form enables one to be able to enjoy the process of ingesting supplements which can be sometimes messy as in the case of oil and can be ingested just as casually as when chewing normal gum. For each minty Tauri-gum, there is a 10 mg CBD dose, which is easily absorbed into the bloodstream by chewing.
Active Ingredients And Supplement Facts
Tauri-gum contains zero calories, 1g total carbohydrates, 1g sugar alcohol and 10 mg Cannabidiol (CBD) extracted from Hemp Oil. These values are based on a 2000-calorie diet daily. Other ingredients include Maltitol, Sorbitol, Gub, Base, Xylitol, Isomalt, Natural flavours, sunflower oil, hemp seed, Silicon dioxide, Stevia and Vegetarian magnesium stearate.
Evaluation
Seeing that this product is not meant to diagnose, cure, treat or prevent diseases, evaluation by FDA has not been made and therefore these statements are not at their recommendation.
Benefits
Tauri-gum is refreshing and acts fast. It has a refreshing minty taste suitable for those who despise the oily taste of other CBDs. It also has maximum sublingual absorption, a certified Kosher, and drug test safe gum.
How To Use
Since it is a dietary supplement, only one piece of Tauri-gum is recommended per day whereby it is chewed for 10 -15 minutes before it is discarded. The supplement can also be ingested at any time of the day.
Tauri-gum is packed in an 8-piece container that is made of foil and the client should therefore ensure that the foil is intact before use. The gum is also only sold to people over the age of 18 and therefore not suitable for consumption by younger people. Besides, the same should be kept away from reach of children under the age of 18.
In the event that the client is suffering from a medical condition, it is unwise to consume without consulting a physician. It is also prohibited to use when lactating or pregnant as complications may arise where enough food is not consumed as a result. In the event of adverse reaction to the dose, it is also recommended that intake is discontinued immediately.
Storage
Excessive heat and humidity are discouraged where the storage of Tauri-gum is involved as it may affect their stability.
For more information you can visit them @ https://www.taurigum.com

TimesofCBD is the most active daily CBD news publication featuring the latest cannabis industry stories and marijuana market trends. As the leader in CBD-centric content curation, we invite all readers to come for the headlines and stay for the insights. Quality is the top priority when presenting user guides, analyzing product reviews and reporting fact-checked news announcements. All information is for educational and informational purposes only. Disclaimer.
Got news? Email contact@timesofcbd.com