SoKo Cannabis Creations: CBD Company News and Product Review Updates
SoKo Cannabis Creations: Organic Luxury THC And CBD Oils, Balms And Vape Products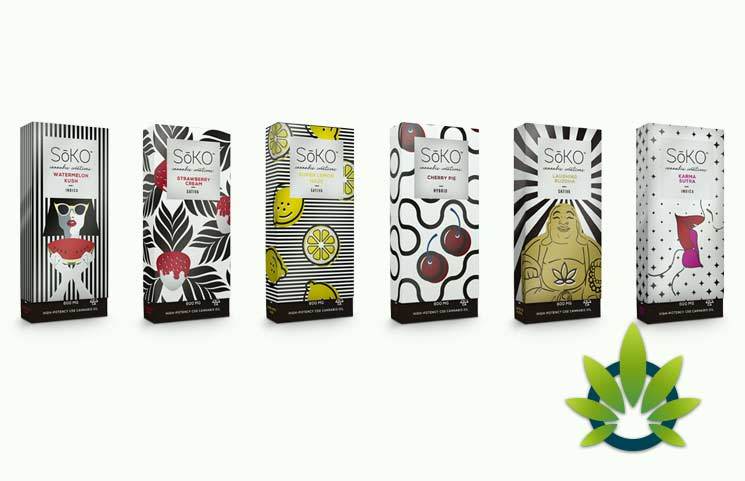 Cannabidiol (CBD) products have taken various areas of the market by storm, including health and wellness, beauty, fitness, and art and fashion. There are countless brands on the market, but not all of them are as comprehensive as one new innovative, influential, and progression one called SoKo Cannabis Creations. This brand, primarily concentrated in Europe, has been reported to be "bringing luxury to the European market" with premium-grade CBD products.
About SoKo Cannabis Creations
SoKo Cannabis Creations is a CBD brand that offers premium-grade CBD products and a fashion line. In a recent press release, the brand reported that it will be "distributed and sold in Ireland, Scotland, and the U.K." Eventually, the brand plans on expanding to other parts of the European market and potentially, to California.
SoKo is perhaps one of the most expansive CBD brands on the market. It offers a wide-array of products in various categories, including recreation, health and wellness, and culinary. With all that the brand has to offer, users are not only able to enjoy from products that they can feel comfortable adding to their lifestyle, but ones that are made out of high-quality and substances as well.
100% Organic And CO2 Extraction
When choosing a brand and its products, it is best to opt for one that offers all-organic formulas and ingredients. The organic quality ensures that there are no additives, fillers, chemicals, synthetic substances, pesticides, or other harmful substances that can detract from the overall quality of the products. This way, when users add the formulas to their routine, they can expect them to work as they should and in a safe manner as well. The brand also applies a CO2 extraction process to its formulas. This extraction process maintains the quality and purity of the CBD so that it can be as effective as possible when added to a formula.
A Socially Responsible Brand
Another quality that sets this brand apart from others is that the brand believes in social responsibility and promoting its core values. The brand's CEO, Dave Soko, recently stated "Social responsibility is one of SoKO's core values and is the base of the brand's identity. We recognize that the philosophy of 'sustainable value' is at the heart of our management policies and our corporate conduct, which means that we have implemented a process to integrate social, environmental, ethical, human rights and consumer concerns into our business operations," He added, "Our business model is designed to provide our customers with the highest-quality products, which are made entirely in California in a responsible manner."
Excellent Products
As previously explained, the brand offers a wide-range of product options. Perhaps one of the most popular options is the chocolate bonbons, which are imported from France, where they were made by a famous French chocolatier. The chocolates are rich in CBD and THC-free so that users need not worry about any psychoactive effects. The chocolates are available both in the United States and in the UK, and they are made out of high-quality and potent hemp. The excellence found in the chocolates can be found throughout many of the brand's other products.
SoKo Cannabis Creations Products
There are a number of product categories offered by the brand. Here are the main options so that users know what to expect when they browse the options on the brand's website:
Vape Cartridges
Health and Wellness
Topicals
Soko Culinary
Given that there are so many product options available, this review will provide an overview of the product categories so that users can discern whether the formulas are right for them:
CBD Vapes And Gummies
The brand's CBD Vapes and Gummies are flavorful and made out of certified industrial hemp. The hemp used is full-spectrum form, which means that it features all of the necessary terpenes, cannabinoids, and other beneficial substances that can provide users with positive qualities. Further, like all of the brand's other products, the vapes and gummies are tested by a third party to ensure quality. The brand's CBD Gumdrops, in particular, are known to "help muscle inflammation, chronic pain, anxiety, insomnia, and more."
CBD Tinctures
The brand's CBD tinctures come in both mint and raspberry flavors. The tinctures are also made with certified industrial hemp oil, a blend of organic extracted CBD, and coconut MCT oil. The tinctures, like many of the brand's other products, are made in the brand's FDA approved facility and are also third-party tested for quality assurance.
CBD Topicals
The topical applications are meant to provide healing, anti-aging, and moisturizing qualities. The two product options are made with lavender and eucalyptus and when added to uses' lifestyle, they may be able to provide a number of benefits, such as anti-inflammation, psoriasis relief, reduction of fine lines and wrinkles, and neutralizing free radicals.
These product categories are ones that users can look into and feel comfortable adding to their lifestyle. The formulas are made with high-quality ingredients that users can be fully satisfied with. Very few brands on the market offer the same type of quality, purity, and potency. Keep in mind that although the brand presents that the products offer a number of beneficial qualities, there are no guarantees. Every person responds differently to CBD and it is best to give the products a try and see how they work.
SoKo Cannabis Creations Summary
Overall, those who are interested in Soko Canna products can find them on the brand's website. The products are powerful, potent, and may be a prime addition to anyone's health and wellness journey.
SoKo Cannabis Creations: CBD Product Updates
Soko Hemp CBD Pet Tincture
Soko Hemp CBD Drink Tincture
Soko Hemp CBD 1500 mg Blue Raspberry Tincture
Soko Hemp CBD 500mg Blue Raspberry Tincture
Soko Hemp CBD 500mg Mint Tincture
Soko Hemp CBD Topical (Lavender, Recovery Mint, Icy Mint)
Soko Hemp CBD Eucalyptus Face Moisturizer
Soko Hemp CBD Freeze Roll-On Topical
Soko Hemp CBD Gumdrops
Soko Hemp CBD Oil (Avocado, Olive)
Soko Hemp CBD Balsamic Vinaigrette
Soko Hemp CBD Honey
Soko Hemp CBD Coconut Oil
Soko Hemp CBD Chilli Oil
Soko Hemp CBD Mojito Cartridge
Soko Hemp CBD Tropical Vape Cartridge
SoKo Cannabis Creations: CBD Company News Updates
Location: San Diego, CA
Email: support@sokocanna.com
Online Web Support: Yes
Official Website: sokocanna.com/

TimesofCBD is the most active daily CBD news publication featuring the latest cannabis industry stories and marijuana market trends. As the leader in CBD-centric content curation, we invite all readers to come for the headlines and stay for the insights. Quality is the top priority when presenting user guides, analyzing product reviews and reporting fact-checked news announcements. All information is for educational and informational purposes only. Disclaimer.
Got news? Email contact@timesofcbd.com