SingleCBD: CBD Company News and Product Review Updates

- Ad -
SingleCBD: Pure CBD (Cannabidiol) Vials With Anhydrous Hemp Oil For Humans And Pets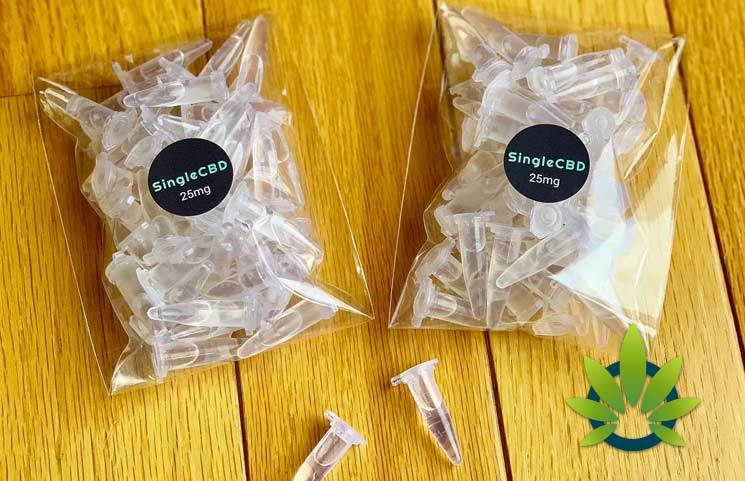 Since the discovery of the medical benefits of Cannabidiol or CBD, there have been practically hundreds of products with all promising a range of body conditions. With such a scenario on the CBD market, it would be quite a challenge to identify a top quality brand.
Fortunately, in this article guide, we get to review the SingleCBD and take a hard look at their operations and how they stack up against the competition. Read on and discover more on SingleCBD.
About SingleCBD
SingleCBD operates as a CBD brand providing inexpensive, single dose products to reflect on their passion for versatility and affordability. The company founded in 2018 manufacturers quality CBD oils in the form of vials to allow for easy use, discreetness and best of all, portability. By definition, a vial is a small container made from glass or plastic and is used to store liquid, powder or capsule medications.
SingleCBD Products
The products include:
15mg Pure CBD Vial:
SingleCBD provides a single-dose CBD oil vial with the 15mg worth of the full spectrum compound. You can get one of these vials for only $0.79 and be assured of a quality CBD Vial with no traces of pesticides, additives or preservatives. Furthermore, the SingleCBD product has little THC with the amounts not exceeding .3%.
25mg Pure CBD Vial:
This single-use 25mg CBD oil vial combines a blend of Pure MCT oil and Anhydrous Hemp oil for topical or oral use. The SingleCBD vial is available for $1.09 with administration either under the tongue, adding to food or beverage and application as a skincare product.
5mg Pure CBD Vial-Pet Friendly:
Another single dose concentration is the 5mg CBD oil vial that is also considered safe for pets. Each of these tasteless and odorless Pure SingleCBD vials is available for only $0.49 and is intended for oral or topical use. Pure MCT oil and Anhydrous Hemp oil are the main ingredients.
SingleCBD Features
Portable: SingleCBD remains simple to use and portable, making it a natural CBD product that you can use for dosing while at home or when moving.
Discreet: In addition to portability, SingleCBD products are easily concealed to allow for cautious dosing without looking to inconspicuous.
Innovative dosing: Overall, the most appropriate gain with SingleCBD is the fact that the CBD products do not require any measuring as they already dispense a pre-measured dose.
Cost-effective dosing: With the popularity of CBD products, you are bound to meet expensive products which may dose a challenge. The vials make it affordable to dose since they are practically worth cents for the different strengths.
Considering Taking SingleCBD?
After reading this guide, you can safely conclude that SingleCBD makes up as one of the few brands innovative and affordable within the ever-evolving CBD space. And alongside this, the products also promise to deliver a variety of health benefits. In the end, our review criteria give SingleCBD the thumbs-up for their costs, convenience and most importantly the potency that fits your single use.
SingleCBD: CBD Product Updates
15mg SingleCBD Vials
25mg SingleCBD Vials
50mg SingleCBD Vials
SingleCBD: CBD Company News Updates
Money Back Guarantee: No
Email: singlecbd@gmail.com
Online Web Support: Yes
Official Website: singlecbd.com/

TimesofCBD is the most active daily CBD news publication featuring the latest cannabis industry stories and marijuana market trends. As the leader in CBD-centric content curation, we invite all readers to come for the headlines and stay for the insights. Quality is the top priority when presenting user guides, analyzing product reviews and reporting fact-checked news announcements. All information is for educational and informational purposes only. Disclaimer.
Got news? Email contact@timesofcbd.com