Nutritional High: CBD Company News and Product Review Updates

- Ad -
Nutritional High: FLÏ Vape Pen Cartridges, Cannabis CBD Extracts And Chocolates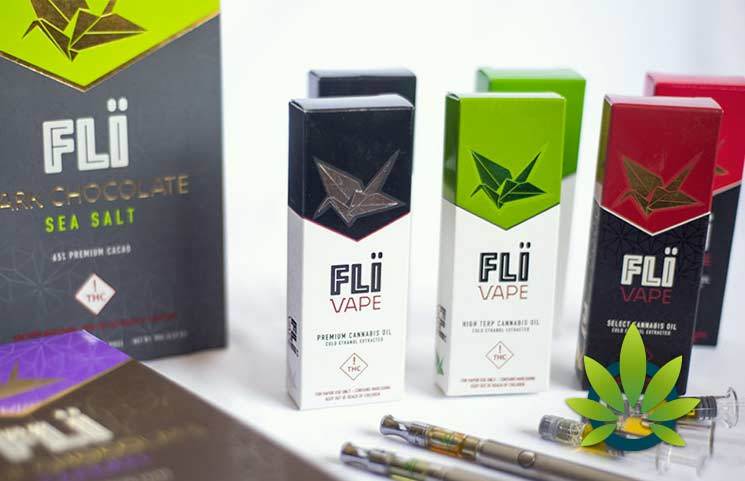 Nutritional High is a company that offers a variety of remedies for users, along with a program that educates the public on the safe consumption of cannabis. The products available through this brand are available on the website, though retailers are able to request to carry their remedies in physical store locations as well.
What Is Nutritional High?
Every company that is flourishing in the CBD marketplace is working to develop products that appeal to consumers, but their brands are limited. Every brand can make a tincture, but registration, licensing, and local laws can govern exactly how far they can expand. Nutritional High aims to provide an elevated experience, offering both products and other additions that enhance the customer experience.
Nutritional High is based in the United States, where they are clear about their abiding of the local licensing laws regulations, based on the states that allow for use of recreational marijuana. As the website clarifies, the company is "primarily focused on developing, acquiring and designing products and brands in the marijuana-infused edible products and oil extracts sectors for medical and adult recreational use."
To promote their brand, the company has two different programs that encourage users to partake. The first program is the FLÏ Safe Cannabis Awareness Program, and the second one is the Mile High FLÏ Club, which features an app. Read on below to learn about each of these sectors of Nutritional High.
About The FLÏ Safe Cannabis Awareness Program
One area of interest that cannabis companies seem to neglect is the safe use of marijuana. Though this substance has been approved for use both recreationally and medically in many places, there is still a need to be aware of the current legalization laws, the right information about this extract, and the stereotypes that the industry faces today.
According to the website, this project is "a cannabis awareness program focused on promoting responsible cannabis consumption and cannabis education via sourced research for cannabis consumers." The company encourages consumers on their website to share this knowledge with friends and family, breaking the stereotypes that exist in the industry about cannabis users and cannabis itself.
To offer promotion outside of the website, the FLÏ Safe Cannabis Awareness Program hosts events that allow enthusiasts to come together, get some "swag," and learn more information that could help chip away the negative reputation that marijuana has amongst so many non-users.
About The FLÏ: Mile High FLÏ Club App
The FLÏ: Mile High FLÏ Club app is directly linked with the membership loyalty program that it boasts. This initiative invites consumers to earn rewards with every time they partake in Nutritional High remedies. On the app, consumers can find nearby dispensaries that offer the Nutritional High remedies, but there are also many opportunities to get rewards.
Participants can earn points by scanning QR codes on FLÏ products, reviewing the FLÏ products on Facebook, and posting on social media. The points can later be redeemed for various FLÏ "swag," much like what attendees receive at the FLÏ Safe Cannabis Awareness Program events.
The app for the Mile High FLÏ Club can be downloaded from the App Store for iPhones or the Google Play store for android users.
Nutritional High Products
Nutritional High thrives on the fact that they try to stay at the top of innovative progress. All of their remedies offer different manufacturing techniques, impressive potency, intricate design, and more. Read on below to learn about some of the different items available through Nutritional High.
FLÏ Vape Pens
The FLÏ vape pens feature a liquid concentration of cannabis distillate but have a particular strain that reaches 90% THC. The overall cannabinoids are about 94% at their highest level with the Select Vape pens. Consumers can choose from the different variations of the pens, depending on what they want.
Choose from:
Select Vape Pens

90% THC, with 94% total cannabinoids
Flavors: Red headed stranger (for energy and creativity) or FLO (for an earthy and happy experience

Premium Cannabis Oil Vape

80% to 90% THC
Flavors: Blue Raspberry, Lime, Strawberry Lemonade, Banana Fosters, Green Apple, Vanilla, and Tropical Blend

High Terp

80% to 90% THC
Flavors: Tangie, Pineapple Express, Blue Dream, Fruity Pebbles, GG4, Grapefruit Haze, Sour Alien, and Grand Daddy Purp
FLÏ Syringes
The FLÏ syringes come with a high potency THC level, and they are designed for use in many different ways, whether the user wants to use it for dabbing, in a bowl, with a bong, or around a pre-rolled joint. The selection of these syringes is nearly identical, with the only real difference being the format that the remedies are provided in. In fact, the syringes are available in all of the same flavors as well.
FLÏ Chocolates
Most people love a good chocolate, and that is what they get with this brand. All of these remedies have been properly balanced for the desired cannabis effect, while still maintaining a delicious taste. Every bar contains 100 mg THC distillate, compacted into a 3.5-ounce bar.
Choose from:
Premium milk chocolate
Dark chocolate sea salt
Blueberry dark chocolate
Caramel milk chocolate
FLÏ Extracts
The FLÏ extracts offer pure remedies with the "most advanced form of extraction." These small jars are filled with a pure liquid form of the cannabis, featuring the same categorizations of Select, Flavored Premium, and High Terp options for flavors, much like the vape pens. The only difference is that consumers can use it as they decide, with each jar containing a full gram of the distillate.
FLÏ Chocolate Shots
The FLÏ chocolate shows are made to be perfectly balanced in a way that they will not melt nor freeze, regardless of the weather. The product allows consumers to use it as a topping for cannabis-infused or everyday snacks, and it is perfect for consumers that want to bring their cannabis chocolate with them. The shots are available in 5 mg or 10 mg doses, and feature at least 90% THC.
FLÏ Space Joints
The FLÏ Space Joints are pre-rolled joints that have some of the strongest buds that are available through Nutritional High. They feature 40% THC, and the intense terpenes in the ground flowers provide a distinct taste that the company claims that users will know the difference between this brand and all others.
There are multiple strains available with this option, including:
Flo/Green Apple, a hybrid that is sativa dominant for an "energetic experience"
Durban Poison/Tangie, sativa with "an energetic burst of happy creativity"
Kool Aid/Blueberry Kush, a strain that is designed to eliminate pain
Contacting The Creators Behind Nutritional High
Considering the substantial amount of information provided here and online, it's important to get clarification before purchasing locally. To contact the company, both consumers and potential retailers can fill out the online form at: nutritionalhigh.com/contact-us/
For users that want to have a faster response, the Toronto-based office can be reached at 1-888-262-4645. There are also facilities in Colorado and Illinois.
Nutritional High Summary
Nutritional High is not your average brand, because the information that they offer to consumers is so much more than what the industry has come to expect. With substantial educational information about the use of cannabis, and the incentive of a loyalty program, this brand shows their demand for quality in the many flavors and high THC levels.
Due to the THC content in these products, consumers will most likely need to seek out their purchases in dispensaries. Consumers should check their local laws to determine if these products are available to use recreationally, or if a prescription is needed to try them out.
Nutritional High: CBD Product Updates
FLÏ Vape Pens
FLÏ Syringes
FLÏ Chocolates
FLÏ Extracts
FLÏ Chocolate Shots
FLÏ Space Joints
Nutritional High: CBD Company News Updates
Location: 77 King Street West, Suite 2905 P.O. Box 121 Toronto, ON M5K 1H1
Phone: 877-258-7444
Email: info@getfli.com
Online Web Support: Yes
Official Website: getfli.com/

TimesofCBD is the most active daily CBD news publication featuring the latest cannabis industry stories and marijuana market trends. As the leader in CBD-centric content curation, we invite all readers to come for the headlines and stay for the insights. Quality is the top priority when presenting user guides, analyzing product reviews and reporting fact-checked news announcements. All information is for educational and informational purposes only. Disclaimer.
Got news? Email contact@timesofcbd.com