Koi CBD: CBD Company News and Product Review Updates
Koi CBD: Natural CBD Oil, Vape Juice, Gummies, Lotion and Pet Products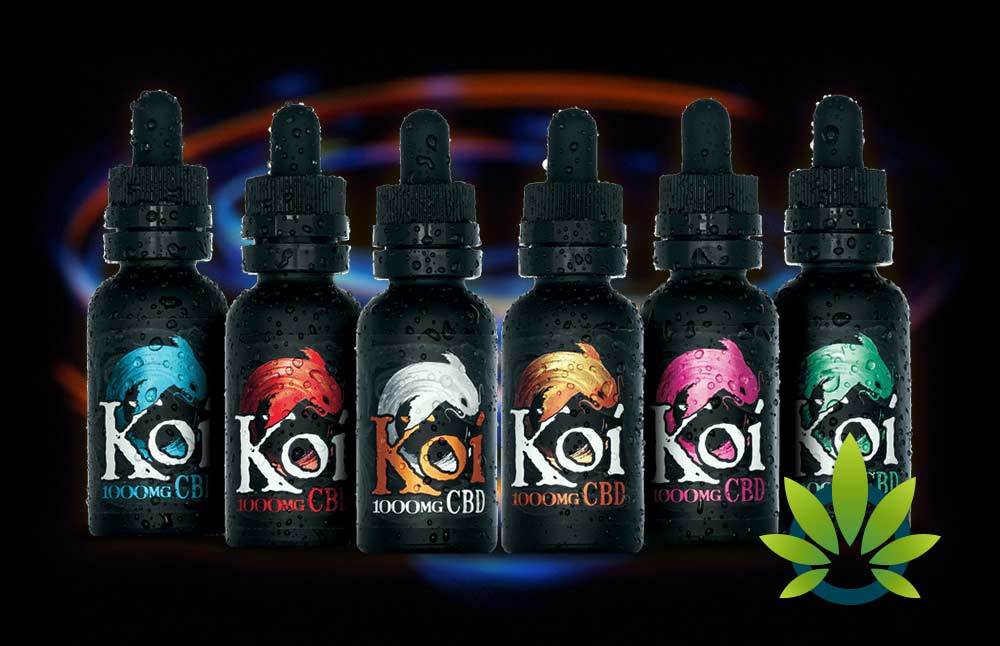 CBD or cannabidiol has become a topic of discussion for some time now, as its effectiveness has led many states and even other countries to consider legalizing it.  This being said, to ensure consumers are comfortable with CBD, Koi CBD supposedly carries a wide range of CBD products that best reflect one's consumption and health needs.
The following review will look closely at what CBD is itself, who Koi CBD is, the different categories of products served, price ranges and how they should be used.
What is CBD?
As previously mentioned, CBD stands for cannabidiol and it is derived from a flowering plant. In particular, the plant houses both hemp and marijuana and CBD comes from the former. The major concern for most consumers is its possible mind-altering effects, but what many fail to realize is that it has no such properties.
While marijuana and hemp come from the same plant both contain distinguishable properties. For instance, marijuana contains THC, also referred to as delta-9-tetrahydrocannabinol, which is the main reason why one might feel mind-altering effects and intoxication. CBD is the opposite of THC and has been known to produce health benefits. Some research also suggests that CBD can help to reduce one's high from marijuana. So essentially, both are types of cannabinoid, but they are quite different.
What is Koi CBD?
Koi CBD claims to specialize in offering quality Colorado-based CBD products. What makes this respective brand reassuring to consumers is the vast amount of information provided to each product, which makes it easier for decision making. More specifically, the quality of CBD can be traced back from the beginning 'til the very end of the production process.
Since the CBD market is still fairly new and proper regulations are in the works, sometimes products can lack strength and even quality. For this reason, Koi CBD has supposedly turned to science to provide products that contain "99% pure cannabidiol extracted through pharma grade processes in a cGMP certified facility," as mentioned on their official website.
Types of CBD Products
Koi CBD praises itself for the wide range of CBD products it offers – which can be broken down into one's preference of consumption and the type of consumer (i.e. adults, kids and even pets). The following breakdown will provide consumers a general sense of what each category's primary focus is:
Koi Naturals
Koi Naturals come in the most common form of CBD and that is oil. It has been created in five different strength levels as well as four unique flavors which include orange, lemon-lime, spearmint and natural.
In addition to CBD, two other cannabinoids, CBDV and CBG have been included and it has been proclaimed to "provide maximum amount of support." CBDV, also referred to as Cannabidivarin, is supposedly linear in trend with the use of CBD. This means that they are dependent of each other in their effect on treating epilepsies. Similarly, CBG (i.e. cannabigerol) is non-psychoactive and is known to work well with CBD to relieve pain, reduce inflammation and reduce seizures.
The use of this line of CBD products entail oral ingestion, that is, taking one dropper one to three times per day or as needed right underneath the tongue. This means consumers are advised against vaping them. One should hold about 20 seconds prior to swallowing it down and for newbies, it has been suggested to wait a complete three hours to assess one's tolerance level. In addition to the oil, consumers can also choose between lotion – if one does not want to ingest orally – and gummies for a fun twist.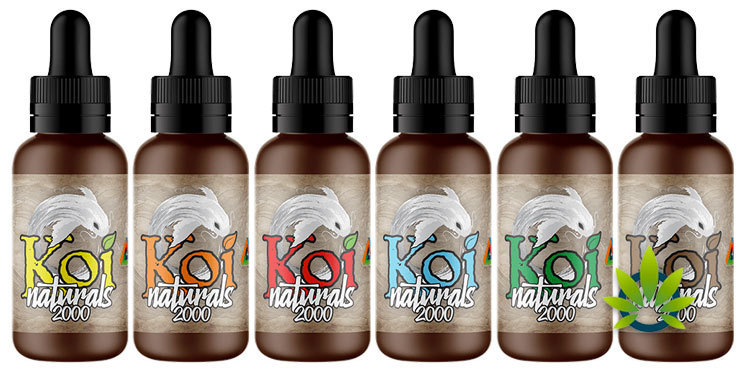 Koi CBD Vape Juice
For the vapers, KOI CBD has come up with six different flavors, which include Tropical Popsicle, Blue Koi, Red Koi, Gold Koi, White Koi, Jade Koi, Pink Koi and Pumpkin Spice latte. Vape juices are supposedly offered in four different strengths, which include 100mg, 250mg, 500mg, and 1,000mg. Given the high strengths, this line of products appears to be directed towards those who are more aware of their tolerance levels.
As for its uses, the dosage appears to be the same for starters (i.e. one full dropper couple times of day) and it can increase depending on one's tolerance. For vaping purposes, consumers can combine the CBD flavor with e-liquids of one's choice. Each bottle contains 30 servings, which can last over 10 days depending on one's consumption. Respective devices and cartridges are also offered.
Koi CBD for Pets
The CBD products directed towards pets have been proclaimed to containing organically grown hemp to help restore balance in pets' diets. Two products are found under this category, which includes soft chews and CBD oil spray. To ensure pets enjoy the soft chews, KOI CBD also infused chicken and natural bacon flavor into them. It is important to be cautious of the amount of CBD given to pets, and like humans, they too should be tested little amounts at a time.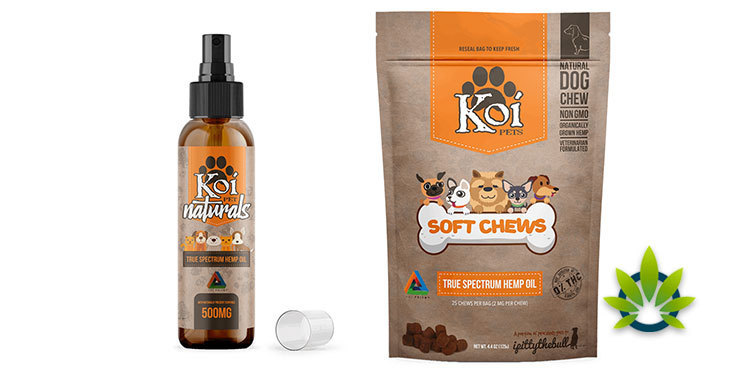 Are Koi CBD Products Reasonably Priced?
The prices range between $10 and over $320. This reflects the strength of CBD offered, the quantity of servings per purchase, value packs containing more than one product, and the incorporation of CBD – all of which increase in price with level of difficulty and quantity. Based on the claims made and the scientific methods used in ensuring optimal support, the prices appear to be fairly reasonable.
Final Thoughts
Overall, Koi CBD appears to be an interesting brand that can be put to the test. Their strive towards ensuring the highest quantity and quality of CBD extract is witnessed in their procedures. Also, the thought process that went into creating different forms of CBD products along with strengths and flavors goes to show that they did everything in their will to consider the mass population. As for the prices, they are comparable within the CBD market, and given the proclaimed quality, they appear to be well worth it.
Most importantly, the initiatives taken to convince consumers is praiseworthy. In particular, lab results for all of the products have also been provided which indicate whether they've passed the tests for pesticides, residual solvents, microbials, mycotoxins, and heavy metals. In addition, the strength of CBD present has also been listed along with the amounts of THC, which are typically too small to consider. To learn more about Koi CBD products and their lab results, check out: https://koicbd.com

TimesofCBD is the most active daily CBD news publication featuring the latest cannabis industry stories and marijuana market trends. As the leader in CBD-centric content curation, we invite all readers to come for the headlines and stay for the insights. Quality is the top priority when presenting user guides, analyzing product reviews and reporting fact-checked news announcements. All information is for educational and informational purposes only. Disclaimer.
Got news? Email contact@timesofcbd.com