Ignite CBD: CBD Company News and Product Review Updates
Ignite CBD: Pure Cannabidiol Oil Drops and Best Disposable CBD Vape Pen Blends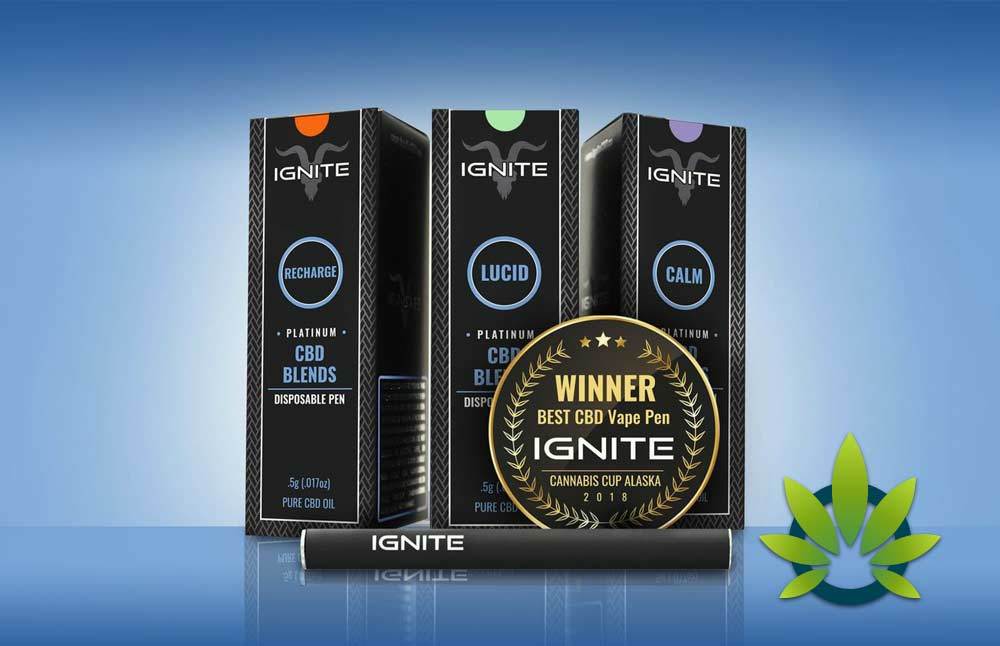 Trust is a big deal when it comes to friendships, relationships, work, and so on. There are no exceptions to it. The same can be said about consumers and businesses. If businesses do not succeed in gaining the trust of consumers, then their ability to succeed is quite limited. This is especially important to the cannabinoid (CBD) industry, as it is constantly being distrusted by both consumers and regulators. Technically, they aren't to blame, as the limited scientific studies conducted does not help the case.
At the end of the day, CBD products exhibit the most results when they are natural, consistent and clean and these three factors are what Ignite supposedly abides by. Ignite is a CBD-focused brand that aims towards offering the best for each respective individual. In order to fully comprehend how Ignite achieves this, a complete look at the overall brand, along with the products offered, quality control and affordability must be considered.
What Is Ignite?
Ignite specializes within the CBD industry. It supposedly arose out of necessity, as the founder, Dan Bilzerian, felt that the current market consisted of varying quality and dosage. In order to come out as the best of the best, Ignite has been very selective with respect to the source and quality of CBD used, growers, manufacturers and every other aspect of the supply chain.
Since its existence, Ignite has also partnered with Bo Vaping on a line dedicated specifically to CBD essentials. The partnership allegedly combined the superior technology on Bo Vaping's part along with the quality of CBD from Ignite's.
Another factor that seems to serve as Ignite's foundation is that of quality control. To ensure consumers are given utmost quality, each product supposedly undergoes testing and retesting for unwanted components such as pesticides, solvents, etc.
While lab results and related information are ideal forms of true quality checks – which Ignite seems to fall short on – another way to assess for quality is through the finest details of the products offered.
Before getting to the comparison aspects, let's look at what Ignite has to offer. Based on the claims made, Ignite has placed most of their emphasis on CBD Drops and Disposable Vapes.
CBD Drops
In addition to unflavored CBD Drops, consumers can also choose between Blood Orange, Tropical Fruit and Lavender drops. Each 30 ml bottle contains 1000mg of CBD (or 33mg per serving) and costs approximately $65.
First, one should note the available flavors. While nostalgic flavors like strawberry cheesecake, lollipop and chocolate tend to grab consumers' attention, Ignite focused more so on the use of essential oils. Essential oils are known for their mind-relaxing properties, hence combining said properties with that of CBD is surely to heighten the medicinal effects.
Second, Ignite appears to carry the highest strength of CBD within a bottle for a relatively low price. Despite the price (which shouldn't even be analyzed until the very end), the fact that a supplement contains 33mg per serving is praiseworthy. One might argue that such a concentration is too high and that consumers might over-consume. To prevent over-consumption, Ignite has measurements on their droppers so that consumers do not have to guess how much is being ingested.
Next, each of the CBD Drops offered is said to contain full spectrum oils and terpenes. Terpenes are typically underestimated because they are simply flavors derived from plants. In reality, the combination of terpenes and CBD is believed to be helpful in treating varying pains such as headaches, muscle and joint pains to name the least.
As for the oils being full spectrum, this implies that CBD was not the only cannabinoid used, but others as well. This is a smart move on Ignite's part, as it reflects their aim towards creating the most effective solution possible.
Lastly, most oils are only advised to ingest orally, but what makes Ignite different compared to its competition is that their oils have been formulated in a way that can also be used on the skin (i.e. as a topical solution).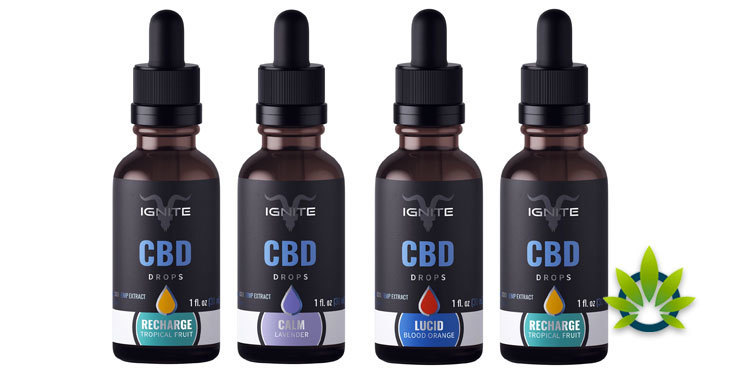 CBD Disposable Vapes
Ignite's Disposable Vapes appear to be created for specific purposes. For instance, the "Calm Lavender Vape Pen" aims to help consumers relax after a very stressful day. It comes in lavender, as well as bubble gum flavor.
The "Recharge Vape Pen" was created as a way to help boost one's energy levels, while keeping consumers refreshed. One can choose to increase their energy through either the tangerine or tropical fruit flavor. Lastly, the "Lucid Vape Pen" was supposedly created in an effort to help consumers attain sense of clarity. All of the vape pens contain 250mg of CBD, where each 3 second puff is equivalent to 1 to 2mg of CBD.
Clearly, Ignite has taken a step ahead of competitors when it comes to the vape pens offered, as most vape pens are created in a way to satisfy one's taste buds while CBD vaping. This however isn't the case with Ignite, as they've also considered ways for consumers to enjoy the taste of CBD vaping while helping each individual feel well rested, clear minded and energized throughout the day as needed.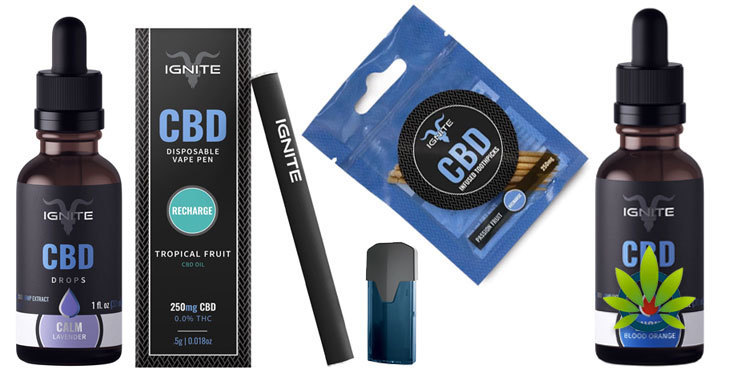 Are Ignite Essentials Deemed Affordable?
Based on the analysis above, Ignite presents itself as an affordable CBD line of essentials. The fact that the oils have been made as a "2-in-1" (oral and topical solution) is as innovative as it can get, as most brands tend to sell different forms of CBD at different rates. This definitely gives Ignite an unbeatable edge. Additionally, their vape pens have been created in such a way that gives the entire body (from head to toe) the health benefits it requires for overall wellness – not to mention the high strength that has yet to be witnessed in other brands!
Ignite Final Thoughts
Overall, Ignite appears to be worthwhile given the numerous factors that went into creating ultimate CBD essentials. While in depth details in terms of the source of CBD and the necessary evidence of the findings of the supposed lab results remains unclear, Ignite has been thoughtful in every step of the way.
As previously mentioned, to ensure overall safety of consumers given the high strength of CBD present, they've marked quantities on their droppers. Furthermore, instead of simply focusing on the overall taste from vaping, consumers' state of mind and wellness was also taken into account.
Although their product line is somewhat limited, Ignite was successful in offering different duration effects. For instance, when the oil is consumed orally, the results are longer lasting, compared to vaping, which is immediately felt and lasts a couple of hours less. Similarly, because the oil can also be used as a topical solution, this becomes a faster felt alternative, as it would be applied directly onto one's skin. Finally, Ignite's prices are unbeatable thus far, which allows consumers of all financial backgrounds to take advantage of the benefits CBD has to offer.
Ignite Company News Updates

TimesofCBD is the most active daily CBD news publication featuring the latest cannabis industry stories and marijuana market trends. As the leader in CBD-centric content curation, we invite all readers to come for the headlines and stay for the insights. Quality is the top priority when presenting user guides, analyzing product reviews and reporting fact-checked news announcements. All information is for educational and informational purposes only. Disclaimer.
Got news? Email contact@timesofcbd.com